Swift's latest, Midnights, worth listening 'round the clock
Taylor Swift: Oct. 24, 2006.
Speak Now: Oct. 25, 2010.
Red: Oct. 22, 2012.
Known to dominate the music charts in October with more than half of her studio albums released this season, singer-songwriter Taylor Swift returns with another hit album, Midnights.
Many listeners waited in anticipation after scrolling through Swift's numerous posts on Twitter and Instagram, captioned "meet me at midnight," wondering if the album is what they hoped it to be. 
After listening through her 44-minute-long album, many breathed a sigh of relief, knowing it was worth the anticipation. 
What Swift describes as the stories of 13 sleepless nights in her life, Midnights – released Friday, Oct. 21 – portrays her struggles in the industry and her own life artistically. 
The overall vibe of the album is whimsical and mystical compared to her previous works, such as Lover (2019) and Folklore (2020). Those previous albums varied in style and showcased different forms of pop, drawing inspiration from indie and 1980s pop – suggesting that Midnights is her latest venture, drawing its own inspiration from dark pop similar to the works of Grammy awarded singer-songwriter Billie Eilish or The Weeknd. 
"Anti-Hero," one of two songs in the album to have a music video, is a three-minute-20-second anthem for mental health and the ruinous effect being a big celebrity has on figures similar to Swift herself. 
"I have this problem where I get older but never wiser / Midnights become my afternoons." 
These lyrics reveal the stress of being in the spotlight and create a deeper connection between the listener and the singer.
With mental health becoming a more prominent issue in the post-COVID-19 world, the singer's confidence to bring up her personal struggles is extremely commendable. By this, many listeners can relate to the lyrics on a deeper, heartfelt level.
On the contrary, "Lavender Haze" brings a fresh and upbeat pop perspective to the album. 
Drawing in the fast drum as the main focus and then combining them with softer vocals allow the moodier tone to truly shine through, pulling aspects from her 2017 album Reputation. 
Swift revealed on her Instagram on Thursday, Oct. 6, that the song was based on the feeling of being in love, claiming it leaves the couple in a "Lavender Haze," blocking them from seeing the truth. 
The technopop beat deeply contrasts that of the numerous slow, heartfelt tunes surrounding it in the album. Since its release, it evidently has become a fan favorite, standing at No. 8 on Spotify's Today's Top Hits.
Although not many tracks in this album fall under Swift's typical style, her latest song to have a music video, "Bejeweled," takes a very similar take to her previous works. 
At five-minutes-and-53-seconds, "Bejeweled" follows her usual rubric for popular hit songs but is neither amusing nor disappointing. 
The lyrics – "Best believe I'm still bejeweled when I walk in the room / I can still make the whole place shimmer" – seems to hint at her return to pop and the music world after a four-year hiatus from touring and producing new albums.
While fans were wondering if she was fully back to her usual, glamorous-self, the latest music video dives into the fairytale world with a satirical take on the "Cinderella" plot line.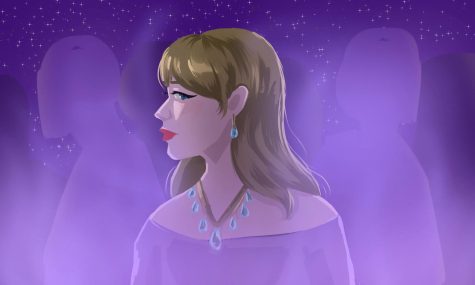 Swift has been known for her affinity for fairylike themes in the past, and this new rendition goes well with the song, showing a slightly more comical side to her album. The fairytale is extremely satirized in the video, eventually leading into the song.
Combining some of the best costumes from her previous music videos "Mean" and "willow", Swift also includes clips of her hit song "Enchanted" and other Easter eggs, which many hope are hinting at another Taylor version of her 2010 album Speak Now. 
While she has switched her genres in the past, dabbling between country and pop, this new exploration seems to be very different from her past ventures, following the current viral trend of gloomy and dark pop. 
The combination of darker and heavier topics of mental health with the whimsical beats of love themes create a whirlwind of emotion, taking listeners through an intense journey of listening, especially with the variation from song to song. 
One of the more disappointing songs on the album happens to be her collaboration with the "Summertime Sadness" singer, Lana Del Ray, titled "Snow on the Beach."

This could have turned out to be the collaboration of the year, but Del Ray has only a minor role in the song. Her vocals set the tone nicely, but it's a shame the renowned singer goes through the entire four-minute-and-16-second song without a single verse to herself. 
Despite the letdown of the collaboration, the song in itself is calming and definitely on the higher-rated side of the album. The vocals are soft and blended well with the slow and quiet instrumentals. This song offers a break from the intense and louder ones the album features and takes the path of Del Ray's genre more than Swift's.  
Overall, Midnights is the start of a promising new era in Swift's music career and a must-listen for a nostalgic feel into childhood memories with a new twist. This album truly meets listeners' expectations through the variation on beats, vocals, genres and songs, which justifies the praise it has been receiving worldwide.
One day after the release, Swift has topped Spotify's top 50 with her song "Anti-Hero," and already Midnights has been the No. 1 debut album of the week and has filled the debut song charts unanimously. 
For listeners hoping to dive into a new melodic track list, Swift's Midnights is the best choice. A mixture of whim, love and vengeance all combine to make an intriguing and rewarding album straight from fans' "wildest dreams."
Leave a Comment
Your donation will support the student journalists of Sunny Hills High School. Your contribution will allow us to purchase equipment and cover our annual website hosting costs.
About the Writer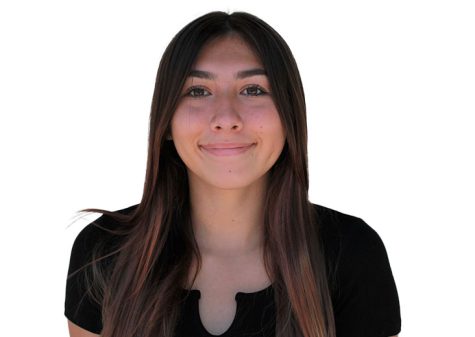 Alexxa Berumen, Feature Editor
Starting her first year on staff for The Accolade, sophomore Alexxa Berumen is eager to jump into her responsibilities as co-feature editor, along with her colleague Giselle Suastegui. After a year in Journalism 1, she quickly learned the requirements of balancing rigorous classes and her commitment to the paper and hopes to further her routine. This year she aims to develop her writing skills and learn how to work in various writing sections.

When not working for The Accolade, Berumen can be found working on her other amounts of over-piling homework, playing club volleyball or taking a much-needed break.