Nike Air Force 1's, Dickies pants and now, headphones? 
Similar to clothing trends, today's Gen Z teens are getting a blast in their ears from wired headphones instead of Apple AirPods, which have made 68.2 million sales in the first quarter of 2022.
"I think headphones are better for fashion because they are more aesthetically pleasing. I think a part of fashion right now is vintage or '90s looks," said sophomore Stuti Patel, who has chosen to follow this trend by using wired earbuds. "I personally feel like headphones are prettier because they come in more colors and options, which is kind of like clothes in a sense."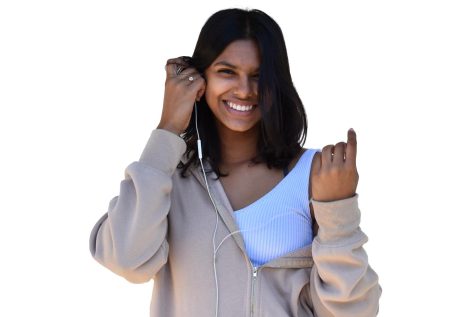 This trend started to gain traction in 2021 after many celebrities began to turn the formerly outdated headphones and wired earbuds into fashion statements in their paparazzi photos. 
According to InStyle magazine's online edition, social media influencer Madison Beer and supermodel Bella Hadid have been sporting X by Kygo and Beats by Dre. 
Another famous figure, actor Lily-Rose Depp, has shown her affinity for wired earbuds in her paparazzi photos. 
Despite these developments, most Sunny Hills students say they prefer to stick with wireless connections.
In an online poll that started Aug. 21, The Accolade asked: "What's your go-to listening device?" 
Of the 170 who responded, 67% chose AirPods, followed by wired earbuds at 9% among the options of AirPods Max, Galaxy Buds and Sony Headphones. 
Many students said Bluetooth earbuds such as AirPods and Galaxy Buds are convenient for a school setting because they are easy to store and are not bulky, which is why many students prefer taking them. 
"Personally, I prefer AirPods," sophomore Ethyn Crane said. "You can just slide into your pocket, but with over-the-ear headphones, they are bigger and would require a bag to carry or just keep them around your neck."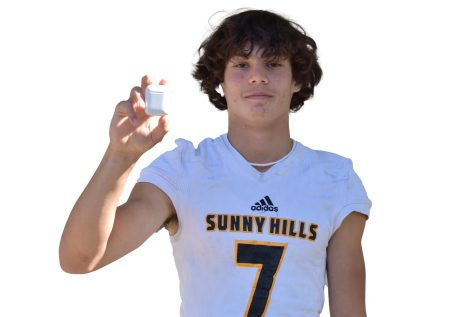 Students such as Crane have dabbled between wireless and wired listening devices and have noticed large differences in quality and portability. 
"Corded headphones are easier to have and are more convenient in certain situations but break a lot easier," he said.
Although the bulkier headphones could be a nuisance for some, others seek them out to perfect their outfit because of the device's clean aesthetic. 
Junior Jerika Tabuada started sporting her Sony XZ series Wired On Ear Headphones to school starting this year. But it was not because she was following a celebrity choice of fashionable accessories.
"I just have headphones because my old wireless headphones got stolen," Tabuada said. "But if I had a choice between wireless headphones and headphones, I'd probably choose headphones because they are not as easy to lose." 
Based on her observations of those who wear wired connections, the junior said many are not really using them for their original purpose.
"I think it's more fashion based because I don't see many people actually putting on the headphones to listen to music," Tabuada said, "it's more they just wear it around their neck to look cool."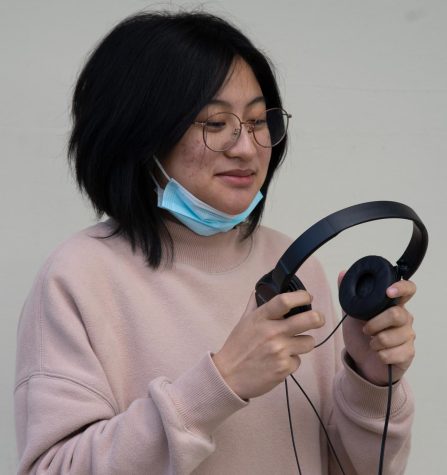 While many forms of wireless earbuds and headphones come with a noise canceling feature, the effectiveness in earbuds is highly debated among users. 
Despite their preferred choice in listening devices, many have noticed better noise canceling control in headphones in comparison to AirPods or any competing wireless earbuds.
"I think headphones provide better quality when it comes to sound compared to AirPods," said senior Roxana Rojas, who uses AirPods, but dislikes their noise canceling abilities. "Many headphones are noise canceling [because] from my experience, sometimes AirPods don't do a good job, which may be the reason for better sound."
Although AirPods have still remained the fan favorite on the Sunny Hills campus, students have noticed an increase in usage of headphones from previous years. 
"Compared to my old school, there's a lot more people using headphones [here]," said freshman Christian Kim, who went to Fisler Junior High School. "But it's still a small minority; I would say the majority of the people still use AirPods."
Nevertheless, it remains debatable whether the wired headset trend can ever overcome the high demand for AirPods among teenagers. 
"I hope to continue to see this trend because I feel like it's more convenient because you don't have to worry about charging the wired ones, and everyone listens to music, so why not?" said sophomore Audrey Bogard, who chooses corded earbuds as her main listening device.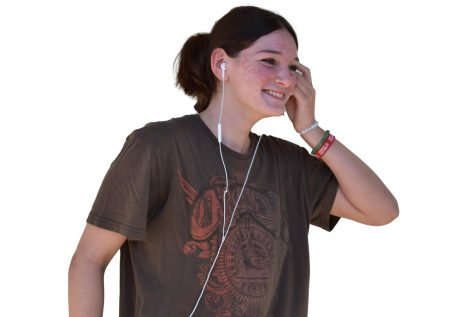 AirPods today resemble Ray Bradbury's portrayal of seashell radios and green bullets — all of which were used as cordless listening devices in his dystopian novel, Fahrenheit 451, which many sophomores read in their English classes. Though many SH students prefer to stick with these technological advances for their listening pleasure, it's also clear that blast from the past connected headsets have not gone away and may actually still stick around longer.