TEACHER LEISURE: Instructor and environmental activist advocates for protection of Ormond Beach
As a new feature, "Teacher Leisure," explores Sunny Hills teachers' hobbies outside of school. What impacts have they made not only on students, but also outside of their classroom?
Christina Zubko knew she didn't have the time to be idle when she saw dunes of plastic bottles, styrofoam and cigarette butts scattered across Ormond Beach, Oxnard, California in 2019.
Just four years ago, Zubko enjoyed strolling here where her mom lives nearby on hazy mornings when it was relatively litter-free, careful not to crush the seashells while gazing at the flock of birds slowly paddling across the waterway. Now she visits her beloved seaside for an entirely different reason. 
Rather than sandals in her hand and the soft sand under her feet, the English teacher and environmental activist carries a grimy white paint bucket and trash clincher. Around her are similarly prepped volunteers, either crouched to the ground digging out cardboard or in a kayak collecting debris on the shorelines.
"I love the ocean. I surf, and I sail — it's my therapy," Zubko said. 
Since 2019, Zubko has strived to revive Ormond Beach and lagoon and its ecosystem through various endeavors, such as co-founding her own organization called "Friends of Ormond Beach" and volunteering as a journalist reporting on the environment.
"Life is hard, and you have to pick your hard — and fighting for the beach is my pick," she said. "When I saw that this was going on, and nobody was doing anything about it, it literally infuriated me. This area is so remote, so it's out of sight, out of mind — so I decided to put it in sight."
"
When I saw that this was going on, and nobody was doing anything about it, it literally infuriated me. This area is so remote, so it's out of sight, out of mind — so I decided to put it in sight."
— Christina Zubko
In addition to weekly Saturday beach cleanups that can gather up to 200 volunteers and usually last 2-3 hours, Zubko regularly communicates with other environmental organizations, such as the Surfrider Foundation, Environmental Protection Agency and California Fish and Wildlife Services. 
Joan Tharp, one of the founding members alongside Zubko, said she appreciates working with her life-long friend since 2019 when they first met to create an organization dedicated to the environment.  
"She is very, very tenacious and dynamic and is great at not taking no for an answer," Tharp said. "She's been so inspirational to me, and I've learned a lot about what it means to really be passionate about something and try to make a difference."
After sending her daily stack of emails and requesting follow-ups, Zubko said she enjoys working with her organization's core group of 10 people through Zoom as they organize future activities.
"If there's one thing I've learned it's that any organization can be extremely powerful, even if there's only a small group of people behind it," the founder said. "I think effectiveness is measured in passion, not necessarily in numbers."
In addition to writing, she spends her time researching endangered species and meeting scientists to broaden her knowledge. Zubko said her next mission is to establish a monarch butterfly way station on Sunny Hills' campus. 
"I'm not a scientist, so my journey has taught me that it's really important to talk to the people who are scientists and biologists, who really understand the science behind habitat building for endangered species and how to protect them in the safest way."
Despite hurdles throughout her journey, Zubko continued to find ways to advocate for the ecosystem, especially through media. As a volunteer writer for Citizen's Journal's online site since 2019, Zubko published an array of articles ranging from happenings on Ormond Beach to personal opinion pieces, which she often shares with her students.
"My goal is to get them to understand the power of the pen," the English teacher said. "It's really powerful and sometimes there are causes that need citizen journalists to cover that aren't being covered."
Alongside being featured in a short documentary that captured Ormond Beach, the environmental activist also appeared on KFI 640 radio in 2019 for a 15 minute segment after writing to the hosts about an opportunity to spread awareness about the persisting issues on Ormond Beach. 
"I chose KFI 640 because they're loud and cover a great cross section of Southern California, and public officials listen to them," said Zubko, who also got invited to LA radio a year later. "It was kind of a cathartic feeling that maybe if I can get on the radio, more people will hear about this."
Zubko's combined efforts paid off when Patagonia, a sustainable outdoor apparel company, recognized the start-up organization's efforts, donating $2,000 in 2020.
"[Patagonia] told us, when I called them, 'You've caught our eye because you're a small group trying to make a difference, and we want to support you and your efforts,'" she said. "We didn't even know what we were looking at."
At Sunny Hills, Zubko took on the role of the Surfrider Foundation Club and the Ecology Club advisor, replacing biology teacher Kelly Kim.
"She is one of the most motivated teachers I know and goes great lengths to ensure the health of the community," Eco Club president senior Sharon Kim said. "She spends hours researching and dedicating her time to the school's ecological health, so it's no surprise to me that she would also be doing more environmental work outside of school."
While continuing to expand her cause, the adviser said one of her main goals is inspiring the youth.
"I just really feel that the young generation is ready to take this on," Zubko said.
Leave a Comment
Your donation will support the student journalists of Sunny Hills High School. Your contribution will allow us to purchase equipment and cover our annual website hosting costs.
About the Writer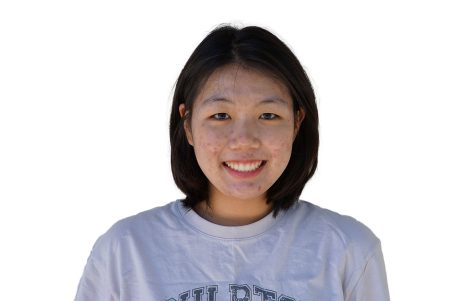 Jaimie Chun, Managing Editor
After an exciting first year on The Accolade staff, junior Jaimie Chun returns as the new managing editor. In addition to being one of the past year's copy editors, Chun was able to pursue her passion for writing by publishing stories for every section. She appreciates being able to speak to many people across campus and sharing their stories in The Accolade.

When not in the newsroom, Chun can be found on the softball field or participating in school clubs. A few of her hobbies include reading and hunting for music to add to her playlist.