Two years not worth the wait: Blackpink's recent album 'Born Pink' disappoints fans
"Blackpink in your area."
Despite Blinks, fans of the K-pop girl group Blackpink, having to wait nearly two years to hear this iconic phrase again in the band's songs, the ensemble's recently released sophomore full-length album Born Pink is anticlimactic and short – a disappointment. 
YG Entertainment advertised Born Pink as a full-length album even though it only has eight tracks — what the majority of other K-pop groups would promote as a "mini album" — therefore evoking feelings of discontent even before the album was released. To make matters more upsetting, two out of the eight songs have already been released before the album's official Sept. 16 release date.
That means Blackpink only presented its loyal fans with six new tracks after years of patience. 
The three-minute title track, "Shut Down," samples a 19th-century classical music composition, "La Campanella," and could cause some to see it as a bold move from Blackpink. However, the classical tones of Niccolò Paganini don't necessarily match the hip-hop hooks and grooves of the rest of the song.
Especially with recent claims of the group plagiarizing American hip-hop artists, the obvious sampling of "La Campanella" in Blackpink's title track did not sit right with many listeners. Getting inspired by other musical works is universally allowed and welcomed, but Born Pink raises the question of whether the group's over-usage of recycling the same melodies as well as lyrics is a result of inspiration or lack of originality.
Specifically, "Pink Venom," one of the pre-released tracks, contains a multitude of this so-called "inspiration" from lyrics of other artists. Jennie's line, "Kick in the door, waving the coco," clearly resembles The Notorious B.I.G.'s "Kick in the door, wavin the four-four" in his 1997 song, "Kick in the Door." 
Other lyrics in the song like "One by one, then two by two," "You couldn't get a dollar out of me" and "Look what you made us do" are also references to Rihanna's "Pon de Replay," 50 Cent's "P.I.M.P." and Taylor Swift's "Look What You Made Me Do."
However, the lyrics are not the only recycled portion of the album. The "Shut Down" music video contains many references to their previous ones, such as Jennie playing with a matchstick in a bathtub like in 2016's "PLAYING WITH FIRE" and Rosé swinging on a chandelier like in 2018's "DDU-DU DDU-DU."
Considering the album took two years to produce, fans expect — and should receive — less sampling and more creativity from this K-pop group, which received American acclaim when it performed at Coachella in 2019 before the pandemic the following year.
Another interesting stylistic choice of Teddy, the group's main music producer, zeroes in on a heavily controversial issue surrounding the girls since years ago: westernization. With many fans arguing that Blackpink's obsession with catering to American audiences led to the group's incompetence of being called a K-pop group, the choice to release four out of eight songs in complete English is a surprising one.
Though all eight songs do include a few English lyrics somewhere within the song, the four tracks "Typa Girl," "Hard to Love," "The Happiest Girl" and "Tally" are entirely in English, which leaves no room for any Korean lyrics. This makes half of the album nearly unrecognizable as songs part of the K-pop genre.
Regardless of the essence of Born Pink being unsatisfactory, the album has unsurprisingly done extremely well on music charts, with "Shut Down" and "Pink Venom" remaining on the Billboard Global 200 Music Charts this week in fourth and tenth place, respectively. 
"Pink Venom" was performed at the 2022 MTV Video Music Awards in late August; its music video — released August 19 — garnered nearly 350 million views in approximately a month of its release, breaking the 2022 YouTube record for having the biggest 24-hour music video debut. 
Along with "Pink Venom," "Shut Down" has topped the Billboard Global 200 as well as the Billboard Global Excluding U.S. charts in first place, an impressive feat for any musical artist. 
But based on the lack of individuality and artistry of Born Pink, it wouldn't be too hot of a take to suggest that the group's success is not from the quality of music, but rather from the high status of the name it had built from previous years.
Overall, the album itself is not an atrocious listen since the group has previously set a high bar for its quality of music, but it does not exceed any expectations — definitely not a step forward in the group's career.
Blackpink should still be recognized and praised for dominating the music industry with every new release, but the disappointing structure of the album makes it difficult to fully revel in the group's comeback.
Perhaps their next album, hopefully with more tracks and less westernization, should be called "Born Korean."
Leave a Comment
Your donation will support the student journalists of Sunny Hills High School. Your contribution will allow us to purchase equipment and cover our annual website hosting costs.
About the Writer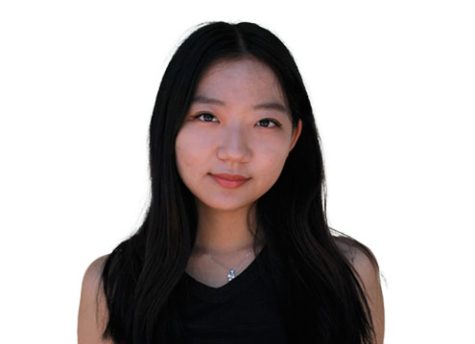 Hannah Lee, Opinion Editor
Now entering her second year on staff, junior Hannah Lee is excited to be The Accolade's opinion editor for the 2022-2023 school year. Lee contributed to the newspaper last year as a copy editor and now looks forward to broadening her experiences in writing and newspaper layout as a section editor.

Outside of The Accolade, Lee is involved with school clubs such as UNICEF and Science Olympiad. In her free time, she enjoys watching sad movies and going out with her friends.