South Korean film, 'Alienoid,' mixes sci-fi, action, fantasy and comedy to a more confusing than fun ride
Perhaps in the planning stages of "Alienoid," the idea to mix time-traveling, interplanetary robots (sci-fi) with dosas in search of a powerful blade (the hero's journey) sounded too good to be true.
And with Choi Dong-hoon on board as director (his first in movie in seven years), this would definitely appease movie goers looking for something different from what Marvel usually produces – especially since Hoon's previous five films were commercial hits with his last work, "Tazza: One Eyed Jack," released in 2018 and grossing $16.5 million. 
But after spending more than two hours watching "Alienoid," which was unrated and released last month, audiences will leave the theater more confused than entertained.
The messy action-fantasy-sci-fi-comedy flick with English subtitles begins in the past — 380 AD in Korea's Goryeo Dynasty — with an alien known as Guard (Kim Woo-bin, "Like Father Like Son") and his droid companion, Thunder (voiced by Kim Dae-myung, "Stone Skipping"). The latter first appears as a small drone similar in size to a large bowl, yet later in the movie we see that both can change into any form, including that of a human being (hence the film's title, a combination of "alien" and "humanoid").
The two are on a mission to battle alien prisoners, and in the process Guard makes the choice to save a baby girl, Ean, from danger and take her with them back into their time traveling SUV. The director then takes us to 2022 in Seoul, Korea, where the alienoids have been raising the girl (Choi Yu-ri), who's now in elementary school.
After such exposition, Guard and Thunder receive a message about an incoming threat involving these alien prisoners – originally locked away in certain human beings' minds without the people knowing — while dealing with questions their "adopted" daughter starts asking regarding who her "parents" are. To protect Ean from an alien invasion, the duo eventually decides to send the girl back in time to 1391 AD, still the Goryeo period of imperial Korea, and unbeknowst to them, she has taken a dagger later known as the "Divine Blade," which allows anyone in possession of it to time travel.
Although the director never explains through the film's characters why this era is selected, viewers aware of this Asian island's history may see a connection with "Goryeo," the main root for "Korea."
In this historical past, the audience meets a slew of characters who also want the "Divine Blade," such as Heug-seol (Yum Jung-Ah, "Life is Beautiful")  and Cheong-woon (Jo Woo-jin, "Kingmaker"), sorcerers from Samgaksan, Gae Ddong (Kim Ki-cheon, "Best Friend"), a man sentenced to death that knows the whereabouts of the sacred tool. This is also when an older Ean (Kim Tae-ri, "Twenty-Five Twenty-One"), also known as "The Girl Who Shoots Thunder " in reference to the loaded handgun she carries, is introduced.
As the 144-minute long movie jumps through several timelines in a fast-paced manner, it seems incomprehensible at first and leaves the audience disorientated about who or what to focus on exactly. Although the plot becomes understandable toward the end, the loosely tied points fail to draw the audience in.
With a $25.3 million budget to create time and space traveling robots and elaborate costume designs of Korean taoists and sets for imperial Korea, the film seems to be everything good on paper. Nevertheless, according to IMDB, its budget was effectively cut in half as "Alienoid" and its untitled second installment were produced simultaneously (Part 2 is scheduled for a November 2023 release).
Its computer generated imagery pales in comparison to big budget U.S. films like "Dr. Strange: Multiverse of Madness" or TV shows like "Stranger Things."
Not only were the climactic scenes spoiled by the oversaturated effects, but they also seemed more comical than entertaining.
For example, after Moon Doseok (So Ji-sub, "Be With You") crashes his car in a Terminator-like chase from an alien, he is flung out of the front car window and into a bus, somehow ending up unharmed and conscious. While one might think this incident would be fatal, Moon is able to continue running away from the alien, forcing the plot in a ludicrous way as its unrealistic approach was sudden.
Though some scenes contain witty humor with laughable characters (the one in which Thunder transforms into the human form that Guard usually takes on and then flirts with the aunt of one of Ean's schoool friends is worth noting), they would suddenly cut to conflicts that are set in a completely different atmosphere, leaving viewers unsatisfied and confused. This may be the director's intention to build suspense, but it quickly becomes predictable and repetitive.
Choi succeeds in explaining the backstory of Mureuk and Lee at different parts of the movie. However, the lack of visual effects and its puzzle-like story make it feel more like a riddle than a motion picture. 
And be sure to stick around for the end credits, as one scene gives the audience a glimmer of hope for what's next. Now if only we can time travel to November 2023.
Leave a Comment
Your donation will support the student journalists of Sunny Hills High School. Your contribution will allow us to purchase equipment and cover our annual website hosting costs.
About the Writer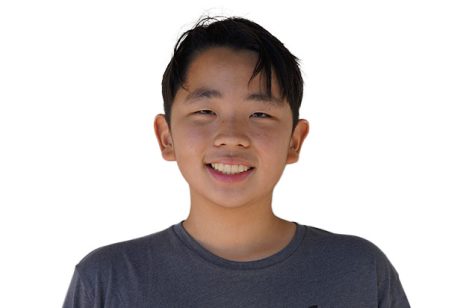 Chris Lee, Staff Reporter
After taking Journalism 1 his freshman year, sophomore Chris Lee wanted to commit to The Accolade. As a staff reporter, Lee intends to experience writing in all sections and hopes to improve his journalism skills over the next few years.
In his free time, Lee likes to play tennis and video games.