Homecoming scheduled for Oct. 1 in the quad, following positive feedback last year
Based on popular demand, the Oct. 1 homecoming dance will take place in the quad, similar to the 2021 social that drew an estimated 1,260 students, Associated Student Body [ASB]  event organizers said.
"We chose to keep it in the quad because of all the positive feedback from students, and also because it's not as sweaty," said ASB social commissioner senior Joya Blaho, who is co-leading the organization of the dance. "I'm looking forward to our cute photo booths and decorations too." 
Last year, the California Department of Education mandated that indoor events hold no more than 1,000 attendees, leaving the ASB with no choice but to hold the homecoming dance in the quad. Though masks were optional outdoors, many who showed up chose to wear face covering, and at that time, indoor masking was still a state requirement.
Nevertheless, that didn't deter the turnout to reach the most for a homecoming dance under Fenstermaker's time as a then co-ASB adviser with Mike Paris, who retired at the end of the 2021-2022 school year.
Though the state has since lifted the indoor numbers mandate, Fenstermaker initially thought his ASB students would want to go back to the gym, which offers air conditioning and a different atmosphere with darker lighting.
"It was a collaborative process, and we kind of just [thought] about what's the best interest for Sunny Hills," he said. "If more people are comfortable outside, then we do it outside." 
Upon the responses received from last year's homecoming dance, senior Aadi Bery was one of the many students who favored having the dance outside than inside. 
"I prefer it to be outside rather than the gym because it gets really hot with a lot of people  and because it's more open [in the quad]," said senior Aadi Bery, who attended last year's event.
Junior Julia Robbins, who participated in the 2021 outdoor homecoming, expressed similar opinions about keeping the event in the quad.
"I feel like it's less chaotic and leaves everyone more room to hang out and move around," Robbins said. "It can also get a little stuffy in the gym with everyone so close together." 
OTHER CHANGES
The 2022 homecoming dance marks the ASB's third time hosting the October event in the quad, with its first in 2017 because the gym had closed for remodeling.
But unlike last year when state health department COVID-19-related guidelines required any food that's offered or sold at the event to be wrapped in sealed bags, water was required to be bottled. The lifted COVID-19 regulations also eliminate the need for individually wrapped foods: the ASB anticipates providing Portos by the 60s building.
Also, last year dance goers were not allowed to invite any guests outside of the school because of the district's COVID-19 health and safety regulations. But with such a district mandate lifted for this school year, guest permits will be available for students in Room 6. Guests must submit a form signed by one school administrator at least a day prior to the dance.
"At homecoming, since everyone is going to be in school, everyone will have an opportunity to get their guest pass filled out," Fenstermaker said. "[The students] know all the [instructions], so [the ASB] will be a little more strict on the guest permits."
Unlike the previous year when the ASB encouraged students to wear masks during the dance, it will be up to the students to choose whether to be masked or not, Fenstermaker said. 
UPCOMING HOMECOMING EVENTS
Seniors interested in applying for homecoming court can find the application on the Sunny Hills website starting Sept. 14. and princess court applications will be available the same day. 
Applicant interviews will be held all day on Sept. 20, according to an ASB Instagram post.
Homecoming tickets will be available on the Sunny Hills webstore from Sept. 19-Oct. 1 with a starting price of $25 with a Gold Card and $30 without, the ASB social commissioner member said. The price will then increase $5 every three days until Sept. 26.
Final prices on Oct. 1 end at $35 with Gold Card and $40 without, and students cannot purchase tickets at the door.
Last year, the ASB prepared an arcade, photo booth and other activities to entertain dance goers; this year, the arcade featuring air hockey and other games will remain in the Lyceum, with one of the photo booths outside the building and the other's location undisclosed.
Junior Christopher Arredondo attended last year's homecoming dance and said he intends to purchase a ticket again. 
"I feel like [the activities] will definitely add to the fun, and there will be something to do when you run out of energy to dance or just want to do something else," Arredondo said. "I think I'll just enjoy the dance with the people I met this year." 
Meanwhile, the homecoming assembly will be held Sept. 30 with the football game scheduled against Fullerton Union High School later that evening at Buena Park High School stadium, where the new queen will be announced during halftime. 
When asked about goals for organizing the ASB's second dance of the school year, Fenstermaker offered this response: 
"We want to make sure that we make our money back," he said. "We want to create a really good experience that people want to go to, and when they're there, they have a good time.
"It's kind of a big deal because we only have a prom and homecoming." 
View Comments (1)
Your donation will support the student journalists of Sunny Hills High School. Your contribution will allow us to purchase equipment and cover our annual website hosting costs.
About the Writer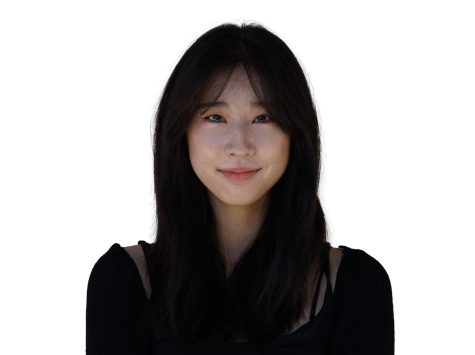 Stacy Kim, Staff Reporter
As a new staff reporter of The Accolade, junior Stacy Kim is eager to start her journey as a 2022-2023 staff member. Kim has written for The Accolade's cub issue in the past and hopes to enhance her writing skills by covering more stories throughout the year.
Besides being on staff, Kim participates in various clubs and organizations such as GENup and the California Association of School Councils. She also enjoys binging Korean dramas, taking naps and listening to music.