Upcoming homecoming assembly to be split into three, dance scheduled outdoors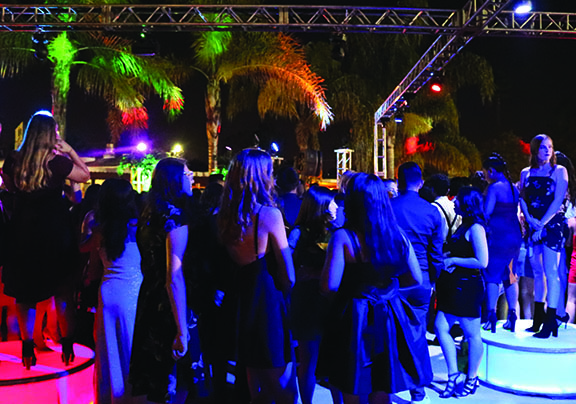 For the first time, the Associated Student Body [ASB] will host three assemblies next month for its homecoming presentations during second period instead of its usual two as a result of the August California Department of Education [CDE] mandate that states indoor events with more than 1,000 attendees cannot be held because of fears concerning the COVID-19 Delta variant. 
"We're very excited — it's going to be different, but I don't think it's going to be that big of a deal since we haven't had [a school dance] in a long time," ASB co-adviser Mike Paris said. 
Before the CDE regulation, a double second period schedule was implemented in which half the school attended the assembly based on students' second period classroom number while the other half stayed in class, switching once the first assembly was over. Since having half the school in the gym for an assembly violates the mandate, three groups of about 850 will rotate for the assemblies on Oct. 15. 
"I do not have concerns with ASB pushing for triple second period assemblies because I believe it will prevent students from having to sit on the gym floor when there is no space," sophomore Nakul Bhatt said. "Hopefully, this assembly format will make assemblies essentially more enjoyable for students." 
Although an outdoor event was held in 2017, the ASB wanted to avoid this option because students did not have anywhere to sit and those far from the main stage could get distracted, Paris said. 
After receiving approval from the district for the triple period assembly, school officials moved to create an adjusted bell schedule to fit the new change. As of now, the different time periods are not finalized. 
"Since our goal is to have three assemblies, I'm working on getting the data of how many students there are per wing so that I can coordinate who will attend which assembly," said assistant principal Hilda Arredondo, who is in charge of producing the new bell schedule for the event. "Our goal is [to have the assembly be] 30 minutes long, and I'm working to make sure that everything will be balanced." 
Because the dance cannot be split into groups like the assembly, it will be held in the quad. 
"
We're very excited — it's going to be different, but I don't think it's going to be that big of a deal since we haven't had [a school dance] in a long time."
— ASD co-adviser Mike Paris
"It's actually better the more open it is, especially for the event production company that helps us with our Homecoming [because] they can set up their equipment anywhere," Paris said. "We used to do our stag dances outside, and Homecoming in 2017 was outside too, since they were redoing the gym, and everyone really really liked [those dances]."
Bhatt is unsure of whether he will attend the dance; he is relieved that authorities are taking precautions to prevent the spread of COVID-19 at school events.
"I would prefer the dance to be inside in a traditional setting, but I do think outdoors is better than no Homecoming at all," he said. "I believe that adequate changes need to be made on the basis of time and situation."
Like Bhatt, ASB junior secretary Lindsey Kang does not view the idea of an outdoor dance negatively because she believes that it will be a new and fun experience.
"It will not get hot and stuffy at an outdoor dance as it does inside," Kang said. "I think this dance will be amazing, and I also think the triple assemblies will work out fine." 
Despite the several setbacks that emerged while planning the upcoming Homecoming dance and assembly in accordance with the new CDE regulation, the ASB is confident that both events will be a success. 
"I think it's very doable," Paris said. "We are just very appreciative of the opportunity to be giving everyone an assembly, a cool football game and a dance, which will be really neat."