New cheer coaches take on new direction of squad
Coming from a family of basketball players, first-year cheer head coach Patrice France never thought she would become a cheerleader.
Though she tried dancing in elementary school to junior high when she was 8-years-old to 13- years-old, France said one moment when she was in fourth grade changed her outlook on the sport she would want to pour her time and energy into.
"I was actually a dancer [in elementary school] and when I saw the cheerleaders come with their uniform, I told my mom that when I get into high school, I'm going to be on the cheer team," she said. 
In her elementary school days, groups of cheerleaders from the high school attended the annual flag saluting ceremony held at her school and performed in their full uniforms with pom poms — which caught her eyes. 
"I thought the pom poms were so shiny and sparkly and the way they were performing got me thinking about how cool they were," France said. 
Using her dance skills of sturdy jumps and motions, France did not need any additional training before trying out for the high school cheer team.
And so by the time she enrolled at Mayfair High School in Lakewood, France tried out for the cheer squad as a freshman and made the cut. She stuck with the sport for all four years and continued into college–two years at Fullerton College and two years at California State University, Long Beach.
Those total eight years as a cheerleader and then another decade as a coach for high schoolers are what drew school officials to offer France a head coaching position Aug. 22 for the Lady Lancer cheer squad.
France, who also oversees one period each of Learning Lab and American Government and collaborates with other instructors, replaces Bianca Guerrero, who took over for dance instructor Leiana Volen in 2021-2022 school year. In fact, France becomes the squad's sixth head coach in the last seven years.
"[Her] experience is probably the biggest thing, and she's providing a lot of structure [for the team]," athletics director Paul Jones said. "My goal also is for the coaches to build relationships with students to reach their full potential here on campus."
France said she agrees with the need to ensure her cheerleaders that she's in this for the long run.
"I think I'm going to bring first and foremost stability to the program and more school spirit," she said. "I also feel like I build a really good rapport with the students, and I'm also strict so I think it will help." 
FROM JAZZ SHOES TO POM POMS
Before acquiring her dream as a cheerleader, France started off as a dancer who performed in churches and involved herself in many different styles of dancing including jazz and modern hip-hop from fourth grade up until the summer before her freshman year of high school. 
So when she reached high school, she said she felt confident she would achieve her childhood dream of lifting up those pom poms and shouting out her team's motto.
"I just remember ripping open the letter and when I saw that it said "congratulations" my friends and I just started screaming," France said. 
From the beginning of her freshman year to her last year of high school, her love for the sport grew and eventually led to a passion that she wanted to pursue. 
Even though France understands that not all of her cheerleaders may have such a lengthy background in the sport, she strives to make cheerleading something they look forward to and fall in love with. 
FROM POM POMS TO THE CLIPBOARD
During her senior year of high school, France's coach and counselor suggested the idea of coaching in the future after she was offered a staff position at the United Spirit Association [USA] summer camp that same year. 
She started her full-time job as a cheer coach by working for the USA from 2010-2017 eventually working as an assistant coach for a year at John F. Kennedy High School in La Palma and two years at Bassett High School in La Puente. As France grew older, helping the cheerleaders with their stunting and tumbling grew tough on her body so she stepped down as a staff member at the USA. 
During her seven years as staff for the USA, France acquired more knowledge about team structure, stability and competitiveness. Through her time coaching at the high schools, she looks forward to bringing more school spirit to campus.
"From Kennedy, I definitely saw so much school spirit and they had a culture of school spirit which is something I want to adapt here," France said. 
After a year of coaching in Bassett High School, France returned back to working for her teaching credentials in hopes of becoming a teacher.  
FROM THE OLYMPIAN TO LADY LANCER
After being assistant coach under Coach Bianca, when France heard from assistant principal Heather Bradley and Jones about being promoted to head coach, she felt many different emotions.
"When I heard that I was head coach, I felt very grateful for the opportunity and couldn't wait to have this season with the girls," France said. 
Before France took position as head coach, the cheer team was split into two groups: cheer and song. But this school year, the previous coaching staff decided the team would return to a single squad of cheerleaders.
Nevertheless, France and her assistant coach, Jessica Espinoza, who like France oversees a Learning Lab and two English classes, haven't ruled out bringing that format back to the program.
"We have a junior varsity [JV] and varsity team at this point in time, but looking ahead in the future, we would definitely love to bring back a song team," said Espinoza, who came on board the same day France was hired. 
Previous co-coach and Dance Production adviser Leiana Volen — the one behind the idea of the song team back in October 2020 — plans to support the team in every way possible.
"I'm supportive of whatever it is that helps the team feel united," Volen said. "If that means having just cheer, then that is the best thing for the team to feel more united."
Meanwhile, France said she hopes to incorporate more traditional cheer motions into performances and keep sideline dances, as the team has done in previous years.
"We plan on adding more routines that involve stunting, tumbling and jumps," she said. "The cheerleaders will still do dances, but we are just going to add a little more cheer motions."
Senior captain Melissa Miranda, a former JV song member and part of the cheer program since her freshman year, said she's supportive of the recent changes.
"I think this was necessary because it was two different teams [in the past] that had two different skill levels," Miranda said. "I am glad we are now able to have multiple coaches focusing on both JV and varsity." 
The coaching staff plans to work in future opportunities for cheerleaders to compete in tournaments. 
"We are currently not competing, although coach France and I are looking into competitions," Espinoza said. "I have some family members who do lead some big-name competitors, so that would be something we're definitely looking into in the near future."
As the season progresses, senior co-captain Mackenzy Jung said she hopes for a better bond with the rest of the members. 
"I'm most looking forward to having a better experience," said Jung, who joined cheer during her junior year. "I think that this year the coach is a little more experienced so learning new skills is something I'm definitely excited for." 
France plans on building teamwork within the team through having the cheerleaders collaborate on a variety of tasks and work together to bring unity.
"I'm going to roll out the mat — that means I'm going to have them work on difficult tasks and that's how they're going to feel camaraderie and learn to work together," she said.
Leave a Comment
Your donation will support the student journalists of Sunny Hills High School. Your contribution will allow us to purchase equipment and cover our annual website hosting costs.
About the Writer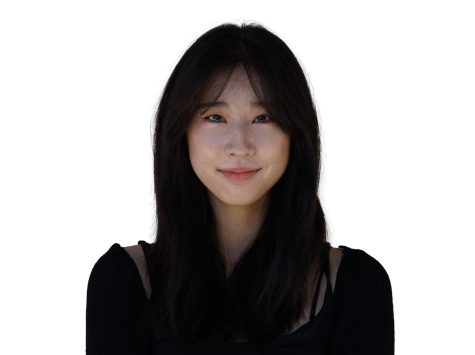 Stacy Kim, Staff Reporter
As a new staff reporter of The Accolade, junior Stacy Kim is eager to start her journey as a 2022-2023 staff member. Kim has written for The Accolade's cub issue in the past and hopes to enhance her writing skills by covering more stories throughout the year.
Besides being on staff, Kim participates in various clubs and organizations such as GENup and the California Association of School Councils. She also enjoys binging Korean dramas, taking naps and listening to music.