This is the first of a series of feature profiles of new, full-time teachers or administrators at Sunny Hills High School for the 2022-2023 school year. Subsequent stories will be posted soon in the Feature section.
After bringing home Sunny Hills' first CIF football title in 27 years in 2019, former head coach Peter Karavedas begins his 10th year here in the 2022-2023 school year with a new title – assistant principal.
"At this point in my life and my family's life, we just love Sunny Hills so much — it's been so great to us," said Karavedas, who resigned as the head football coach in February but was expecting to continue teaching Advanced Placement Macroeconomics on campus this fall. "So when the opportunity came to serve here and to do it under an amazing principal like [Craig] Weinreich, I thought it would be a really good opportunity if I was selected."
Karavedas replaces the administrative position that was once held by John Oldenburg, who after two years here decided to retire over the summer but worked until Friday, Aug. 12. The ex-social science instructor will take over the same responsibilities that Oldenburg had, which ranged from managing student attendance to helping with discipline to dealing with student intervention teams for mental health issues.
The decision to accept an administrative position reflects the reason Karavedas gave to school officials and his players more than six months ago for stepping down as head football coach.
"I've been very candid about it with everyone; I finished my credential to become a school administrator [in December of 2020], which would be like an assistant principal," Karavedas told The Accolade in a March interview. "And so, depending on what is available or what's out there, I might start looking around for those things, but right now I'm not in a hurry toward it.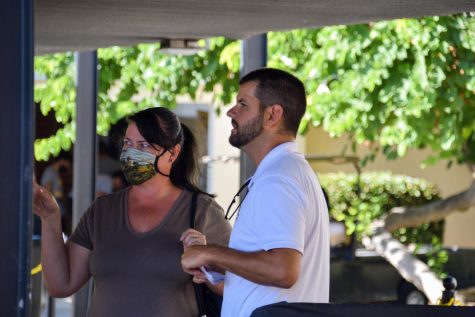 "Eventually I would absolutely love to be an administrator at Sunny Hills, but typically the district sends you somewhere else to give you different experiences. We will see here in the next couple of months if that opportunity presents itself for me, but I am not in a terrible rush."
That opportunity came about over the summer when Karavedas said he initially heard of the job opening near the end of July. And after interviews with district officials, he was hired for the position and received school board approval on Tuesday, Aug. 9.
"I had not applied for any assistant principal jobs," said Karavedas, who was hired in 2013 as a defensive coordinator and assistant coach for the Lancer football team before taking over the program in 2015. "But when this position became open, I jumped at the chance to do something because this will be my ninth year at Sunny Hills, and I love it."
Weinreich said one aspect about Karavedas that stood out during the assistant principal selection process was the former coach's enthusiasm for everything he does, which accompanies his positive and approachable personality.
"I'm very excited to have Mr. Karavedas as part of the admin team here and on staff," the principal said. "His knowledge of the campus and of our culture here is going to be invaluable as he moves into an admin role."
Weinreich said he sees the impact Karavedas left on the Lancers football team as its head coach, who placed an emphasis on building up a feeling of excitement and success for his student athletes.
"I look forward to learning from one another and being able to help him understand and transition into a new role," he said. "He will continue to be a leader and a good influence to students and teachers alike." 
Spending his last 15 years in education teaching and coaching (four years at Whittier Christian High School and two years at Maranatha High School before coming here), Karavedas said he determined that it was finally the time to take a step toward a leadership position.
"I would be happy and completely content if I spent the last year of being a teacher and a dad," said Karavedas, who sensed a personal connection with the Sunny Hills community. "But this was the opportunity where it felt like it was the right fit to pivot my career."
Along with the teachers and programs he has worked with on campus, Karavedas said he looks forward to an exciting year working with Weinreich and welcoming new staff members.
"There's a lot of newness going around," he said. "Making sure that I find ways to make our teachers, coaches and program leaders be awesome at their jobs and making their life easier and better is my goal."
Karavedas also made the announcement of his new position through a Wednesday, Aug. 10, Twitter post on his personal account, which holds nearly 1,500 followers.
Lancer football's inside linebacker, senior Tony Salas, said he recently heard of his former coach's new position from his teammates during an Aug. 9 football orientation.
"It was really a shock to hear that he was resigning as the head football coach," Salas said. "It was definitely the news coming out of nowhere, but I'm glad to still have him at school."
The senior said he still plans to call Karavedas "coach."
"Occasionally, he comes up to me when he is around school [like during Lancer Days last week]," he said. "He'll tell me how things are looking and just his perspective on things like football."