NEW CHAPTER: Former head football coach Peter Karavedas shares his goals in education and plans for his family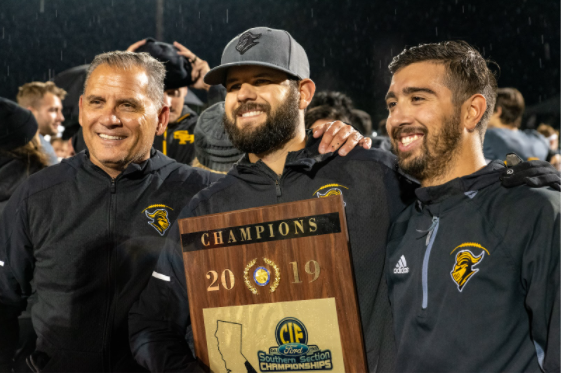 As school officials are finalizing their search for a new head football coach, The Accolade was able to get an in-depth interview with the program's previous leader, social science teacher Peter Karavedas. The former head football coach reflects on how he ended up working here as well as his recent successes while sharing what his new career path will look like.
When Peter Karavedas first took on a job at Sunny Hills in 2013, Karavedas said he accepted it because he was given the opportunity to teach Advanced Placement [AP] U.S. Government and Politics and AP Macroeconomics. 
He did not, however, expect the many memories and accomplishments — including a 2019 CIF-SS Division 8 title — that would also come along with being the SH head football coach.
"I said my goal was to turn it into a 10 out of 10 job, and I'm happy to say that it turned into that through the hard work of a lot of people — coaches, players, boosters, administrators and even reporters on the [school and professional] newspapers," Karavedas said. "I thought we would have success and improvement, but I didn't think I would have expected us to win a CIF title and that I would win Orange County Coach of the Year."
In fact, Karavedas, who was hired in 2013 as a defensive coordinator and assistant coach for the Lancers, said the job checked almost all of his boxes: a school with good students, supportive administration, great location, strong salary, benefits, coachable kids and compatible coaching staff. Except at the time, one box was missing a checkmark — could the football team win?
The answer: yes.
Karavedas went on to have a total record of 51-28 and has led his team to the Fullerton City Championships over Troy High School and Fullerton Union High School for the past four years.
"When I look at the success of SH football over the last few years, I see the labor of love for a lot of people, both in the program directly on the field and off the field," he said.
However, the Orange County Register's Orange County 2020 Coach of the Year and Feb. 5 head coach of the North team in the OC North-South All-Star Classic game has walked away from the football and soccer fields and is changing his path to pursue an administrative position. 
Karavedas officially announced his retirement from the football program in a social media post on Feb. 11, after informing his team earlier that day and administration earlier that week. 
Karavedas was willing to be interviewed by The Accolade to reflect on his time here and provide more details about his future plans.
"I've been very candid about it with everyone; I finished my credential to become a school administrator [in December of 2020], which would be like an assistant principal," he said. "And so, depending on what is available or what's out there, I might start looking around for those things, but right now I'm not in a hurry toward it."
For now, Karavedas said he will continue his role as an educator in the classroom before he starts looking for an administrative position.
"Eventually I would absolutely love to be an administrator at Sunny Hills, but typically the district sends you somewhere else to give you different experiences," he said. "We will see here in the next couple of months if that opportunity presents itself for me, but I am not in a terrible rush."
This career-changing decision, nevertheless, did not come upon Karavedas suddenly.
"I started to have those conversations with myself and my wife, and you know, what's the next step," he said. "I started teaching and coaching at 22, and I have never felt that I would do that for [the next] 40 years.
"I always felt that I would explore other opportunities in education, and so we started to have those conversations a couple of years ago."
While he confided in his wife about his next career opportunity, Karavedas said he chose to keep this plan from his student-athletes to avoid the possibility that they would get distracted.
When running back senior Chris Pinawin heard the words that his coach was retiring, his jaw hit the ground immediately.
"I was more shocked than anything because that was the last thing I would've expected from him," Pinawin said. "He was able to turn the program around in only a couple of years, and it made me sad because [Karavedas] and football have been a big part of my life for the past four years, and I was just in disbelief."
THE WAITING GAME
This breaking news followed the day after the team celebrated its end-of-the-season banquet at Coyote Hills Golf Course Feb. 10.
"I wanted to wait until the All-Star game was over, which was on Feb. 5," Karavedas said. "Because I wanted to make sure that our banquet had already happened and that I didn't resign before or at the banquet because then the banquet becomes about me resigning and not about what it should be, which is our players, seniors and celebrating them."
This news caught many by surprise, including athletic director Paul Jones, who found out the day before Karavedas' official announcement with his players during lunch in his office.
"I was waiting for him to tell me that he was joking, and I just kept staring at him," Jones said. "But I was definitely surprised."
Despite the shock, Jones said he understands Karavedas' decision to step down.
"It's tough because it depends on the season of life of coaches," Jones said. "People have kids and different goals, and Coach Karavedas has a family, so now he is ready to move into another phase of life and another challenge."
Football booster president Cynthia Mahood, who was also taken aback by the sudden news and whose son — running back junior David Mahood — has been in the football program for three years, said she believes the team will carry on Karavedas' traditions for future seasons to come. 
"Our football program is great, and I believe it will continue to be great," Cynthia Mahood said. "The players model integrity first, team before self and excellence in all they do. I believe they will continue to model that in honor of Coach [Karavedas]."
FINDING A REPLACEMENT AND ANOTHER LOSS ON COACHING STAFF
About two weeks after Karavedas' retirement announcement, it was announced that the Lancers' defensive coordinator Phil Hughes was hired as head coach for Canyon High School Football program and would be leaving Sunny Hills.
"
When I look at the success of SH football over the last few years, I see the labor of love for a lot of people, both in the program directly on the field and off the field"
— head coach Peter Karavedas
Jones said he is working with the district office to undergo the formal interview process and screen the applications to find replacements for the two coaches before spring practices.
"You know, it's unfortunate, and we selfishly want to keep him [Karavedas] coaching football because he has done such a great job, but he is ready for bigger and better things, and he is going to do great," Jones said. 
Now that he won't be consumed with football practices or developing new game strategies, Karavedas said he can focus on his next goal.
"One day, I'd like to be a principal," he said. "I think I could get into the assistant principal role chain of the line [first], but that's like the ultimate goal," Karavedas said. "I was certainly inspired by Mr. [Allen] Whitten and the way he changed the culture here at Sunny Hills, which was a huge factor in us being so successful on the field."
WHO'S IN CHARGE NOW?
With offseason lifting already in motion for the team, Karavedas' right-hand man, offensive coordinator David Wilde, has been stepping in and preparing the team for spring practices, which will begin sometime in May.
"[Wilde] will do a phenomenal job because the entire time that I ran offseason lifting, he was right next to me, so it should be a seamless transition," the former head coach said.
In the meantime, while it may not be the same field or high-risk games Karavedas is used to, he said he plans on coaching his three kids' Little League soccer and flag football teams.
"I just want to relax and enjoy [time with] my kids before I maybe jump on the administrative path," he said.
Meanwhile, coaching high school football elsewhere is not in the foreseeable future for him, except if his sons decide to play in the future, the social science teacher said.
"I am very, very open to the future," he said. "I don't know what that looks like, but I certainly know that I want to explore that and see what happens. 
"I needed to shut this door and close this chapter first before I start this new process."