The King and I
May 18, 2022
Senior class vice president savors title earned in 1st prom since 2019
With the lights dimmed and the crowd hushed, anticipation grew with the patters of a drum roll as the emcee, junior Ariana Choi, prepared to announce the prom king.
Though senior Patrick Jimenez, the senior class vice president, has led thousands of students at school assemblies and led the sophomore basketball team to success, the atmosphere at his prom first filled him with adrenaline, then excitement as he stood victorious in front of his fellow upperclassmen.
"There was just an outburst of emotions," Jimenez said. "I've had a lot of public experience, but I felt that this moment was really special, so I wanted to be the person on stage."
The April 9 prom, which was held at Fullerton Municipal Airport Hangar 21, was a fulfilling conclusion to Jimenez's high school career, he said.
"It made high school more memorable, and it shows how good of an experience it is," said the prom king, who was initially worried that, because of COVID-19 and the Omicron variant, he would not be able to have a prom.
Initially, Jimenez, who said he had not even predicted himself to be on court, was grateful at having been selected as one of the members through a voting process that gave all seniors the opportunity to be on court. 
"It was unexpected, but it wasn't out of my comfort zone though, so I thought I might as well just have fun with it," he said. 
The senior said he did not campaign and went through the moments leading up to the big reveal as simply a fun experience. Being on court with many of his friends also lifted the pressure of winning, so he said he did not feel competitive toward the other candidates.
"The only [campaigning] I did was wear the sash at school," he said, referring to the sash given to all court members when they got selected. "I also told people I was running if they asked."
While Jimenez himself lacked confidence that he would take home the crown, his friends and their overflowing support disagreed. 
"I was definitely expecting him to win," said senior Miguel Gaston, one of Jimenez's closest friends, whom he has known for four years. "Patrick is the type of person that makes such a big impact on someone's life, no matter how well or long you've known him."
Always an outgoing person, Jimenez entered high school hoping to maximize his opportunities and experiences by joining multiple clubs and programs throughout his SH career.
"Since freshman year, my goal was always to meet new people and make new friends," he said. "I try to be a nice person to everyone, so I guess that's why I got a lot of votes."
Along with the support of his friends, Jimenez attributes his win to the constant support from his mother, Niña Jimenez, whose nurturing love shaped him into the friendly person he is today.
"I told him to make as many memories as he can in his senior year of high school," Niña Jimenez said. "To be involved in not only his classes, but really any kind of extracurriculars because that's the best thing of high school that he can take with him when he's older."
Winning prom king is one of Patrick Jimenez's many accomplishments, including being accepted into UCLA's mechanical engineering program.
"It's just another feather he added to his hat," Niña Jimenez said. "It speaks volumes about the influence he had on people because to get accepted into UCLA, you have to have connections and be involved a lot in your school."
His mother said she admires her son's perseverance and believes that it helped him not only through garnering votes, but also in his journey through high school.
"If he commits to something, he makes sure he sees it through to the end," she said. "He tries his hardest to make sure he's 100% there in all he does — it really speaks to his work ethic."
Notified that her son had won prom king when he FaceTimed her immediately after the announcement, Niña Jimenez said she truly cherishes their close bond. 
"It's almost like we're twins," said his mother, who even shares the same birthdate as her son. "There's a lot of things about Patrick that were a lot like me when I was his age, only he's more sociable. I feel like I understand him more than he realizes.
His mother's encouragement to be involved in extracurricular activities inspired Jimenez to do exactly that, such as joining Bayanihan Club since his sophomore year.
"I know so many people in Bayanihan, and it definitely [helped] me with votes," Jimenez said.
In addition to Bayanihan Club, Jimenez joined ASB in his senior year because he was inspired by his friend, Ellen Kim, he said. Being a part of the technology committee allowed him to make new friends as he filmed videos for various events that broadened his outreach to the school community. 
"I met so many new people and friends because of filming," he said. "It really allowed me to get involved with all different parts of the community at school, like sports and clubs, which I think helped me have that social connection to take home the crown."
Many of Jimenez's friends, including those who had been on court, heightened his enjoyment as they brought positive camaraderie to the experience. 
"When I heard my name, Steven [Bogard], who was also another court member, straight up just hugged me right away," Jimenez said. "There was no bad blood."
The senior said being able to stand as prom king with prom queen senior Abby Hahm, one of his best friends, made the dance live up to his expectations.
"The whole experience [of winning] was something I didn't expect," the senior said. "It was amazing to see my prom be exactly like the ones in the movies, and winning prom king made it feel so similar."
Wrapping up his last year at Sunny Hills, Patrick Jimenez said that his hope is to leave a lasting legacy in the community as the 2022 prom king. 
"I hope that the people I have met at Sunny Hills remember me as the one that could always make them smile, whether it be by waving or greeting them because I love spreading positivity," he said.
Leave a Comment
Athlete gets enough 'track'tion from peers to wear crown as queen
Senior Abigail Hahm thought it was going to be another ordinary break full of chatting with her friends near the quad.
As she lightheartedly started getting out her snack, Hahm was ready to applaud her peers whose names were soon to be called for one of the highlight events of their last year in high school — prom court.
Little did she know that she would not only be a member of the prom court, but also make it to the bigger stage as prom queen on April 9.
"I was eating when they called out my name, definitely not expecting it," she said. "I was like 'Oh me? Um, can I finish eating?' But I think it's an honor, and I am very grateful for all the people that nominated me."
Regardless of the unexpected outcome, Hahm said taking home the crown was one of the most memorable experiences in her senior year, especially after returning from distance learning.
"One of the biggest challenges I recently overcame was the whole pandemic," the prom queen said. "I'm a very extroverted person, so being locked up and stuff was really hard for me. But I think it definitely taught me a lot about myself, so I'm really grateful for the pandemic in a sense."
Reflecting on her experiences, the prom queen said she thinks her activities outside the classroom, including track and field and dance helped her garner the most votes.
"Prom queen is such an honor, and I think my involvement in so many activities and programs at Sunny helped people know me," Hahm said. "But I genuinely love people, reaching out and just getting to know others."
Hahm's mom said she knew that her daughter's genuine and hardworking personality shaped and developed her into who she is now.
"Abby has been an influential person her whole life at home, church and school, ever since elementary school," Hahm's mother said. "Abby also has a heart for people — she loves and genuinely cares for her friends and family."
Alongside prom queen, the senior added being CIF finalist in the 100 meter hurdles last year and Orange County Athletic Directors Association's 2022 athlete of character to her list of accomplishments in high school.
"She has been gifted in many areas in her athletic ability, her intelligence and with great people and leadership skills," her mother said. "Abby has a very strong work ethic and when she sets her mind to do something, she doesn't do it halfheartedly."
After not being able to make homecoming court, Hahm said winning prom queen made the experience all the more valuable.
"I was a bit disappointed about not being able to be on homecoming court, but the fact that my friend made it honestly made it so much better because she deserves everything," she said. "But I felt so excited when they announced my name. I was thinking I might have a high school moment like in the movies."
In addition to receiving the honor with her close friend senior Patrick Jiminez, the senior said that being with her friends lowered the pressure of winning.
"I think I got more nervous when they told us to be ready by a specific time, but honestly it was just nice being up there with people I knew because I knew everyone up there deserved it," Hahm said. "When each position was announced, I held hands with David Burn and Toni Lee because they were next to me, and it was comforting to know we all supported each other no matter what.
"So I wasn't too nervous because no matter who won, it would be amazing."
Alongside Hahm, her friends, like senior Asmaa Aldein, who has known Hahm since freshman year, joined in on the exciting moment and cheered for their queen.
"I was already recording Abby as she went up with the other nominees because I knew she was going to be the prom queen," said Aldein, who voted for Hahm. "When it was announced, I was literally filled with happiness because I knew that she deserved this crown."
Along with her friends, Hahm's parents were not surprised that she had been nominated and crowned prom queen.
"I was hoping that she would make it to prom court, and I was very happy for her when I found out she was nominated," Hahm's mother said. "The same is true for when she was crowned prom queen. I had a feeling she may, but didn't want to get my hopes up, but was so excited when I found out."
Wrapping up her last year at Sunny Hills as prom queen, Hahm feels content with her achievements.
"It's so rewarding having my high school moment in senior year and ending on a high," she said.
About the Writer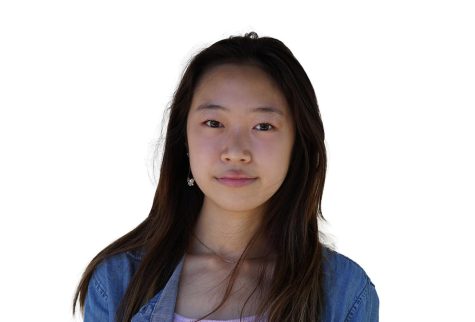 Faith Jung, Social Media Manager
After taking Journalism 1 her freshman year, sophomore Faith Jung entered The Accolade as the social media manager for the 2022-2023 school year. She gained some experience during her first year in journalism as a cub reporter, writing one arts & entertainment story and one feature story for the cub issues. Jung is excited to work with the rest of the staff to write stories and expand the influence of the school paper.

Aside from working for The Accolade, Jung enjoys playing the flute and piano. She also likes to watch Korean dramas and read books in her free time.
Leave a Comment