'Pachinko's' references to bitter history between Korea, Japan makes it a must-see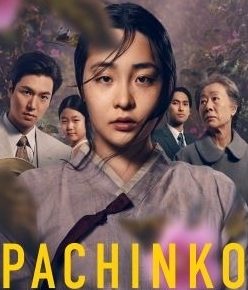 Shah-la, la-la-la-la live for today. 
With The Grass Roots' timeless 1967 rock classic, "Let's Live For Today," playing in the background, the camera captures cast members flaunting their disco moves in a flashy pachinko parlor (Japanese casino-like establishment) — a well-fitting opening credit for the best series of the year. 
While its graphic violence can be disturbing from time to time, "Pachinko" guides a much-needed conversation about the ugly moments of World War II and its aftermath — war, poverty, discrimination and death — all from the lens of a fragile, yet fervent Korean mother who moves to a foreign land in hopes of providing her children with greater opportunities. 
Though its historical context may prove challenging to understand for Western audiences unfamiliar with Japan's occupation of Korea, the series details a relatable story of an immigrant family from the perspectives of the predecessors who sacrifice their life and liberty, as well as the descendants, burdened with their family's expectations.  
Adapted from New York Times bestselling author Min Jin Lee's 2017 novel under the same title, "Pachinko" features a majority Korean cast as well as a Korean-American crew of filmmakers with Soo Hugh ("See") as executive producer and Justin Chon ("The Casagrandes") and Kogonada ("After Yang") as  directors. 
With its March 25 premiere on Apple TV+, the eight-episode trilingual series (Korean, Japanese and English) covers the story of four generations of a Korean family through two time periods set during the 1920-1930s and modern day Japan, 1989.  
The series' 50-minute episodes introduce the main character and the vanguard of the family — teen Sunja (Minha Kim, "Main Street") — who was born and raised in Yeongdo, an island south of central Busan, during the Japanese occupation of Korea. With a family that runs a boarding house during the country's economic crisis, the young lady learns the ins and outs of living a life of poverty. 
Later depicted in the series, in an ill-fated relationship with Koh Hansu (Lee Min-ho, "The King: Eternal Monarch"), a wealthy Korean-born merchant adopted into a family of Japanese criminals, young Sunja becomes an unwed expectant mother — a shame for her family and their business. That is until she meets Isak (Steve Sang-Hyun Noh, "300 Year-Old Class of 2020"), a Christian minister who takes her hand in marriage and brings her along to Osaka, Japan. 
Each scene narrated in the past (1930s) is met with a direct crossover to the 1989 timeline, where an elderly Sunja (Youn Yuh-jung, "Minari") resides in Japan with her second son, Mozasu (Soji Arai, "Cobra Kai"), the owner of a pachinko parlor.
Following World War II, many members of the Zanichi population, ethnic Koreans who were forcibly taken as laborers or willingly moved to Japan for better economic opportunities during the Japanese occupation, turned to the pachinko gambling industry as a source of income because of intense discrimination that prevented them from pursuing stable jobs in the foreign country.  
With scenes that frequently shift to the lives of the fourth generation, Solomon (Jin Ha, "Love Life"), Sunja's grandson, offers viewers a taste of the financial and cultural stigma surrounding his lower-class family. His Korean ethnicity as well as the family business were both considered central symbols of shame during Japan's economic boom. 
With her poignant storytelling and old Busan satoori, a regional dialect in South Korea, rising actress Kim carries the audience through angst and tears while preserving the untold stories of mothers and grandmothers. 
The production's high-quality cinematography and acting deliver countless iconic tear jerking scenes that shed light on the millions of Koreans who suffered physical, emotional and cultural damage during Japanese colonialism. Children and adults, likewise, were expected to abandon their identity in return for survival as they adopted the country's foreign customs and language. 
Despite the humiliation of running a kimchi business, Sunja, the very image of matriarchy, abandons "face" to make a living for her family. As she pushes her stocky cart of fermented cabbage around the marketplace, all those around her, including fellow Koreans, eye her with scorn.
In such simple moments, "Pachinko" creates a personal moment between the viewers and Sunja who confronts society's harsh expectations. As the series progresses, the episodes also picture Solomon, a once insensitive salaryman who capitalized off his heritage, becoming a tender grandson who admires Sunja's life sacrifices. The series teaches individualistic American audiences a cultural lesson about the sacrifice made by older generations.
Despite the rise of Korean films on international platforms, like Netflix and Disney+, "Pachinko" is an original immigrant series centered around a time period and a minority population (Zainichi Koreans) that is often overlooked in history lessons. 
The show leaves many unanswered questions about the origins and storylines of pivotal characters, so season two (confirmed by Apple TV+ April 29) is a much-anticipated production that will further explain the four-generational saga.