GAME BALL: Water polo senior breaks top 5 in goals scored leaderboard
7-10: Lancers down in the second quarter against the Sept. 22 La Habra Highlanders. 
With four back-to-back 5-meter penalty shots coming from utility player Nathan Kim, the team regained control of the game, concluding the quarter 11-10. 
"I served as a threat to La Habra," Kim said. "They never really had a good plan to stop me, so I ended up performing well against them." 
The three year varsity starter established a total goal count of 123 at the end of the 2021 season, putting him top 5 for Sunny Hills scorers.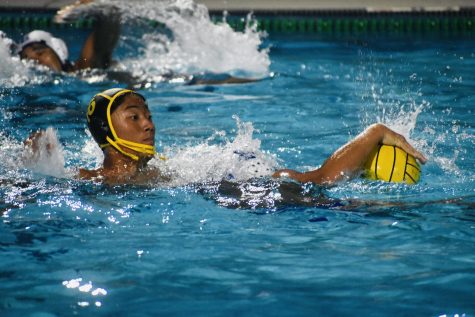 "[His performance] was expected, but it was obviously great to see," boys water polo head coach Jordan Jaime said. "For him to break 100 and even more is incredible."
 As a child, Kim was introduced to a variety of sports such as basketball and tennis. After trying out multiple, he initially stuck to swimming. The repetitive nature of the sport was not fit for his energetic nature, so he quickly shifted to water polo, Kim said. 
He swam in two facilities, Splash and YMCA, then joined Shaquatics, an aquatics facility directed by coach David Farkas, and played competitive water polo. Kim stopped playing at Shaquatics at the beginning of his high school freshman year to play in the Sunny Hills junior varsity water polo team.
"Freshman year was actually very intimidating at the time since Sunny Hills had a really good boys water polo team with a lot of big guys," Kim said. "[Nighswonger] was like 'let's put this freshman on varsity during practice and let's see how he does.'" 
Now as a senior, he stepped up to become the team captain to get the team back into shape and became the lead scorer in the Freeway League. From previous years, Kim arguably defines what it is like to be a perfect team captain, pushing everyone to work beyond the normal standards. 
"Nathan was a shining example of what we want our water polo players to be," head boys coach Jordan Jaime said. "He always gave 100% and we always felt like the games that we played between then and now he was leaving everything out there. He was instrumental in creating a more positive team culture, a hardworking team culture."
Though this feat was individually completed by Kim, the athlete attributes his achievements to his coaches and the older players who contributed in building his mental attitude toward the game.
"In hard times when I felt like quitting the sport, the older players stepped in and told me that I should continue to play, because in the end, it's going to be worth it," Kim said. 
Utility player sophomore Brandon Koh praises Nathan for his leadership in and out of the pool. "He was a great leader and definitely pushed me to improve," Koh said. "He was able to keep his composure and score goals when others couldn't."
After being on the team for four years, Nathan reminisces about his experience and what he will miss about the program. 
"The intensity of the game, the bond with teammates, the lectures and plays from the coach…all of it was amazing and I will miss it for a long time," Kim said. "Whenever I see someone playing a sport, I will think of the times in water polo and I will really miss it."