Boys water polo edges La Habra 20-19 in season debut
For the first time in two years, the Sunny Hills boys water polo team defeated the La Habra Highlanders in the team's first Freeway League home game of the season, 20-19. 
"The last three years, our team was very rough in terms of the number of people and in terms of experience, and I just feel really good about this team, especially after getting this first win," said utility player senior Nathan Kim, who racked up 10 goals.
The first quarter began with the Highlanders scoring three consecutive points against the Lancers as their defense couldn't stand up against La Habra's fast plays and aggressive moves.
However, utility player junior Jeremy Herrera broke the streak with two minutes left on the clock after successfully rebounding utility player senior Elijah Vera's shot that ricocheted off the crossbar.
"It's been a very long journey getting this team to not be a first-quarter warmup-type team, [but] unfortunately, that's what happened [today]," said recently appointed boys water polo head coach Jordan Jaime.  "Afterwards, they really dug deep and ended up scoring eight goals in the second quarter to pull us back in the game. Sometimes, you're just playing the first quarter to evaluate your opponent and figure out where you have to apply pressure on or not, and I think that's what we did."
Though the Highlanders established themselves in the first quarter scoring seven points, Sunny Hills successfully pushed forward in the second quarter with four back-to-back 5-meter penalty shots from Kim, finishing 11-10.
"My mindset was, 'I have to make it, I have to make it,' because if I missed any one of them, we could have tied or lost," Kim said. "I did my job [by] putting them all away, and we came back from that deficit."
Lead and lone scorer Kim shot and made six goals into La Habra's goal to conclude the third quarter with a 16-13 lead for Sunny Hills with respective assists from utility players sophomore Brandon Koh and senior Andrew Lee. 
"I was busy thinking that I had to continue playing my heart out in order for us to come out on top," Koh said. "We kept encouraging each other, which helped boost the team morale."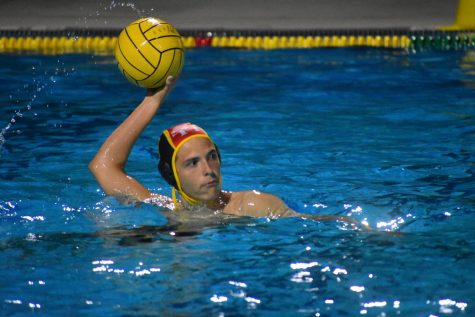 Despite the third-quarter lead, the Highlanders fought back hard with La Habra utility player Ethan Briones scoring three consecutive shots under heavy defense, which escalated La Habra's score, but the Highlanders still fell two points behind the Lancers. 
With 1:52 left on the clock, Lee managed to score the final shot while two defenders tightly guarded him. This secured a two-point lead for the Lancers, but La Habra utility player Nathaniel Gage quickly followed with a goal of his own to edge out the score 20-18.
After a timeout by Sunny Hills with 46 seconds left, the Highlanders scored to close the gap to 20-19, still in favor of the Lancers. Sunny Hills was quick to use its second timeout with 35 seconds left to maintain the high pressure of the last quarter.
La Habra called its last timeout with 12 seconds left, right after gaining possession from a turnover by Kim, but was unable to score a point which led to the Lancers winning with a final score of 20-19.
"During the timeouts, I told my team, hey calm down, we keep on going and we have to keep the ball away," Kim said. "I just thought we were able to do that and we put [the game] away." 
The Lancers hope to continue their winning streak in their next game against the Coyotes at Buena Park High School on Sept. 29 at 6 p.m.
"We are a very young team," Jaime said. "[Our team] only has four seniors, so it's really just about getting [them] to share their knowledge with the younger players and lift us up together."