Quad ceremony at break Friday, Sept. 10, to remember 9/11 victims of East Coast terrorist attacks nearly 20 years ago
Students and staff are encouraged to come to a patriotic-themed quad during break today, Sept. 10, to remember the 9/11 victims of the East Coast terrorist attacks nearly 20 years ago, Associated Student Body [ASB] officials said.
Saturday, Sept. 11, marks the 20th anniversary of the hijacked planes that crashed into New York's Twin Towers buildings, a field in Pennsylvania and one side of the Pentagon in Washington, D.C., killing nearly 3,000 people in total.
To honor those lost lives, the ASB has traditionally decorated the quad with red, white and blue ribbons or balloons before the quad ceremony, while the choir would be invited to sing the national anthem during the event followed by a closing speech from principal Allen Whitten.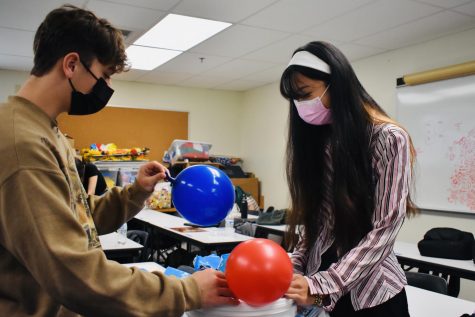 The activity was canceled last year because of the coronavirus pandemic, which forced Sunny Hills to continue with distance learning in September.
Though this year's ceremony will be similar to the 9/11 commemoration ones in the past, some differences include a U.S. flag chalk drawing in the middle of the quad that the ASB students worked on the day before instead of the usual numbers, "9/11," ASB co-adviser Mike Paris said.
"[9/11] has always been a big deal, so just because it's the 20th anniversary does not make it a bigger deal this year," Paris said. "The idea is that we want to keep the memory [of the victims] alive so that it's always an important event."
After the choir sings the national anthem, the ASB co-adviser said Whitten will give his speech — provided by federal officials — followed by a three-minute video of 9/11 images broadcast on the jumbotron. 
"The ceremony will be similar to previous years as we want to uphold the Sunny Hills tradition," said senior Madeline Liu, ASB community affairs commissioner. "We will [also] have a spirit day on Friday, so we are hoping for a good turnout in the quad."
For spirit day, the ASB encourages the student body to dress out in red, white and blue clothing in honor of those who died from the 9/11 terrorist attacks. 
"We're going to try to get as many people as we can out [in the quad] since it gets pretty busy during break," Paris said. "The jumbotron has changed the way we hold the ceremony since it's much easier for students to watch our short video."