GIRLS GOLF PREVIEW: Lady Lancers look to finish deeper into CIF playoffs for team and individuals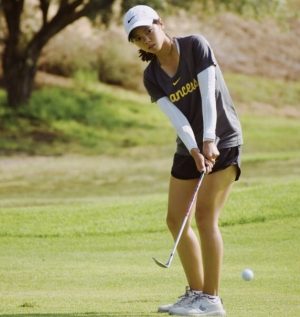 Coaches: Scott Enrico (head coach), David Fenstermaker (assistant coach), Ron Newton (assistant coach)
Top Returning Players: Lauren Choi (12), Yurang Li (10), Katie Pyo (11) 
Top Newcomers:  Olivia Chavez (9), Lauren Lee (11)
Last Season: The girls finished third place in the Freeway League (7-3) last season behind second-place La Habra and first-place Troy and qualified for the CIF Team Divisional Championships. 
Outlook: The girls golf team tees into the new season with five returning players and one newcomer as the starting lineup. The team also hopes to advance deeper in the CIF playoffs this season. 
"We have some really hard workers on this team," Enrico said. "Even though our season ended last spring, our girls are still working on their game throughout the summer, and, in my opinion, playing in tournaments is the best way to gain competitive experience."
Li qualified for the CIF/Southern California Golf Association [SCGA]  Individual Championships held at River Ridge Golf Course. She advanced to the CIF/SCGA Qualifier but chose not to play in the CIF/SCGA Sectional Championships so she could compete in the Rolex Girls Junior Championships. 
The Lady Lancers held summer practice four to six hours weekly and focused on practicing their short game, such as approach shots, chipping and putting, areas the girls struggled with last season according to Enrico. 
"This is the strongest team I've had, as several of our top girls are playing in tournaments, including the Southern California PGA Junior Tours [SCPGAJR ] and American Junior Golf Association tournaments, all summer long and putting in the work to get better," Enrico said.
The team features the return of Choi, who was the co-MVP her freshman and sophomore years, and new players like Lee, a transfer from Troy High School. Lee qualified for CIF Individuals last season and placed consistently in SCPGAJR tournaments. 
"I came to Sunny Hills in hopes of reaching a higher GPA for colleges to see," Lee said. "I hope to be able to practice two to three hours a day and increase my skill little by little, while also focusing on school work."
With the COVID-19 situation improving, players who were not able to experience a full season in the last school year have high expectations and personal goals for the team.
"I feel excited but at the same time a little nervous because I've only been through a condensed season where things seem to work differently," said Li, who competed in the Rolex Girls Junior Championship and placed 17th at Virginia in June. "I also hope to know my team on a more personal level, since everyone seems pretty cool, and learn how to manage my time better by balancing my high school season, academics and my personal tournaments."
Captain Choi said she anticipates a full season in which she can work with her new and experienced teammates. 
"We recently gained a lot of great and experienced players, and I want our team to qualify for CIF playoffs for both team and individual," she said. "Golf isn't a close contact sport, but with the Delta virus cases it's hard to feel completely at ease in a game so I'm hoping we all take safe precautions for a smooth season."
The team will play its first non-league game on Aug. 24 at 3:00 p.m. against La Mirada at Los Coyotes Country Club and will play its first home Freeway League game against La Habra on Sept. 8 at 3:15 p.m. at the Brea Creek Golf Course.
"If there are any bumps in the road, we'll deal with them as they come," Enrico said. "We'll do whatever it takes to have a normal season."