Incoming ninth-grader Max Eu wouldn't have shown up for freshman orientation at Sunny Hills if it weren't for his older sister, senior Yonhee Eu.
The sibling is a second-year leader in Link Crew, which organized the Aug. 6 event that started in the gym and continued with smaller groups inside various classrooms.
It was in that recently remodeled gym that her younger brother experienced his moment of epiphany.
"When I was welcomed by a tunnel of Link Crew leaders screaming and applauding as soon as I walked in the gym, I came to the realization that I actually became a high schooler," Max Eu said. "I'm glad that I got to experience the event on campus instead of [through] Zoom."
Max Eu was among the 500 out of 650 enrolled freshmen who attended the orientation program, which was a much more reserved event through Zoom last year because of the coronavirus pandemic.
"I'm glad that we are able to hold the event in person because you get to have all the students get to know each other, and it's just a different experience to be able to do this all together than it is to do it on Zoom," Link Crew co-adviser Cristian Bueno said. "On Zoom, I feel like it's very easy to get distracted and to not get that human connection than when they come here in person."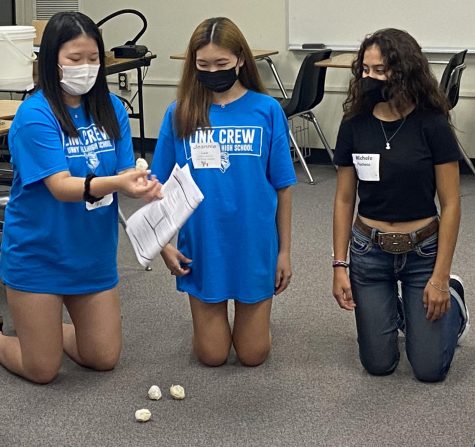 Besides having an in-person event, this year's orientation differed from last year's since Link Crew took advantage of being able to have physical interactions, such as being able to set up a balloon popping team game during the introduction in the gym, which used to be done annually before the coronavirus pandemic. 
"The freshmen really seemed to enjoy the activities we prepared for them, such as when they saw their classmates struggling to pop the balloons," said senior Rachel Lee, who like Yonhee Eu is starting her second year as a Link Crew leader. "I felt a disconnection between all of us last year, but the ability to make eye contact, give each other high-fives or fist bumps and just see one another in real life after such a long period of virtual meetings was exactly what these freshmen needed for a smooth transition into high school."
Freshman Taha Tarabay was one of the students who found the physical interactions in his small group helpful.
"Everyone here was really nice, and things were very organized," Tarabay said. "I think [Sunny Hills] is a very good school, and I learned a lot of tips.
"Also, friends are a really good way of passing classes and succeeding in the future, and I think I made some today in my group." 
Another student, freshman Jharlize Estonactoc, referred to spending bonding time with her Link Crew leaders as the highlight of her experience. 
"I was super nervous [before] going to the orientation because going to a new school was scary," said Estonactoz, who found out about the event from her SH peers. "Playing games with the Link Crew leaders was the best part of the orientation because some of the games helped show the ups and downs we might face in high school."
Although freshman Roen Forbes has already been to Sunny Hills for volleyball camp this past summer, he said it's not the same as what the Aug. 6 event provided.
"I'm excited to go to school to meet new people [at freshman orientation], not just going there to play a sport," Forbes said.