Junior wins $500 from art contest
After competing in the international 2021 Science Without Borders Challenge, junior Sharon Choi placed first in the category for 15-19-year-old students, winning $500 for her ocean conservation painting titled, "The Guardians of the Sea."
"I was really surprised that I won," said Choi, who has entered other contests before but has never won a cash prize until now. "I entered a couple art competitions before, and I didn't get the results that I wanted, so I was pretty discouraged. I was speechless when I found out."
Director of Education for the Khaled bin Sultan Living Oceans Foundation, Amy Heemsoth, first broke the news to Choi  on May 12 about the result over a Zoom session with her art teacher, Brian Wall. 
"When COVID-19 hit, we started communicating with our winners through Zoom to meet them, their parents and teachers," Heemsoth said. "For Sharon, she incorporated the theme so well into her artwork. It is a very magical piece."
When Summer Kim, her art teacher at Young's Art Studio, first offered to apply for the contest, she was not interested, but after viewing the theme, she changed her mind. 
"I loved how there was a specific theme, making it easier to come up with a painting," she said. 
After Choi researched the theme "Magic of the Mangroves," she was intrigued by the subject and decided to apply it to her artwork using acrylic paint on an illustration board. 
According to ocean.si.ed, the ecosystems of mangroves, a group of trees and shrubs that grow on tropical forests, support a diversity of creatures by providing a safety hedge for marine animals to live and hide. 
"I researched the importance of mangroves, and I decided that I really liked the idea of mangroves being a safe haven for young fish, like a kindergarten, so that is what I wanted to portray in my piece," she said. "I used the roots of the mangrove trees to intertwine into a gate to symbolize how it protects the fish."
To incorporate the theme into her artwork, Choi found over 70 reference pictures to paint as accurately as possible. 
"For the background, I looked at digital fantasy realms because I wanted to portray the mangroves as somewhat magical since the theme was 'Magic of Mangroves,'" she said. "Even though my piece was not completely accurate of the mangrove trees, I wanted to focus more on the conceptual aspect of the painting."
Her Advanced Placement Art teacher, Brian Wall, was also thrilled when he heard that she had won the competition. 
"Sharon is extremely sound technically," Wall said. "She understands media and application at a level far beyond what is typical of a junior in high school."
Junior Audrey Lee, one of her best friends, also feels proud of Choi's win because she was with her throughout the whole process. 
"I remember her telling me about this contest and her showing the progress of her artwork," Lee said. "When she told me she won first place, I felt happy for her and knew she deserved it."
With the prize of $500, Choi said she wants to spend the money on a summer passion project in which she plans to fundraise to make art kits for children in refugee centers.
"I plan to enter more art contests over the summer and fall to put on my college applications," she said. "However, I missed most of my [contest] deadlines because I was working on my AP art portfolio."
About the Writer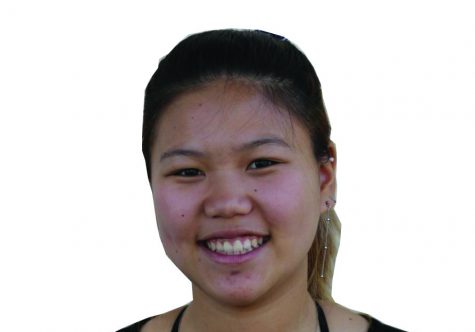 Alice Lee, Staff Reporter
As a new addition to The Accolade, junior Alice Lee passionately strives for innovative and intriguing stories to write and interest readers. To fill her position as staff reporter, she will aspire to constantly put out her proudest works. Having experienced writing stories online and on paper, she prepares for any types of stories in all formats. Lee is expecting many obstacles, but also a wonderful year in The Accolade with many accomplishments ahead.