Girls basketball gets its own 'Fab Five'
Heading into this girls basketball season, head coach Jae Byun knew he had something special on his 2020-2021 squad.
Not for just one of his players. Nor two, nor three, nor four.
But for all five — all of whom Byun added to his lineup being freshmen.
It reminded him so much of the 1991 Michigan University Freshmen Fab Five that he decided to share a famous pose shot with his ninth-graders.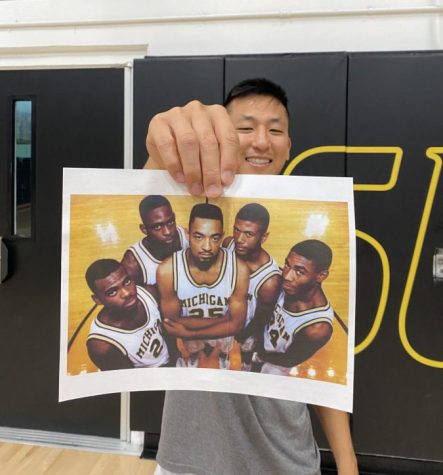 On the team's picture day on April 10, Byun had Rebecca Fruto (point guard),Taylor Parra (small forward), Natalie Do (small forward), Erin Choi (point guard) and Gwen Briones (point guard) recreate that pose in which the photographer was shooting the image from above looking down at the player, all of whom are looking up.
"This is more like an inside joke as those guys were the legit Fab Five," the coach said. "But they're definitely a promising group of freshmen playing together." 
So promising that Byun inserted three of them — Choi, Do and Parra — into the starting lineup the first game of the season March 30 against Canyon High School in Anaheim.
As the team wrapped up its regular season Thursday in an away game against La Habra (winning 46-36), the freshmen five reflect on the experiences they gained on and off the court.
"It was surprising to see that I had made it because varsity is a big step from middle school as everyone is bigger and stronger," said Parra, who according to Max Preps has scored 82 points heading into that La Habra matchup. "I'm a decent shooter and a pretty smart player, and I think that allowed me to make the team."
Having skipped playing at the frosh/soph and junior varsity levels, the freshmen  said they faced obstacles with their height. So to counter that, they focused on other advantages.
"
But they're definitely a promising group of freshmen playing together"
— Jae Byun
"I'm currently focusing my time on other skills like shooting, and as long as I put in effort, I'll have a chance," said Briones who is the shortest among her freshman peers standing at 5 feet, 2 inches tall, according to Max Preps. 
Choi became one of the leading scorers during this season with 136 points before Thursday's game and one of the two to surpass 100 points on her team. She credited a lot of that to her coach's regimen.
"Coach Byun made us shoot 100 threes and do warm-up shots almost every practice," Choi said.
Besides the three freshman starters, Byun usually adds to the lineup returners junior Elizabeth Rosenkranz (center) and junior Jessica Kim (guard).
"It was kind of awkward at first because [we freshmen] didn't know [the upperclassmen] well, but now we're all comfortable and share close bonds with each other," Fruto said.
Kim would best relate to the freshman five since she also started her tenure on the team when she was a ninth-grader. That also has helped with the team's chemistry. 
"Everyone meshes together very well, and I think the freshmen will face growing pains, but I think they're talented enough to [face it]," she said.
Third in Freeway League (4-4), the girls hope to build their stamina and strength together in the next three years.. 
"For the next four years I really want to see my how far we can go as a team, and at the same time I want to find out what I'm capable of," Do said.