Sunny Hills girls soccer team overcomes Highlanders 2-1
Undefeated in the Freeway League, girls soccer secured another win against La Habra after defeating the Highlanders 2-1 in an April 20 home game.
"We couldn't get a quick start on the game, but we showed patience and perseverance, which led us to victory," girls soccer head coach Jeff Gordon said. 
In the first half of the game, the Lady Lancers (7-2, 5-0) could not get past the Highlander defense because La Habra's goalkeeper, sophomore IIise Medrano, blocked all of their attempted goals. 
However, with 15 minutes left of the first half, forward senior Kaitlynn Roberts' right-footed shot put Sunny Hills up 1-0.
"Jazmin took the ball down line and gave me an amazing pass in front of the goal where I could run halfway and drop into the 'sweet' spot where no one was on me," Roberts said. "I had to make sure I was open in order to have a clean shot for the goal, and her pass helped me achieve my goal by giving me a good ball in front of the goal and to my feet."
Despite opening the scoring, the team struggled to keep its consistency and conceded a goal to La Habra (3-7-2, 2-2-1) after midfielder junior Eleanor Salazar scored on an overhead cross field in the last five minutes of the first half. 
At the 35-minute mark of the second half, forward junior Anika Osborne shot a goal, which quickly bounced out of the cage, leading to a small dispute between the player and the referee and resulting in Osborne receiving a yellow card. Later, senior midfielder Juliana Hodgson also received a yellow card when she attempted to tackle an opponent while battling for an airball. 
"It's the referee's decision at the end of the day, and we put in new players who did an amazing job," said Gordon, who had discussed the Osborne situation with the referee during the game but declined to comment further about it afterward.
Undeterred by the penalties, the Lady Lancers took the lead when forward senior Jazmin Montalvo scored off a cross field assist at the 25-minute mark from forward junior Brianna Figueroa.
"I had a defender on my back, so I cut to the outside, dribbled and hit a shot far post," Montalvo said. "I knew my team needed another goal to win, and I was ready to step up."
After coaching the girls through a slow start, Gordon said successful games need a quick beginning as it builds momentum for the team. 
"[Montalvo] knew we needed a game winning goal; she went to work and got it for us," he said. "Our team is fast and used to playing quick — sometimes too fast and this was a slower-paced game where we needed to connect passes and not rush."
With four games left in the Freeway League season, the Lady Lancers look to win the Freeway League for the first time in six years. 
Roberts said Troy, which the Lady Lancers beat 1-0 on April 8, is the team's biggest competition.
The Lady Lancers took on the Buena Park Coyotes Thursday, April 22, at Buena Park High School, winning 2-0, continuing their winning streak. The squad will next take on the Warriors again at Troy High School (4-4-1,3-2-1) today, April 27, at 4 p.m.  
"I'm excited for what the rest of the season has to hold, and I'm always so proud of how my team comes together to perform and win," Montalvo said. "The team always has a strong bond, and we are willing to play and battle for each other."
About the Writer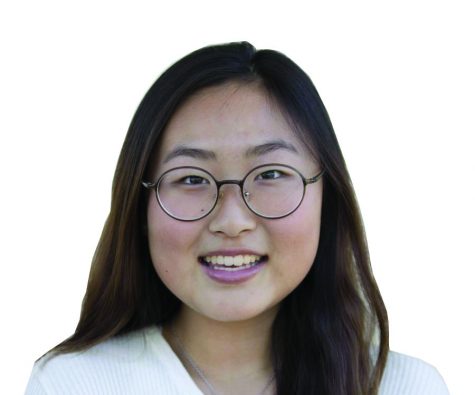 Rachel Yun, Staff Reporter
After a busy year of developing her writing skills in the Journalism 1 class, junior Rachel Yun is now taking on a new role as a staff writer for The Accolade. In her previous journalism class, Yun wrote an athlete feature and a movie review and is excited to take on new stories this year as well as expanding her knowledge as a journalist. Yun also looks forward to meeting new staff writers/editors and students throughout campus.


Besides writing for The Accolade, Yun is also part of the Sunny Hills girls tennis team and is currently working on an upcoming club called "Girls Who Code". She also enjoys playing with her dog Happy and binge-watching shows in her free time.