Despite reopening of schools, ASB and PTSA plan to host virtual IFF with Google Slides presentations and Virtual International Food Fair
Street tacos, samosas and Black Forest cake — the basic starter pack of authentic foods for students at the International Food Fair [IFF] to begin their day celebrating and learning about new cultures. However, this year, students will be unable to experience such delicacies because of the COVID-19 pandemic.
The Associated Student Body [ASB] and Parent Teacher Student Association [PTSA] aim to hold the IFF assembly entirely online for all students on March 17 along with a Virtual International Food Fair beginning for students March 15 designed to replace the traditional food fair.
"A live IFF event, whether that be food fair or assembly, would not be allowed under the [safety and health] restrictions under hybrid," ASB co-adviser Mike Paris said. "Also, many students are not on campus each day."
Seven of the eight culture clubs — Bayanihan, Chinese, Indian, Korean, Latin, Mana and Vietnamese — will be participating in this year's online IFF, Paris said.
The IFF assembly will resemble the online Club Rush held earlier in the school year, with two Google Slides pages designated for each culture club to include information and links of their choosing. 
"We asked them to highlight their culture in a manner of their choice," he said. "Some of the possibilities suggested were new videos, videos from previous IFF assemblies, fashion, food and photos. These clubs did an absolutely tremendous job with what they created."
The ASB plans to produce a 15-20 minutes video in which hosts take a tour of the various links on the Google Slides; the video will be posted on the school website and on all ASB social media platforms on Wednesday morning by 7 a.m. 
Students of the Chinese Culture Club [CCC] decided to take a creative approach to this year's IFF by filming an entirely new performance for their Google Slides. 
"Even though there is more work involved, our club decided that recording new content was better so that new club members could also participate," CCC vice president Elizabeth Liu said. "We only have four years of high school, and we wanted to make the best out of this event." 
This year, the PTSA, normally responsible for running all food booths, decided to go about a different way of giving students a taste of each culture with a safer approach.
"Since we [are] unable to hold our normal on-campus event, PTSA wanted to come up with something else food-related that our Sunny Hills families and staff could enjoy," PTSA president Nivi Jhawar said. "The idea of a week-long 'dining out' event was suggested in which we feature a different restaurant each night."
Throughout the week of March 15, SH families and staff will be given the opportunity to select local restaurants to dine in or take out at as a way of participating in this year's modified IFF.
"Unfortunately, the clubs are not directly involved in this week long event," Jhawar said. "We tried to find a way to have clubs involved but felt it would be best to do things differently this year."
Five different restaurant chains will be participating in the PTSA's Virtual International Food Fair from March 15-19 with a digital flyer containing the full schedule of restaurant choices, dates and information on how to support the event sent out March 12 in Principal Allen's weekly newsletter. 
Participating families and staff must provide the information from the digital flyer at the time of purchase in order for the school to receive credit for those food items; the PTSA will donate all proceeds from this event to covering Grad Nite costs for students unable to purchase their own ticket.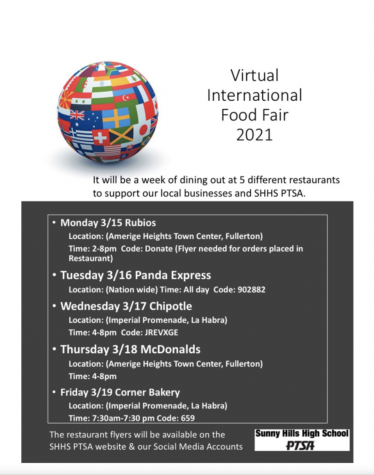 "In the past at our usual IFF event, PTSA has always hosted the drink booth and traditionally the proceeds from our booth have also gone toward Grad Nite scholarships," she said. "We wanted to follow the same traditions with this event."
Although clubs will not be participating in the Virtual International Food Fair, Korean Culture Club [KCC] president senior Joyce Park still wanted to find a way for her club to introduce students to traditional Korean food.
Aside from including previous IFF performance videos, the KCC Google Slides will provide students with six links to local Korean restaurants, within Orange County, selling different food course menus similar to what the club sold in previous years.
"We just hope to bring some of that IFF spirit back especially because it's something our whole club and lots of students were looking forward to," Park said. "We hope to spread more of Korean culture through food."  
Aside from including previous IFF performance videos, the KCC Google Slides will provide students with links to local Korean restaurants selling different food course menus similar to what the club sold in previous years.
With relatively drastic changes being made to this year's IFF food fair and assembly, principal Allen Whitten hopes that students will take the time to celebrate the amount of cultural diversity at Sunny Hills and continue the legacy of participating in this long lasting tradition.
"IFF is one of our coolest and most unique traditions, and I'm hoping students will make sure to tune in," Whitten said. "The ASB and PTSA did a great job of helping IFF survive the pandemic, and I can't wait to return next year to our regular full-on assembly and food fair."