Dance teacher, guidance technician earn teacher, classified employee of the year award
Principal Allen Whitten held a ceremony at the quad Thursday during break in honor of the 2020-2021 employees of the year — dance teacher and Dance Production coach Leiana Volen and guidance technician Evelyn Casillas.
"Our staff has selected an outstanding teacher, coach and Lancer — the extremely talented, caring and devoted dance teacher, Dance Production coach and cheer adviser, Leiana Volen," Whitten announced at the podium with Volen to his left, sitting on top of the giant-sized "H" in the quad and remaining six feet away to abide by the campus' COVID-19 health and safety protocol.
The principal then continued by reading out loud some of the statements made about Volen from those who nominated her (the employees of the year nominations are anonymous).
"She is an exceptional role model to her dancers, super organized, leads a top performing and award-winning program, develops quality lessons, supports the entire Sunny Hills community and is a caring and supportive colleague," he said in front of a group of 20-30 students, teachers and staff.
Before recognizing Volen, Whitten introduced the classified — or office/custodial — employee of the year, Casillas, who was seated six feet away to his right on top of the giant "S."
"Evelyn is a great representative of Sunny Hills and the Fullerton Joint Union High School District. Her devotion to what she does is never-ending," he said in reading out loud the nomination comments about her. "She goes out of her way for students and parents. 
"
[Leiana Volen] is an exceptional role model to her dancers, super organized, leads a top performing and award-winning program, develops quality lessons, supports the entire Sunny Hills community and is a caring and supportive colleague."
— Allen Whitten
"Many parents ask for Evelyn by name, and she makes a point of building trust with families from the moment they meet."
Whitten organized the nearly two-minute ceremony the same week that the school returned to live classroom instruction with around 300 students coming to campus. Besides giving each of the award-winners a bouquet of yellow flowers, the principal also played canned applause music upon introducing their names to liven up the program. 
Before Thursday, Whitten had prepared a small, surprise event Jan. 29 for Volen and Casillas inside the gym with a Sunny Hills-labeled backdrop to present them with their awards and give each flowers and a chance to have their photos taken.
Only two other staff members — custodial supervisor Daniel Rodriguez and head guidance counselor Beth Thomson — joined in the celebration because they had helped set up the backdrop and escort Volen and Casillas to the gym. No students were allowed on campus at the time because hybrid learning 2.0 did not start until Tuesday of this week, and it was optional for teachers to work from their classrooms at that time.
"It was pretty sad because we didn't get to meet together as a faculty, but I really appreciated the gesture," Volen said. "It was very sweet."
Right before the surprise event, Thomson suddenly asked Casillas, who was working in office that day, if she wanted to go on a walk. Even though Casillas felt a little confused because it was slightly rainy, she followed Thomson, who led her to the gym where Whitten and Rodriguez set up the event. 
"We were kind of surprised, though it was a nice little surprise on a Friday afternoon to be announced the winner for this," Casillas said. "It was really nice, and they kept a good secret from me."
Despite this being a school year impacted by the coronavirus pandemic in which several traditional campus activities like Senior Sunrise and February's International Food Fair have been canceled, school officials decided to go ahead with the employees of the year nominations.
"
Evelyn [Casillas] is a great representative of Sunny Hills and the Fullerton Joint Union High School District. Her devotion to what she does is never-ending. She goes out of her way for students and parents"
— Allen Whitten
The process for nominations and selections stayed the same as faculty and staff were notified via email that they could nominate any faculty member and staff; then along with an attached list of nominees with anonymous compliments about each one, they were sent an email containing a Google Form to cast their digital ballots with the winner based on who had received the most votes.
"I felt so excited, proud and honored just to know that my colleagues felt like I should be the one to be selected for the award this year," Volen said. "I felt very honored and so special."
Casillas said she also felt a sense of validation from receiving the honor.
"I was a little surprised at first in a good way, and I was happy to be recognized during this really weird time we're going through as someone who people can rely on and trust for any type of guidance," she said.
Both women have had to adapt to distance learning and the difficulties that came with it.
Volen, who teaches Dance 1, Dance 2, Dance 3, International Baccalaureate Dance and the Dance Production [DP] team, took on some additional challenges this year: co-coaching the new cheer and song pep squad team and coordinating socially distanced performances in lieu of the productions and events like "Dancing With the Staff."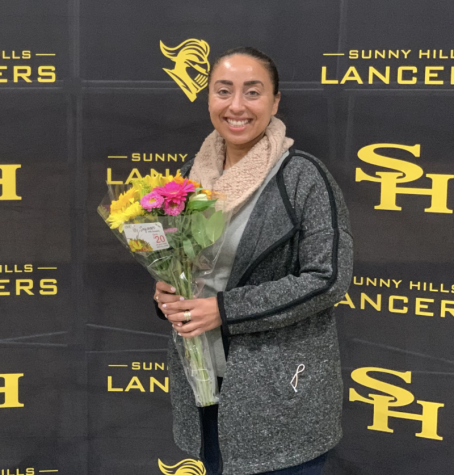 "The whole year has been a little funky," she said. "We definitely have done less events, but we had our fall concert — 'Dancing Under the Stars' — as a drive-[in]. It was really fun and turned out as a great way to showcase the work of Dance 3 and DP, even though it was a last-minute thing."
All the hard work she put into the school year hasn't gone unnoticed by her students, either.
"Mrs. Volen helped me so much since even before I came onto the DP team," said senior Elliana Kim, who is in IB Dance and DP. "She is always willing to help me with my essays, gives me good advice and encourages me along the way, so I am not surprised that she got teacher of the year because she definitely deserves it for all of the hard work she's done."
Another DP member, junior David Burn, said she exhibits a good balance between pushing her students and letting them know she's there for them in any circumstance.
"Mrs. Volen has the special ability to make true connections with her students that I don't see often with teachers," Burn said. "She has helped me grow as a dancer and a person in many aspects, taught me countless life lessons and showed me how to get to where I want to be."
Volen said she tries to be the best teacher possible to her students because — just as they say she motivates them — they are the ones who encourage her.
"Even with all the parts of the year that kind of sucked, it still has been so enjoyable coming and seeing my students adapt, put in all their effort, want to be creative and try to grow," she said. "My students, as well as great kids at Sunny Hills, are truly the reason I love coming to work every day."
For Casillas, one of the biggest obstacles during the coronavirus pandemic was communication, especially since her role in overseeing the College and Career Center covers such a broad spectrum of topics, she said.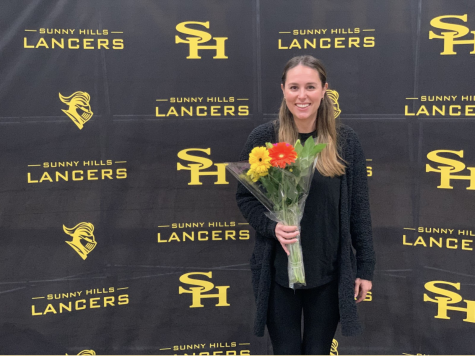 She said she helps students fill out the Free Application for Federal Student Aid and work permits, collaborates with the English Language Development instructors and administrators, coordinates state testing and guides students through dual enrollment and college visits. So she has to be timely and efficient when working with people.
"One of the difficult things is that we aren't on campus, so I can't summon students to ask how they're doing, make goals or get them ready for testing," Casillas said before the campus returned to hybrid learning. "It's hard because it's a chase game sometimes, and I have to go back-and-forth through Zooms and emails while being super organized with the way I manage things."
To make it easy for people to contact her and to be available for as many students as she could, she said she created a Google Voice account and keeps her Google Hangouts open at all times.
Additionally, as someone who has been with the Fullerton Joint Union High School District for 21 years and at Sunny Hills for seven, Casillas treats those around her with kindness and love, she said.
"Sunny Hills is my second home, and I look at a lot of the families and students like they're my own; sometimes I scold them like they're my own teenagers, and sometimes I want to give them a big hug because they did so good, and I'm so proud of them," she said. "Everyone here has given me a place where I can trust them and be myself, so I try to repay them by creating that same environment for the staff and my students."
Her openness and availability mean Casillas has also been part of many students' high school experiences even though she doesn't hold a teaching credential.
Junior Marian Abawi said she contacted Casillas at the beginning of the semester because she felt confused about how college tours would work this year, given the COVID-19-related circumstances.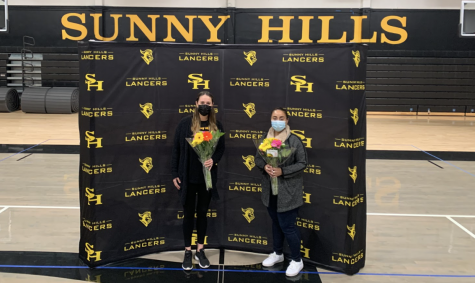 "She was super nice and responded very quickly with all the information I needed, which was helpful throughout the entire process," Abawi said. "Throughout some of the visits in which I was one of the only people there, she stayed with me and the counselor who was representing the college to make sure I was comfortable." 
She also received help from Casillas about dual enrolling into a college class.
"I was super confused about it, but she made everything simpler," she said. "Mrs. Casillas is an extremely helpful counselor who genuinely wants to help you and guide you even if that means she sacrifices time outside of her scheduled work time, so she 100% deserves her award." 
After the event at the gym, Whitten sent an email to the staff on the same day, announcing the winners of these awards and sharing the pictures taken at the backdrop, concluding with this statement:
"These two embody the Lancer spirit of going above and beyond for our community and are truly great Lancers."