Siding with overwhelming number of teachers' public comments, FJUHSD trustees agree to keep campuses closed through Feb. 8
Despite California Gov. Gavin Newsom's decision this week to drop the statewide stay-at-home order, the Fullerton Joint Union High School District [FJUHSD] board agreed Tuesday to continue distance learning until Feb. 5, maintaining its concern over COVID-19 positive cases in North Orange County.
"I'm still concerned about going back [to the hybrid learning model]," said first-year board member Vicki Calhoun, who was elected last November to fill the seat vacated by former board president Andy Montoya. "I don't see a significant change [in the number of those testing positive for the coronavirus], and I don't think it's wise for us to go back right now.
"So we should give it a couple of weeks to see if the trend continues to go down."
Unlike the Dec. 15 and Jan. 12 board meetings, the trustees were not unanimously in agreement during their more than 40-minute discussion about reopening FJUHSD schools for live classroom instruction for the first time in 2021. 
Four of the five board members agreed with Calhoun's position with board president Marilyn Buchi being the lone dissenter.
"I don't see a majority thinking that we should start next week," Buchi said during her final statement, "[which is] unfortunate because I think our kids are suffering."
She sided with superintendent Scott Scambray, who was vocal in the December meeting about remaining in the hybrid learning model since the district had yet to see anyone contracted with COVID-19 while on campus during the school day.
That was when the board originally directed Scambray, who had announced his plan last week to retire at the end of this school year, to start the spring semester in the distance learning model in reaction to concerns that COVID-19 positive cases were spiking in North Orange County.
As with the Dec. 15 and Jan. 12 board meetings, Tuesday's gathering did not require trustees to vote on reopening schools as the issue remained only a discussion item on the agenda.
"
I don't see a significant change [in the number of those testing positive for the coronavirus], and I don't think it's wise for us to go back right now."
— Vicki Calhoun
"We're coming up on 11 months now, and our kids desperately need to be back in class," said Scambray, who opted not to comment about the matter two weeks ago during the Jan. 12 meeting. "We're called the essential employees, and we're at the top of the list for getting vaccines for a reason. My hope is we can get the kids back in class as soon as possible.'
Public comments and email submissions to board members once again served as a battleground between those wishing to remain in distance learning and proponents of a hybrid schedule. But this time, more teachers (four) than parents (two) Zoomed in to address the board, imploring the trustees to stay the course in keeping the community from another spike in coronavirus cases, especially as hospital intensive care units continue to be overcrowded with COVID-19 patients.
"Many people have written to the board the last few meetings asking the board not to give into fear mongering and to pay attention to data and facts," said Sunny Hills English and drama teacher Amanda Gieser, who was opposed to the district's reopening campuses when she last addressed the trustees in October. "The problem is that we are not being given the clear and actual numbers as a district. 
"I am aware that the most recent COVID testing of the district staff [on Jan. 15] resulted in nearly 30 staff members testing positive; however, this number has not been updated on our district dashboard."  
Gieser urged the board to follow what trustees for the Los Angeles Unified School District decided for the rest of the spring semester instead of what neighboring districts have done, like Fullerton School District, which plans to reopen classrooms next week.
"We should be following Los Angeles County's lead announced yesterday; schools in L.A. are not reopening until all teachers and staff have received their full vaccination," she said.
That didn't sit well with the next speaker who came after the Sunny Hills teacher.
"I would say that with Amanda's comment, I would ask her to go to a grocery store," said Adam Nazaroff, a parent of a Sonora High School student. "I'd ask her to see how those people come to work every day. I work for a public agency; we've got to keep the utilities going. … Amanda, this is what you signed up for."
Should Sunny Hills return to a hybrid schedule?
No, we're better off finishing out the rest of the school year with distance learning (37%, 116 Votes)
Maybe, depending on what happens with vaccinations and rates of positive COVID-19 cases (36%, 111 Votes)
Yes, students and parents should have the option to decide whether to attend in-person classes (27%, 83 Votes)
Total Voters: 310

Loading ...
Nazaroff then pleaded with trustees to reopen schools next week, blasting the remote learning model that has been in place since final exam week in December.
"My kids, I talk to them every day about how they like school and basically they tell me, 'It sucks; distance learning sucks'; they're not motivated," Nazaroff said. "They're depressed; their grades are suffering. It's just not working; it's a disaster. … We've got to get kids back in school."
For the first time, one of the public comment speakers addressed a concern over students violating the health and safety protocols during hybrid learning.
"Students do not social distance during break; many have their masks off to eat and are chatting with their friends in close proximity," Buena Park High School teacher Nolina Beauchamp said. "Many times during class, I had to remind students that their mask needs to be on over both their nose and their mouth and that they need to be six feet apart; staff members are also not social distancing or wearing their masks during their break."
"
My kids, I talk to them every day about how they like school and basically they tell me, 'It sucks; distance learning sucks'; they're not motivated."
— Adam Nazaroff
Like what Nazaroff did in addressing Gieser, Beauchamp also had a message for parents who express concern over their children's lack of motivation for not being in a school environment.
"With respect to parents who want their kids to return to campus to be able to socialize, I'd like to point out that there's nothing stopping them from inviting their students' friends into their homes for the school day," she said.
Angie Cencak, president of the Fullerton Secondary Teachers Organization, ended up being the last person to speak during the public comment portion of the board meeting.
"If the safety of our teachers and staff can truly be met at this time, we would happily return to our campuses," Cencak said just before board members began their discussion. "We are doing our jobs, but our jobs shouldn't entail the possibility of contracting the virus, getting sick or worse. 
"It may not be everybody's time right now, so please give us the opportunity to stay safe."
The teachers union president also referenced a survey that was recently sent to all district teachers showing 80% of instructors do not feel comfortable returning to a hybrid model at this time.
Once Buchi offered trustees the chance to ask any questions or make any statements, none of the board members had anything to say immediately as silence remained for 15 seconds before the board president spoke again, detailing the surrounding school districts that will open for classroom instruction next week or the week after or have remained in hybrid learning.
"
It may not be everybody's time right now, so please give us the opportunity to stay safe."
— Angie Cencak
"In addition to the public comments, I think we all received some written comments from people," Buchi said. "I think we had eight from parents who were begging us to go back; we had one who was saying don't go back."
Joanne Fawley, who represents those in the Sunny Hills attendance area, chimed in after trustee Lauren Klatzker clarified a point about teachers in the Fullerton District schools getting a $300 stipend to return to their classrooms this week before starting with hybrid learning next week.
"I am ambivalent about the situation," Fawley said. "I am so grateful to see the trend improving and improving dramatically and not just a blip but a trend [back to COVID-19 positive numbers in early December]. … I am glad that we went on distance [learning] when we did; the data unfortunately proved that that was the correct decision given what happened [over winter break].
"On one hand I am definitely hearing the concerns about mental health, I'm definitely hearing the concerns about students struggling academically … I'm very ambivalent about our next step."
"
I don't see a majority thinking that we should start next week. [Which is] unfortunate because I think our kids are suffering."
— Marilyn Buchi
Student board member and Sunny Hills senior Jenna Beining was also torn about the issue of reopening schools for the first time in 2021, saying she was in the "middle ground." 
 "I think I am leaning more toward the side of returning to school whether that be Feb. 1 or Feb. [9] … but if we set out to say two more weeks, if we include winter break, that would be a total of two months that our students have been out of school," Beining said. "And so if we continue to extend that time out of school, bear in mind that the negative effects of mental health and learning loss are going to start outweighing the negative effects of COVID."
Upon hearing from the Buena Park High School teacher who pointed out her observations that students and staff on her campus haven't been following health and safety protocols, Beining asked if district officials could look into the matter.
"Re-evaluate the mask wearing and the social distancing," she said. "As someone who has been on [the Sunny Hills] campus, it has not been perfect, and there's definitely room for improvement there."
Another emergency board meeting will be held at 5 p.m. on Feb. 2 to decide whether the Feb. 9 return to hybrid learning is feasible.
"Our mindset right now is [to] return to hybrid [learning] on the ninth," Fawley said. "We're going to discuss that next week to make sure that the trend is continuing the way that makes it possible to reopen on the ninth."
About the Writer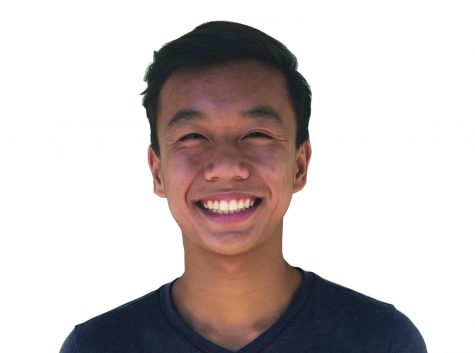 Andrew Ngo, Web Editor-in-Chief
After a busy debut year as a full-time staffer for The Accolade, senior Andrew Ngo leaves his position as sports editor to oversee the renovation of shhsaccolade.com. Previously, Ngo traveled as far as Bakersfield to cover Sunny Hills playoff games, received recognition from journalists at the Orange County Register and numerous journalism competitions for his work and created the @AccoladeSports Twitter account—where he posts Sunny Hills sports news, scores and live updates. Ngo loves working from the sidelines and hearing feedback on his coverage.
When Ngo isn't covering a Sunny Hills sports event, you can find him working with school clubs, playing tennis or listening to country music.