Athletes turn to their club teams to impress college recruiting scouts amid postponement of high school sports
Girls volleyball outside hitter junior Mykena Morley stopped playing for her club team, ProPlay Volleyball Club in Fullerton, nine months ago. 
Although Morley enjoyed a summer vacation with no physical training and found herself out of shape and unprepared for the 2020-2021 Sunny Hills girls volleyball season, she gradually returned to her pre-pandemic condition. 
"I told myself I was going to work out, but it never happened," she said. "I feel way more prepared than I did when I was not doing club. I am glad that I did it." 
While the California Interscholastic Federation-Southern Section [CIF-SS] condensed this year's schedule into two seasons — "fall" and "spring" — however as of Dec. 1, CIF-SS delayed the start of the fall season and will make final schedule decisions after Jan. 19, 2021. Because of this change, the CIF-SS made an exception to its rule prohibiting student athletes from playing for their club and their high school team at the same time.
Meanwhile, student athletes like Morley are finding themselves training more with their clubs to improve their skills with the hope of also earning college recruits' attention.
"I have always had college recruiting at the back of my head while in club because it is the main way you get recruited for college teams," said Morley, who started playing for ProPlay again on Oct. 8 and entered her first tournament with ProPLay Nov. 15. "But, it is really good for improving on your own in a way that you cannot with a school sport."
Though she said she has yet to hear from any college recruiting scouts, the chance to stay active has been a healthy one for the Lady Lancer volleyball player.
"So far, playing club has been really good," Morley said. "There has been no sitting around. I am so happy that I joined club volleyball to prepare for the high school season because if I did not, the high school season would go very bad for me."
Head volleyball coach Amanda Donaldson said she supports her players who participate in club teams, especially because of the extra training they provide.
"I always highly recommend my entire program to play club to be getting those touches in the offseason and to always be getting better," Donaldson said. " I do not worry too much about the girls getting injured during a club season. I think all the girls know how to be safe and nobody wants an injury; of course, it does happen, but it has never been a top worry of mine."
Morley said she doesn't mind still staying active in both if the girls volleyball season does end up starting though as of Dec. 8, the Lady Lancers have no scheduled matches yet. The Lady Lancers volleyball squad would have started its season once the school year started in August had the coronavirus pandemic not gotten in the way.
"
I have always had college recruiting at the back of my head while in club because it is the main way you get recruited for college teams. But, [club] is really good for improving on your own in a way that you cannot with a school sport."
— Mykena Morley
"This is the first year that the two have overlapped this much," she said. "In the past, I've had club and high school tryouts conflict once, but besides that, this is the first time I've ever had to juggle both so it's very interesting. 
"I've noticed that I'm a lot more tired now, but hopefully I'll get used to my new schedule soon."
As for swimmer junior Skyler Kao, who competes for the Fullerton Aquatics Sports Team, training and preparing for his upcoming season is his main focus.
Kao has a total of eight practices a week and swims with a reduced number of swimmers in the club pool as a part of COVID-19 health and safety measures.
"I just try to stay motivated and think about the future," he said. "This situation is not permanent so I have been training hard until my Sunny Hills season."
Kao has garnered attention from schools such as the Georgia Institute of Technology, Arizona State University and the University of California, San Diego [UCSD].
Head aquatics coach Keith Nighswonger mirrors the same response as Donaldson when it comes to club teams.
"I completely support what Skyler and all of our club swimmers, divers and water polo players are doing," Nighswonger said. "Skyler and our other club athletes were 'doing their thing' before they ever came to Sunny Hills High School, and I think [one of the reasons] they probably chose Sunny Hills [is] because they knew that I support what our club athletes do."
Because the fate of high school sports remains linked to the impact COVID-19 has had up and down the state, Kao remains uncertain about what he will do next semester if his club swim team events coincide with the Lancers swim squad schedule.
"It's definitely different this year for school," he said.
In a different light, while the pandemic takes a toll on the number of games being played and reduces college exposure, baseball shortstop senior Symon Tabello, who also competes for Diamond Elite Sports Academy in La Habra, said colleges are continuing to show interest in his performance on the diamond.  
"
I just try to stay motivated and think about the future. This situation is not permanent so I have been training hard until my Sunny Hills season."
— Skyler Kao
"I have been going to showcase tournaments out of state to get exposure to different colleges," Tabello said. "It is difficult with the limited games; however, I still have colleges interested in me."
For personal reasons, he did not disclose the specific colleges that showed interest in his athletic ability.
In the past three years of playing for the Sunny Hills varsity baseball team, there has not been one year where Tabello was able to play simultaneously for both teams. His decision to play for both club and high school teams depends on whether there are club tournaments during the high school season.
"I feel that injuries are part of the game so I am not scared," Tabello said. "It would definitely help with college exposure."
Softball third baseman, junior Jacqueline Perales, who also plays for So Cal Athletics, said playing club ball is the best decision she has ever made.
And this decision is not letting her down, even during the pandemic.
"We have played many games over the past two to three months," Perales said. "They feel like any other game now, since we're used to the 'new normal.' The only difference is being further from our club teammates, but our communication, strength and friendship are not affected one bit despite the added physical distance."
She said she can receive more college exposure through her club team than through the SH team for a variety of reasons.
"With SoCal Athletics, we have more tools and more connections to college [and] our high school team does not have these links to college coaches," said Perales, who has received interest from coaches at California State University, Monterey Bay, and UCSD. "The previous [Sunny Hills] coach had a lot of experience in recruiting but left because of COVID-19 and our season was cut short, so we were not able to have those opportunities with colleges."
However, since with the new CIF-SS exception allowing her to play for both her club and high school team, she accepts this news with delight at the new opportunity.  
"I am so happy because usually during high school season I am a little bit rusty going back into travel so doing both is good news," Perales said. "I really enjoy doing travel as well so  I have absolutely no problem with it. This is a great opportunity for everyone to really enjoy the sport they love."
About the Writer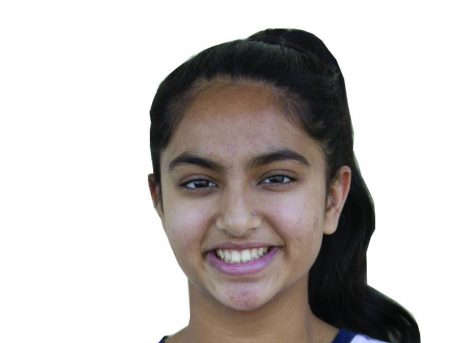 Nevya Patel, Assistant Business Manager
After spending a year in Journalism 1, Nevya Patel became an assistant business manager for The Accolade. Her plans as a junior are to brainstorm different methods to increase the newspaper's profits as well as the program's popularity on campus. She hopes to build positive relationships with local businesses to gain advertisements which will lead to more issues this school year.

Outside of school, Patel volunteers for various programs and loves hanging out with her friends. Some of her favorite activities include joining different school clubs, such as MUN, ISA and CSF, listening to music, reading and trying new projects to keep herself busy.