After runner-up finish at the Ojai Tennis Tournaments, four-star tennis recruit aims big for his upcoming season
Then eighth-grader Carson Lee took his first big step of his high school tennis career in April 2019 when he played in the Boys 14 and under division at the Ojai Tennis Tournament, one of the oldest and most prestigious Southern California tennis tournaments.       
After winning five matches, he fell short in the finals, losing to Emmet Potter in the first round, 7-6 (7-1), 3-6, 6-1. 
"Playing in this match helped me learn that I should focus on the opponent as well, like figuring out their weaknesses or patterns they like to, rather than just focusing on my shots exclusively," said Lee, now a sophomore. 
However, as the only tennis player in his family, he didn't expect to become successful as he is now. 
"I started playing tennis when I was in preschool and tried out many sports during that time, but the one that eventually stuck was tennis," said Lee who's played tennis for 10 years and competitively for six. 
Currently holding the 24th U.S. Tennis Association ranking for Boys 16 Singles in Southern California and a four-star rating according to tennisrecruiting.net, who currently practices at Fullerton Tennis Center for 45 minutes twice a week.
"Although my rank is temporarily stagnant — [it's] decent for now — there is always room to improve and my goal is to keep improving," Lee said.
So far, Lee's most memorable tournament was the National Indoor Championships in late November 2019 held in Chicago, where he was in a field among 64. He lost his second match in the main draw but secured a spot in the quarterfinals in the consolation round.
"This tournament was really big for me because it was one of the few national tournaments outside of California I went to," he said. "We also played the tournament indoors, which was a lot different than playing outdoors."
While the coronavirus canceled his tournament schedule, it has not affected his practice schedule.
"COVID hasn't affected my ability or my mindset, and I think I'm more motivated during practices since I don't have as much time to practice and I can't afford to waste time," Lee said. "I'm currently working on coming up with strategies for matches as well as stabilizing my strokes."
Lee  came into his first season ready to dominate as the No. 1 singles player on the team but suffered a minor back strain while serving in the first match against Whitney High School and was substituted for the following two matches.
Teammate junior Daniel Lee complimented Carson Lee on remaining humble and down to Earth.
"Seeing [Lee] play at tryouts was amazing, and I could immediately imagine him dominating other players in our district," Daniel Lee said. "He's always bringing a good attitude to the team and practices hard during practice."
Boys and girls tennis coach Christopher Ghareebo praised Carson Lee on his competitive attitude during practice and his improvement during preseason.
"
COVID hasn't affected my ability or my mindset, and I think I'm more motivated during practices since I don't have as much time to practice and I can't afford to waste time."
— Carson Lee
"Carson has huge potential to be a strong leader on the team for many years to come as he constantly comes into practice with an admirable work ethic and talent during matches," Ghareebo said. "I'm excited to see the full extent of Carson playing as our no. 1 seed this season and I think if we push hard during practice we could come pretty close against Troy."
Despite the circumstances of the pandemic, the four-star recruit is still optimistic.
"WIth the pandemic, it's probably harder for our team to practice and condition,which means we will have to work harder when the season starts," Carson Lee said. " I think we have a good shot on winning league if the team team trains and practices well."
Leave a Comment
Your donation will support the student journalists of Sunny Hills High School. Your contribution will allow us to purchase equipment and cover our annual website hosting costs.
About the Writer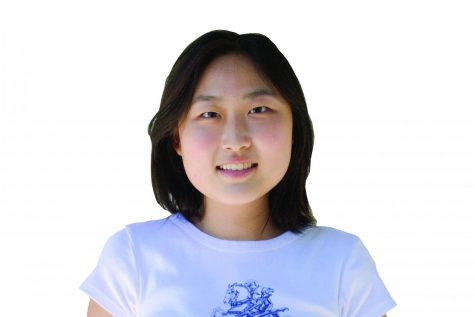 Rachel Yun, Sports Editor
After her online debut year as a staff reporter, senior Rachel Yun will become the upcoming sports editor for the new school year. Yun looks forward to meeting and working with the Sunny Hills athletes and coaches to develop multimedia coverage for the sports section. Apart from
The Accolade
, Yun is also part of the varsity girls tennis team and, in her free time, loves to hang out with her friends and dog, Happy. Yun is excited to see how the
The Accolade
staff will work together post-pandemic this year.