Game Ball: UC Davis-bound record-setting swimmer traces time in the pool all the way back to when she was 1 year old
At 1 year old, many boys and girls are just beginning to learn how to walk.
Their first words are usually "mama" or "dada."
On top of those developmental milestones, senior Kaitlyn Yee's parents opted to enroll their 1-year-old in swimming lessons at the Fullerton Aquatic Sports Team [FAST] after a recommendation from a family friend whose daughter had also joined the program.
"I didn't really have any concerns when putting Kaitlyn into swimming because she loved being in the water so much," said her father, Zigmond. "She's always pushed herself to accomplish her goals, and I've always known she was going to do great things."      
As she began to quickly advance through the hierarchy of levels, Kaitlyn Yee started competitive swimming with FAST at age 7. 
"After my first competition, I was beyond happy because I got first-, second- and third-place ribbons," she recalled. "I always saw swim as something to do for fun and didn't really think much of it until I started getting faster and advancing to higher levels."
By the time she was 9, the young swimmer qualified for the Junior Olympics, one of the fastest meets to qualify for at her level, and have since attended seven times from 2011 to 2019. 
Kaitlyn Yee said she placed in the Top 8 out of 700-800 participants in the usual categories she participated in being the 50-meter and 100-meter backstroke, 100 butterfly, 50 and 100 freestyle and relays.
"Luckily, my parents didn't pressure me to win all the time when I was younger," she said. "They wanted me to do my best but mainly wanted me to focus on myself, how I performed and if I was having fun." 
"
"I didn't really have any concerns when putting Kaitlyn into swimming because she loved being in the water so much. She's always pushed herself to accomplish her goals and I've always known she was going to do great things."
— Zigmond Yee
As a sophomore, Kaitlyn Yee contributed to the SH swim team's second-place finish at the 2019 CIF-SS Division 3 finals and was part of the team that broke the school record for the 200-yard medley relay alongside her teammates: then-senior Maya Lee, then-freshman Kailee Chow and then-sophomore Katie Cho. Lee now swims for the University of California, Santa Barbara, and Cho recently committed to the University of California, San Diego. 
"Our team never really thought or talked about breaking the record, and it wasn't a goal of ours before going into the competition," Kaitlyn Yee said. "We just wanted to swim the best we did all season, and it just happened to be a new record; it's by far one of my most favorite memories while being a part of this team." 
That memorable feat also caught the attention of several college scouts.
And after communicating with the coaches at two University of California [UC] campuses — at San Diego and at Davis — Boston University, the University of Little Rock, Pepperdine and a few others, Kaitlyn Yee said she decided Aug. 30 to commit to UC Davis. 
"I hope to learn things that will help me grow personally and athletically," said the senior, who plans to major in biology. "I'm not sure exactly what, but I want to come back from college and be the best version of myself."
Kaitlyn Yee's mother and father encouraged her to commit to UC Davis as they thought it was an amazing college for her to swim at.
"She has made tremendous progress throughout the years, and I'm so proud of what she's done so far," her father said.
Kaitlyn Yee also recognizes how far along she has come since her toddler days of learning how to swim in that FAST pool.
"I'm really proud of myself for committing so much time and dedication to such a hard yet underrated sport; something that I never thought I would pursue to such lengths," she said.
Like any other young competitive athlete, the commitment aspect of swimming started to weigh on Kaitlyn Yee as she transitioned to high school and struggled with dividing her time between academic school work and her sport. 
"It takes so much dedication to swim year round during the school year, and I've definitely struggled with this as I've gotten older," she said. "It doesn't seem like a sport would have such a big influence on your mental health, but it's something I've learned is very important." 
The older swimmers on Kaitlyn Yee's club swim team have helped her to overcome these mental challenges by teaching her to give herself a couple of days to rest and focus on school work before returning to practice.
"Having the right mindset to swim is just something you learn to overcome through experience," the swimmer said. "When your mind is in a good place, it's easier to work hard and put in all the effort that's expected of you." 
She continued on her high school journey as an athlete who devoted all of her time and effort into perfecting her technique.
The swimmer showcased her abilities during her freshman and sophomore years at the Freeway League Finals in which she placed first overall among the girls and won the 100-yard backstroke both years for the Lady Lancers swim team.
"Kaitlyn is a rare breed of athlete, one who is totally self-motivated," head swim and dive coach Keith Nighswonger said. "She absolutely will not allow anyone to work harder than she does and makes it difficult for others to beat her." 
Kaitlyn Yee said she plans to leave the SH swim team on a high note by attempting to break the school record in the 100-yard backstroke and placing Top 3 at the CIF finals for the upcoming season. 
"I didn't perform as to what I know I am capable of during my sophomore swim season," she said. "I want to exceed my goals this year." 
To top off an already successful high school career, Kaitlyn Yee didn't just stop at breaking school records. In and out of the pool, the athlete has been credited as a motivating friend and teammate who always brings nothing but smiles.
"Kaitlyn is always fun to be around and there is never a bad time when I'm with her," swimmer junior Skyler Kao said. "She strives to get better and always works hard in the pool." 
Despite the coronavirus pandemic disrupting much of her junior swim season, Kaitlyn Yee had the opportunity earlier in the swim season to compete in the highest level meet she could qualify for among the country's best 18 and under swimmers— the 2019 December Speedo Winter Junior Nationals held in Federal Way, Wash.,  in the 100- and 200-meter backstroke events. Cho, who also took part in the 2019 CIF-SS Division 3 finals, joined Kaitlyn Yee for this competition.  
"Everything was so new and official like I was at the Olympics," Kaitlyn Yee said. "I didn't do as well as I had hoped, but to me it was still one of the highlights of my career as it was an amazing opportunity that I experienced with my best friends."  
Although she feels a bit bittersweet about her senior year, the swimmer said she's looking forward to experiencing what the college swim team environment has to offer her.
"
Kaitlyn is a rare breed of athlete, one who is totally self-motivated. She absolutely will not allow anyone to work harder than she does and makes it difficult for others to beat her."
— Keith Nighswonger
"I'm definitely looking forward to meeting all the girls on the team and being surrounded by the positivity they radiate," the SH swim record holder said. "I'm also excited to represent the school with the excitement that we see other college sports teams have." 
As she embarks on a new journey bound to be filled with more victories, opportunities and challenges, the swimmer plans to never forget the life lessons she has taken away from the sport. 
"Competitive swimming has been a part of my life for over 10 years now. It's what I grew up doing, and I don't even know what my life would be like without it," the future Aggie said. "It has taught me dedication, discipline and how to be part of a team."
About the Writer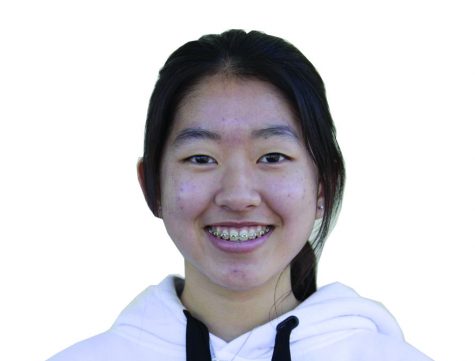 Kate Yang, Assistant Feature Editor
As a new addition to the Accolade 2020-21 staff, sophomore Kate Yang introduces herself as a staff reporter for this upcoming school year. Her previous works with the Journalism 1 class include an online sports feature and seasonal feature story. While producing these stories as a cub issue reporter for The Accolade, Yang found excitement and passion in interviewing her peers and writing about their lives at Sunny Hills. Aside from Journalism 1, Yang spent the rest of her freshman year studying and practicing golf as a player for the junior varsity girls golf team. She looks forward to returning to school and writing interesting stories for The Accolade with her new staff.