Sunny Hills scheduled to reopen for hybrid learning classroom instruction Nov. 2
After nearly an hour of listening to public comments and discussing the school reopening issue, the Fullerton Joint Union High School District [FJUHSD] board voted unanimously Tuesday to offer hybrid learning Nov. 2 at all of its campuses — including Sunny Hills.
"[The Nov. 2 date] provides teachers with some time to transition and also the students to make that transition; it's not so easy for them to go between these different models of learning," said trustee Lauren Klatzker, whose son, Jacob, attends Sunny Hills as a senior this school year. "It gives everyone a chance to just hit the pause button, know what's coming and be able to anticipate that."
With that timeline in place, the only thing that could derail it would be if COVID-19 cases were to spike again in Orange County later this month, forcing state health officials to move the county back to an unsafe health risk level.
The hybrid learning model breaks down the student population of each campus into three groups, also known as "cohorts." Those grouped in Cohorts A and B are the students whose parents have allowed their children to return to live, classroom instruction — though A would be on campus on different days from B and when either is not on campus, the student would continue with distance learning. 

Loading ...
Meanwhile, Cohort C is for parents who prefer their children to continue with distance learning the whole time during the school day.
In answering a question from trustee Chester Jeng, superintendent Scott Scambray told him that an estimated 40% of FJUHSD students will join Cohort C.
The 5-0 vote during the Oct. 6 Zoom session came after an 18-minute discussion about the agenda item, which was preceded by the reading of 12 public comments that lasted 38 minutes.
A majority of those came from parents expressing their concerns about how much distance learning has had a negative impact on their children, including too much screen time — one mother cited up to 12 hours — lack of motivation to complete academic work and emotional and mental health problems stemming from a lack of social interaction.
"I'm the parent of two children at Sunny Hills High School. I've watched as they've done their best to learn through a screen isolated in their rooms navigating countless technical difficulties and without face to face interaction," said Laura Rosenkranz, whose husband, Scott, is a Sunny Hills English teacher and English Department chairman. "I've watched as they've lost motivation, grown in frustration and have increased feelings of sadness and loss over all that they are missing, and I know this is a frequent story; probably most parents could tell that same story in one version or another.
"But I want to plead with you: Please don't put off opening our schools any longer."
Laura Rosenkranz then later went on to mention how Sweden's public health agency compared the risk of students in Finland and Sweden up to age 19 and teachers contracting COVID-19 from them and concluded that no such transmission could be found.
"It's important to view the facts dispassionately; unless a teacher is older and has significant pre-existing conditions, that teacher is more likely to die while driving to school than to die from COVID. … However, fears and delays that are not based on science, data and real-world experience should not be allowed to keep our school doors shut any longer," she said.
"
But I want to plead with you: Please don't put off opening our schools any longer."
— Laura Rosenkranz
None of the speakers opposed to the reopening of FJUHSD schools cited an Associated Press article published in the Sept. 30 edition of The Orange County Register that offered the latest COVID-19 statistics related to U.S. school-age children:
"Children of all ages now make up 10% of all U.S. [coronavirus] cases, up from 2% in April, the American Academy of Pediatrics reported. … About two times more teens were infected than younger children," according to the article, which attributed the rise in positive coronavirus cases to schools reopening in various states across the country.
SH theater teacher and English teacher Amanda Gieser was among the few instructors who voiced opposition to setting a reopening date for this fall semester.
"Why are we starting over by learning a new model in the middle of a semester?" said Gieser, a 16-year Fullerton resident and 17-year instructor in the FJUHSD. "We finally figured out our routines, and students are starting to respond positively. It took them eight weeks."
To offset parent comments about the value of live classroom instruction, she offered the following scenario if hybrid learning were to take place sooner than later:
"No group work with desks six feet apart. No walking the room if teachers are maintaining six feet, live-streamed students trying to understand teachers digitally through a mask; in-person students are still virtual; no exchanging of papers; no teaching from a board," Gieser said. "Teachers will be answering questions and monitoring in-person and online students maintaining a safe online environment and trying to engage students. 
"
Uncomfortable, eerily quiet and even more isolating — an apocalyptic institution, not a nurturing learning environment."
— Amanda Gieser
"Uncomfortable, eerily quiet and even more isolating — an apocalyptic institution, not a nurturing learning environment."
The teacher then addressed her concerns about safety and sanitizing procedures on campus. 
"If the district can't answer the question of how classrooms and desks will be cleaned and sanitized in between classes, the discussion of hybrid [learning] should be stopped," Gieser said.
Before the vote, board president Andy Montoya asked student board representative Jenna Beining, a senior at Sunny Hills, what she thought about the proposal to reopen FJUHSD campuses Nov. 2.
Though Beining favored the proposal, she voiced concern about what the hybrid learning bell schedule would look like.
"Are we also setting in stone the current schedule that we have that was proposed a couple of months back?" Beining asked. "And if the schedule is subject to change, how far in advance would we notify teachers of that?"
Scambray assured the senior and board members that the schedule would not be changed because it has already been approved between the district and the teachers union as part of the Memorandum of Understanding [MOU] contract, though union president Angie Cencak mentioned in an earlier comment that the MOU "was ratified by a small margin."
About the Writer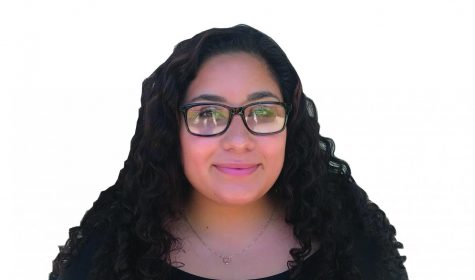 Aaliyah Magana, News Editor
Senior news editor Aaliyah Magaña has been a dedicated staff reporter on The Accolade staff since 2018. Last summer, Magaña graduated from the 2019 California Scholastic Press Association summer workshop in hopes of strengthening her reporting and writing. Magaña has been volunteering in Eastside Christian Church's daycare centers for almost two years. After graduating from Sunny Hills High School, she plans to pursue a career in journalism and hopefully work for a local newspaper.