'We killed it:' Sunny Hills principal cites College Board report showing more than three-fourths of students passed their May 2020 Advanced Placement exams — the highest passing percentage over the past four years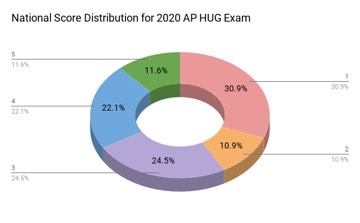 This is the first of a two-part series focusing on the May 2020 Advanced Placement scores released earlier this summer. In response to the coronavirus pandemic that shut down testing locations worldwide, the College Board had severely modified its exams to the point that it was administered online for students to take them anywhere they could, which meant an open-notes test as well.
With nearly 200 Sunny Hills freshmen contributing to the 31 other grade level students who took the Advanced Placement Human Geography [APHUG] test last semester — the first time that such a large number of ninth-graders were encouraged to take the exam — the pass rate remained above the state and national averages, school officials said.
"We killed it! As far as exam scores we're always about 10 points higher than the global average," said principal Allen Whitten, who declined to release the specific data for all AP test results from Sunny Hills. "This year, not only did we have a lot more students taking AP exams, our pass rate went up."
Whitten said the AP score report he received from the College Board estimated around 300 more students completed the exams this year and nearly 300 more receiving a passing score of a 3 or higher compared with the statistics he received in 2019.
A total of 76% of SH test-takers scored a 3 or higher, the highest passing percentage compared with the past four years, he said.
According to the College Board website, the percent of those with a 3 or higher — considered to be passing — on the AP HUG exam in 2018 was at 54.4% of the 216,783 test-takers. Then in 2019, though the number of those who completed the exam increased to 225,235, the passing percentage dipped more than 5% at 49.1%.
No AP data could be found for those who took it in California.
In May of 2020, the College Board administered a shortened version of the original 60 multiple choice and three free response question AP HUG exam with only two free response questions to be answered in 45 minutes.  
College Board also did the same to many of its other tests as well to compensate for students taking the exam online because of the COVID-19 pandemic.
Despite the much abbreviated online version of the test and the College Board's offer to award refunds for those who wished not to take it, the total number of AP HUG test takers nationwide is scheduled to be released before Dec. 21, But the College Board did release via Twitter the national pass rate for AP HUG, which increased from last year to 58.2%.
"To say that our averages were higher than the state and national averages [on the AP HUG exam], despite the fact that the students were only taught in person until March and that they had to take a test in a different format plus dealing with the pandemic, is pretty remarkable," said Kathleen De La Rosa, guidance counselor and AP testing coordinator.
Besides the 185 freshmen who took the AP HUG exam, 28 sophomores, two juniors and one senior also completed it, De La Rosa said. In 2019, only a total of 30 students took the test (three freshmen,19 sophomores, two juniors and one senior), she said.
Sophomore Rebekah Kim was among those who came out on the passing end of the online AP HUG test.
Then a freshman, Kim said she ran into technology issues with her chromebook when she originally took the exam on May 12 and was unable to submit her answer to the first of two free response questions, so she decided to follow the College Board's guidelines for what to do and signed up to take the makeup exam, which was administered online June 1. 
"The questions that appeared on the makeup exam appeared more related to the topics we discussed in [my AP HUG] class," said Kim, who earned a 4. "I feel like retaking the exam had a better effect on my score."
Though sophomore Katey Tran didn't have any internet connection issues for her AP HUG test, she said the online version was an advantage for her as well.
Going into exam day, "some of the units we learned in class weren't [going to be] included on the test, making it easier for students to study and focus on the core subjects," said Tran, who was among those who earned a 3 or higher. 
In addition, she said she saw the shortened exam as an advantage for students who could focus their attention on the quality of their one or two responses, adding that having less questions to complete made it easier for her to heavily concentrate on the work she was submitting. 
"It may have been somewhat of a disadvantage for students who are taking the test in a distracting environment," Tran said. "Additionally, keeping the multiple choice section could have helped some students raise their score, but I still believe [the online modified AP test] was an advantage." 
Social science teacher Patrick Debacker, who was among three other AP Human Geography teachers, described his pleasant surprise to see that the pass rates for his students remained above the national and state average scores. 
"I said before I was concerned at first about teaching freshmen, but the kids I had were amazing," Debacker said. "I still don't know how much of their passing or failing scores were related to the changes in the test and to be honest I will have no way of ever knowing." 
Debacker said he was concerned about the shortened time period and modified questions on the AP HUG test.
"Many of my students told me they felt rushed and overly stressed taking the exam, [and] this is obviously a common issue with all AP tests but more so this year," he said. "Additionally, the imbalance of questions this year did not give students who are not as good at writing a fair chance."
With the uncertainty of the 2020-2021 AP exam administration, Debacker plans to finish teaching the entire course unlike last year when he was unable to cover urban geography.
"Because we don't know what the exams will look like, I have to go off of the assumption that things will be back to normal," he said. "I don't think it will affect the teaching per say because students still need to know all of the material unless they shorten the course again."