Head coach: Casey McDonald
Top new gamers: Ryan Gae (11), Cole Sass (10)
Top returning gamers: Dylan Kim (12), Erik Kim (12), Soonchang Kwon (12)
Last season: Playing from gamers' homes because of the coronavirus pandemic, the Sunny Hills eSports League of Legends Gold team became the back-to-back champions of the Winter 2020 League of Legends High School Scholastic Tournament sponsored by the North America Scholastic eSports Federation [NASEF]. 
The Lancer gamers swept Boxborough Regional High School from Acton, Mass., during the two-day final June 6-7 — the week after the 2019-2020 school year had ended for Sunny Hills. This was the third year that the team reached the finals, defeating rival Troy High School in the 2019 finals to take its first title.
Besides taking home another first-place trophy, the team earned a $2,500 grant for Sunny Hills as well as HyperX gamer headsets for any eSports club members who want one.
"From practices in the classroom, runs in our live events and even accomplishing the challenges of playing from home, Sunny Hills High School's League of Legends program proves to be a competitive force to reckon with," said Samantha Anton, NASEF chief operating officer. "Their consecutive two-year win is a fantastic achievement in our scholastic eSports community and sets the tone for what students can accomplish when they are empowered, engaged, and supported."
In its first year of competing in the PlayVS-sponsored California Interscholastic Federation [CIF] season, Sunny Hills swept Eleanor Roosevelt High School 2-0 on Jan. 29 to win the first CIF eSports title.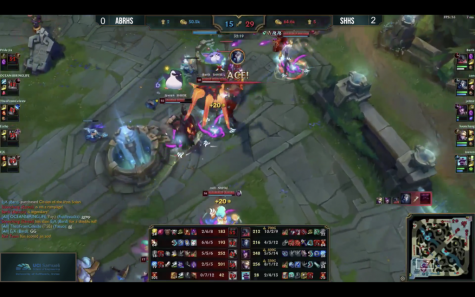 Outlook: The team has lost two gamers from graduation — shot caller Gavin Sass and jungler Cameron Cho.
But the three remaining members still feel confident, especially with the additions of Gavin Sass' sophomore brother, Cole, and junior Ryan Gae.
"Our seniors were strong members of the team and because we lost them, it will definitely be a harder season," top laner senior Erik Kim said. "But I still expect us to be a top contender."
Middle laner senior Dylan Kim is also going into the season full of confidence.
"Having the opportunity to play with such great players and on top of that winning the titles back to back was a really cool kind of glory moment for not just me, but my entire team," Dylan Kim said. "On top of that, achieving something out of what used to just be a regular hobby for me gave me more motivation and confidence and even created more options that I can maybe pursue in the future." 
Team managers expect similar results from this year's roster as well. 
"[The week of July 27], the advisers met with the volunteer coach, Casey McDonald, and [we] feel strongly that the team will do well again this year," eSports club adviser Myra Deister said. "The two players from the junior varsity team [Gae and Cole Sass] have acclimated well so far."
The League of Legends team also views the COVID-19 pandemic leading to home quarantines as an opportunity for extra practice rather than an obstacle.
"If anything, it will help us because we get more time to play and practice with each other," Erik Kim said.
To prepare for the upcoming season, bottom laner Kwon said that the top returning players have been putting up to 14 hours each week into playing matches against the top 1% of players in North America, including professional players, to work on their mechanics and map-awareness.
"Although we still have a lot to work on, like team fighting, I think we'll be ready before the season begins," Erik Kim said.
Kwon, like his teammates, has set high expectations for himself and his fellow gamers for the upcoming CIF season scheduled to start on Oct. 12.
"[Since] this [is] my last year in high school, I want to cement my legacy at Sunny Hills," Kwon said. "With three national championships in a row, our school will go down in history."