School officials plan to upgrade landscaping outside Room 137 with at least two picnic tables for student use
When students are allowed to return to the Sunny Hills campus again, they could see some new changes outside art teacher Brian Wall's classroom.
The bushes and trees in front of Room 137 have been slated to be replaced with student work spaces in the form of two picnic tables as part of a $1,500 renovation project that's the brainchild of PTSA president Ivonne Wang and principal Allen Whitten.
"[We want] to clear the ivy and put mulch or decomposed granite on the ground and install picnic tables," Wang said.
Before the school was shut down March 16 because of the COVID-19 pandemic, a section of the ivy was cleared out to make room for one picnic table sporting the school colors of black and yellow right outside one of Wall's classroom doors. But since then, no new developments have occurred in that area.
"The current [coronavirus] situation is impacting our progress, [but] more [tables] are coming," said Whitten, who was unable to provide a specific timeline for when the project would be completed.
Wall said he was excited about this new space for students.
"I was very thrilled [that] they are going to get that area looking better and making it usable for students to hang out during break and lunch," he said.
Whitten and Wang have been planning the project since last winter, Wall said.
The PTSA president became familiar with this back area of the campus because her children have been part of the International Baccalaureate [IB] program that Wall also oversees.
"My [third] daughter is a senior this year, [and] she [is] also a part of the IB family," Wang said. "I know that it would have been nice for them to have an area like that."
Besides the $1,500 cost to clear that area, the picnic tables come from the lot that the PTSA had recently spent $12,000 to purchase as well as for benches that were installed in other areas of the school, she said. The ones to be placed outside Room 137 are the extras that the school had left over.
Though the project will not cover the area outside of English and journalism teacher Tommy Li's classroom next door, Li said he likes having a closer place to send his students to work on when they're in groups.
"Mr. Whitten actually has shared with me the plans to upgrade that area, and I gave him my blessing," he said. "I used to have my students go outside on chairs with wheels under them to work on group projects or for my Accolade staff to hold separate meetings. So with tables so close by, it will be a much better environment for students to work once everything is completed." 
Junior Andrew Lee, one of Wall's Special Studies Art students, is looking forward to seeing the completed project when he returns to school as a senior.
"I don't think it would affect class, but when we go out and draw, the benches might be useful," Lee said.
About the Writer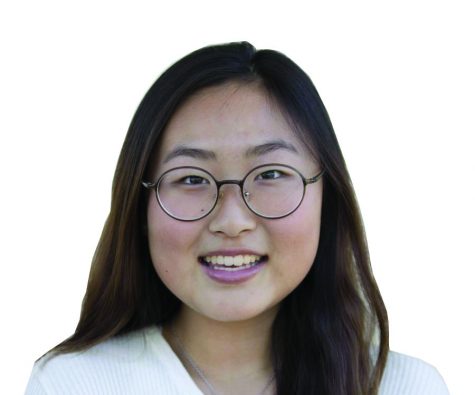 Rachel Yun, Staff Reporter
After a busy year of developing her writing skills in the Journalism 1 class, junior Rachel Yun is now taking on a new role as a staff writer for The Accolade. In her previous journalism class, Yun wrote an athlete feature and a movie review and is excited to take on new stories this year as well as expanding her knowledge as a journalist. Yun also looks forward to meeting new staff writers/editors and students throughout campus.


Besides writing for The Accolade, Yun is also part of the Sunny Hills girls tennis team and is currently working on an upcoming club called "Girls Who Code". She also enjoys playing with her dog Happy and binge-watching shows in her free time.