Science Olympiad places 4th at regionals, advances to state for first time in school history
This story was updated April 4 with additional student quotes and details about students who placed first in various events.
Since 2016, Sunny Hills' Science Olympiad team had been making progress in its goal of qualifying for the state competition held annually at the California Institute of Technology in Pasadena.
In its inaugural year, the 10 or so-member team placed 20th at the state regional competition held annually at the University of California, Irvine [UCI]. The following year, the returning Science Olympiad students were able to recruit more members to reach the 15 maximum allotted spots to make up a team, resulting in a ninth place finish at regionals.
By its third year, the more experienced squad cracked the Top 10 again at regionals, two slots shy of advancing to the state event.
And then the 2019-2020 team made history, being the first from Sunny Hills to ever qualify to advance and compete at the California State Science Olympiad Tournament at Cal Tech.
Led by seniors Megan Luo and Samuel Kho, the Science Olympiad team placed fourth out of 36 others at the Orange County Science Olympiad Competition Feb. 15 at UCI. Those attending the awards ceremony learned of the results as event organizers were announcing the team placements from fifth through first place.
"All the hard work and effort [put] in the past few months was worth it," said Luo, who has been co-captain with Kho since their freshman year. "Seeing the entire team full of joy and relishing in the glory is a moment I won't be forgetting any time soon." 
For Kho, the accomplishment was the culmination of his involvement with Science Olympiad since he was in sixth grade at Robert C. Fisler School in Fullerton.
"It felt pretty great," Kho said. "When Portola [a school that usually qualifies for state] placed fifth, I kept worrying about whether I could have done anything better because I didn't want to disappoint this team that worked so hard."
Besides the SH Science Olympiad squad, the following Orange County schools also advanced to the April 4 state competition: Troy (placed first) and three other Irvine campuses — University (second place), Northwood (third place) and Portola (fifth place).
In preparation for the UCI competition, the school's Science Olympiad team competed in several other events such as the Science Olympiad Las Vegas Invitational on Jan. 4 and the Great Oak High School Invitational in Temecula on Dec. 14.
Luo believes that the invitationals were a factor in keeping her teammates focused toward reaching their goal of qualifying for the state tournament.
"In December and January, we had a rigorous competition schedule that kept the pacing fast and everyone constantly working," she said. "Most days after school, we would stay until at least 6 p.m. or 7, sometimes even [several hours later] to practice and study for our events."
With hundreds of hours spent practicing for the event, the whole team couldn't have felt more content with its end result.
"I felt like the three years worth of weekends and late nights I devoted to the competition was paying off," said senior Cecilia Lee, who became a co-captain this year.
With the success that the Science Olympiad team has been achieving recently at other Science Olympiad competitions as well as the regional competition, the team has grown from a group of friends looking for science-related activities to do to all of its members advancing to the state level.
At the Feb. 15 regional competition at UCI, the SH Science Olympiad team totaled 127 points, placing in the Top 13 in the 23 events and finishing first in Chemistry Lab and Detector Building.
Freshman Dahee Kim and junior Sylvester Seo placed first in Detector Building with their thermometer. Senior Jimin Jung and Seo also topped the Chemistry Lab event by completing a lab on acids and bases followed by a test.
"I was surprised when we got called out for first," Kim said. "I knew the people who were competing against me were incredible, and I knew they had better devices than me. I did pretty well in the beginning, but I started messing up the few competitions before, so I was really nervous, not knowing if we would do well or not."
As of March 6, the team learned that the state contest has been canceled because of coronavirus concerns.
Leave a Comment
Your donation will support the student journalists of Sunny Hills High School. Your contribution will allow us to purchase equipment and cover our annual website hosting costs.
About the Writer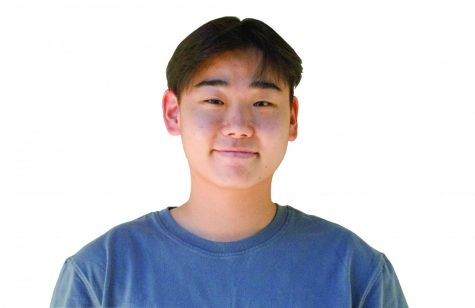 Daniel Kong, Business Manager
Daniel Kong is excited to return to
The Accolade
for his senior year as the business manager. Outside of the newspaper, Kong is involved in several business-oriented clubs including Distributive Education Clubs of America, Student Business Club and Youth Investors of America. Most days, you can find him running on the track or talking to friends!