The Accolade tops Best of Show at OCJEA write-offs
A four-peat.
That's what The Accolade staff celebrated upon finding out it won the Best of Show award during the Feb. 22 Orange County Journalism Education Association write-off contest awards ceremony at Fullerton College.
The Accolade's Sept. 27 "Media Under Fire" issue scored the highest number of points from two judges, beating out three other publications from Orange County schools in Division 1 newspapers 16 pages or more.
"Interesting theme issue ideas," said one of the judges who evaluated the newspaper reporting section. "Eye-catching front page [and] excellent entry point."
Of the four issues eligible for Best of Show judging, The Accolade newspaper adviser Tommy Li said the editors chose the first one because it had previously earned a Best of Show — sixth place — certificate at a national journalism convention in Washington, D.C., last November.
"We were quite confident that entering it again at the local write-offs would give us similar results," Li said. "It's good to see that the judges noticed the kinds of content and design that we were aiming for with this issue."
Li praised staff members for their willingness to put in considerable effort to produce the first issue of the school year.
Although the newspaper had won the Best of Show award since 2016 — the same year that Li returned as adviser and teach journalism — editor-in-chief senior Michelle Buckley did not expect to win it at all.
"I'm very excited for our staff," Buckley said. "It's not guaranteed that we would win because streaks break."
In addition to coming in first for the print issue, The Accolade's website placed second behind winner Portola High School for the first time.
"I was surprised that we won because it was only the second year since we revitalized our website, and we still had many things to work on such as technical difficulties and the absence of a webmaster," web editor senior Alex Park said. "I think our win came from how we acknowledged the huge importance of prioritizing the website given the decline of print media and the rise of the internet."
Besides competing for the Best of Show award, the staff also competed and brought home trophies from individual, on-the-spot writing and layout categories.
It was the first time that staff writer junior Hanna Oltman attended the event, and she placed first in the critical review category.
"After the competition, I left feeling pretty hesitant because I kept thinking about all my little mistakes and the things I could have done better," Oltman said. "Although it's hard to evaluate myself, I think I won because of my use of strong diction and syntax."
Another first-time competitor was assistant copy editor junior Rebecca Choi, who won a second-place trophy in the editorial writing category.
"Honestly, it's surreal to see that I placed in the Top 3 at the write-offs," Choi said. "I'm really proud of myself because I feel like all the effort I've put into the newspaper these past months has paid off."
Assistant feature editor senior Hannah Jeong, who was another first-timer to the competition, came in second in the newspaper layout category.
"I think my news judgment was what brought me the second-place trophy," Jeong said. "I think my past two years on staff have helped me refine my news judgment and choose the right stories to put on the page."
While juniors Elijah Jhee and Andrew Ngo, respectively, placed in the Top 10 in the news and sports sweepstakes categories, only Ngo plans to advance to the March 14 Southern California Journalism Education Association write-offs, which will also be held at Fullerton College. [Editor's note: SCJEA writeoffs organizers on March 11 sent an email to journalism advisers announcing the cancellation of the event because of coronavirus concerns.]
Though The Accolade won a Best of Show plaque for Division 2 in 2016, it moved up to Division 1 under Li when he became the adviser in the 2017-2018 school year, opting to publish in broadsheet format; when 2018-2019 editor-in-chief Noah Somphone opted to go back to a tabloid format, Li wanted to make sure the publication remained in Division 1 by publishing 16 pages for as many issues as possible.
The Accolade did not receive a nomination as a National Scholastic Press Association online Pacemaker finalist, but the editor-in-chief and staff are optimistic about the future of their newspaper.
"I hope The Accolade will continue to live up to its many years of success," Buckley said. "The media are so important nowadays because that's how people see, hear and read the latest content."
Leave a Comment
Your donation will support the student journalists of Sunny Hills High School. Your contribution will allow us to purchase equipment and cover our annual website hosting costs.
About the Writer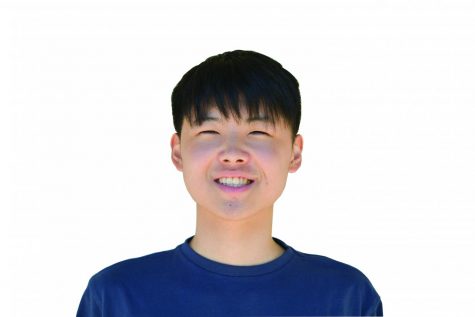 Andrew Park, Arts & Entertainment Editor
In his fourth year in journalism, senior Andrew Park came from being a staff reporter to an arts & entertainment editor. Along with his assistant editor, Park plans to bring more insightful stories and creative layouts to the A&E page.
Outside of
The Accolade
, Park pursues his passion in the filmmaking field and his cabinet positions of multiple clubs such as Model United Nations and Key Club.