Male athletes join forces with cheer to perform in March 13 assembly
The first time the boys entered the cheer room for practice on Feb. 18, head cheer coach Lizzy Mejia laid out a few rules for them.
Rule No. 1: No jewelry. 
Rule No. 2 (and the most important): Respect the female cheerleaders and catch the flyers when they're falling back down after being tossed into the air.
"Cheer is a full contact sport, so our boys need to make sure they are aware of that," Mejia said nine days and three practices later. "When our flyers perform stunts, their lives come first, so the boys need to make sure that they can stay safe."
Since then, the boys have excelled in their six practices in preparation for the March 13 assembly in which  they'll be performing a routine in front of the entire school.
"The boys are catching on really quickly," cheer captain junior Lyndsey Mitsch said. "They've learned a lot already."
Mejia, who is currently in her second year as a coach at Sunny Hills, came up with the idea after the girls in the program continually asked for a chance to work with male cheerleaders, a common practice in high schools across the country.
"The girls have wanted the chance to cheer with boys for a while now," Mejia said. "They even showed me TikToks of male cheerleaders performing to convince me."
For Mejia, the idea of boys teaming up with the female cheerleaders was not a foreign one.
"When I was in high school, we invited guys from the football team to do a competition with us every year," she said. "I met my husband through cheer, too, so I've thought about this a lot."
When Mejia eventually announced that she would be inviting boys to practice with the goal of performing in the assembly, the cheerleaders recruited male athletes from other sports to join them through social media and word of mouth.
"My friend [senior cheer captain] Megan Dedeaux asked me if I wanted to join," defensive back football player, track sprinter and male cheerleader senior Fernando Perez said. "It took some convincing at first, but then I realized this my senior year, and I don't want to live without any regret."
Because of complications with athletic waivers, Mejia only opened the opportunity to boys who were already in other sports.
While some of the male cheerleaders are seniors who have finished their sports seasons, others have to balance their cheer practices, which are from 3-5 p.m. on Tuesdays and Thursdays, with practices for their own sports.
"I swim from 2-4 p.m., but cheer starts at 3 p.m., so I practice until 3:30 and come to cheer a little bit late," swimmer and male cheerleader junior Shane Hur said. "But I still have enough time to learn the routines."
Mejia said that the boys' athletic backgrounds and size have helped the girls with their stunts.
"With the boys [catching them,] the girls feel safer," she said. "Some of our flyers are taller than the girls that are catching them, so now that they have bigger and stronger boys to catch them, the girls are a lot more confident."
The boys will be wearing shirts that say "The Boys" during the assembly performance, Mitsch said.
The female cheerleaders view the boys being on the team as a positive thing.
"It's been pretty interesting to see how the boys adapt to things that they're unfamiliar with," Mitsch said. "It's really fun having them around, too."
Mejia said that the possibility of boys joining cheer permanently remains open.
"I think it's possible for boys to join in the off-season," Mejia said. "It's pretty easy for males to pick up cheer."
Salas added that everyone should try doing something that deviates from the social norm just like joining a female-dominated sport as a male.
"It's OK to step out of your comfort zone," Perez said. "Because at the end of the day, you're your own person, and [you have] the power to make your own choices." 
View Comments (29)
Your donation will support the student journalists of Sunny Hills High School. Your contribution will allow us to purchase equipment and cover our annual website hosting costs.
About the Writer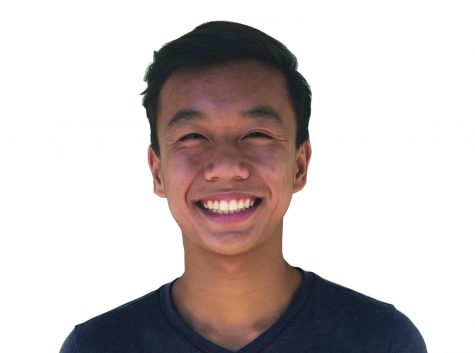 Andrew Ngo, Web Editor-in-Chief
After a busy debut year as a full-time staffer for The Accolade, senior Andrew Ngo leaves his position as sports editor to oversee the renovation of shhsaccolade.com. Previously, Ngo traveled as far as Bakersfield to cover Sunny Hills playoff games, received recognition from journalists at the Orange County Register and numerous journalism competitions for his work and created the @AccoladeSports Twitter account—where he posts Sunny Hills sports news, scores and live updates. Ngo loves working from the sidelines and hearing feedback on his coverage.
When Ngo isn't covering a Sunny Hills sports event, you can find him working with school clubs, playing tennis or listening to country music.