2018-2019 Helios yearbook earns national recognition as a Pacemaker award finalist
After an 11-year lull, the Helios staff has been named a National Scholastic Press Association [NSPA] Pacemaker finalist for the 2018-2019 yearbook titled, "What Are You Looking For? It's All Here."
"I was super, super excited, and I think the staff is ecstatic," Helios adviser Lindsay Safe said. "It's interesting and fun because you get the award the year after, so half the staff is new and half the staff gets it."
Safe contacted the former staff members who worked on the publication when they were seniors Dec. 19 to inform them of the recognition.
Last year's student editors heard the news from Safe, who texted them when she found out after a friend texted her.
"I was confused at first, but then I felt so happy that our long hours of struggling were recognized," said Layla Lee Choi, who was last year's Helios design editor and now attends Washington University in St. Louis. "I'm still so proud of our staff for garnering such success."
Last year's co-editors in chief, Sabrina Lee and Tara Desai, said they were on a Facetime call with Safe when current co-editor in chief, senior Kaylee Kim, informed the current Helios staff of the news.
"It was nice to share that experience with them," Lee said.
As a Pacemaker finalist, the Helios will receive a plaque at the NSPA spring journalism convention's awards ceremony in Nashville. Though only Safe will be attending the April 18 ceremony, that's also when NSPA awards coordinators will announce which publications will win a bigger, Pacemaker plaque.
"I honestly don't know if we'll win a Pacemaker, but I'm hoping for the best," Lee said.
Safe said last year's Helios staff was able to produce an award-winning yearbook because of the stories they told.
"I think we got away from thinking about a [Pacemaker finalist] list and really focused on what story we wanted to tell for the kids," she said. "It was really focusing on why kids choose to come to this school."
The 13-year yearbook adviser acknowledged that receiving awards for her staff's hard work is nice, but producing a yearbook just to win awards takes away from the fun and meaning of what the Helios is all about, which is providing a lasting legacy for students and graduates.
"We want to make a book that kids will want to pick up now and 10 years from now and 20 years from now and remember high school," she said.
Last year's editors said they wanted to make a book they could be really proud of, and that the award was just confirmation that all their hard work didn't go to waste.
"[The Pacemaker] was just a confirmation that we did all those late nights, and they really paid off," Desai said. "We really wanted to give it our all and just take everything we learned from our years on staff and address every [previous NSPA] critiques on past yearbooks."
The last time the NSPA recognized Helios with a Pacemaker finalist honor was for the 2007-2008 yearbook, but the 2002-2003 yearbook is the only SH book to win the award, according to the NSPA Pacemakers website.
To keep up the yearbook's award-winning tradition, Safe said that it not only takes style, design and good storytelling, but above all else, it also takes effort.
"It's finding the kids that really want to work hard," she said. "We need people that really have the grit and tenacity to realize that it takes hard work and effort to get what you want."
Lee, Desai and Choi agree, adding the pressure of a Pacemaker finalist award shouldn't deter this year's staff of 30 from producing a book they love.
"I think that this year's staff might start to feel the pressure, but I really hope that at the end of the day, they're just focused on making a book that they're proud of," Desai said.
Leave a Comment
Your donation will support the student journalists of Sunny Hills High School. Your contribution will allow us to purchase equipment and cover our annual website hosting costs.
About the Writer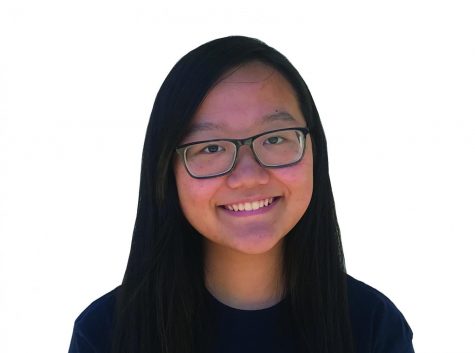 Hannah Kim, Special Sections Editor
Despite being a full-time staff writer last year, senior Hannah Kim moves on to become The Accolade's first special sections editor. After coming from her middle school's yearbook staff, Kim has been able to utilize Photoshop and InDesign to aid in the composition of graphics and layouts. She has previously won awards in several journalism competitions, and Kim hopes her efforts may help The Accolade and its staff flourish.

When not interviewing sources, Kim can be found singing alongside her choir, practicing with her Science Olympiad team or hanging out with her friends.