Opener for Sunny Hills boys volleyball's inaugural season soured by four-set, home loss to Crean Lutheran
Bright lights shine on the hardwood floor. Cheers echo around the gym. Fans stomp on the bleachers. 
Suddenly, the ball pops in the air. As every millisecond passes, the ball gets farther and farther away from the team clad in black, white and gold.
Even with the ball now far out of reach, libero junior Ethan Lim — wearing the opposite color jersey designated for the libero — dives forward for the ball, which falls just a few feet out of his reach.
That point was a microcosm of the opening night of Sunny Hills' boys volleyball inaugural season.
Despite their best efforts, the Lancers fell 25-23, 17-25, 20-25, 23-25 to Crean Lutheran Feb. 25 in the Sunny Hills gym. 
"I'm proud that we won the first set that we've ever played, and we're still brand new to this," head coach Jack Adams said. "We made some mistakes, but we'll learn from them and get better."
The game had been a long time coming for outside hitter junior Joseph Pak, who founded the Volleyball Club as a freshman and worked with school and Fullerton Joint Union High School District officials to approve the first-ever boys volleyball team.
"[Playing tonight] was pretty surreal," Pak said. "It was a really good feeling to step on the court, and none of this would be possible without God."
Pak also identified first-game jitters as influences to the team's play. 
"I think we all [dealt] with some nerves," he said. "I lost a little bit of sleep last night, but by the time the game came around my mind was cool, and we were able to start off strong, but we just got a little rough at the end."
Sunny Hills edged out the Saints in the first set, but Crean Lutheran held the lead for much of the remainder of the match. 
Crean Lutheran tied its biggest lead at eight in the fourth set at 16-8, but a furious comeback from the Lancers on the service points of seniors Cael Cosby and Andrew Park — a run that included a yellow card against a Saints player — knotted the set at 18 apiece.
The Saints jumped back out to a significant lead, but the Lancers came crawling back to within one point at 24-23. Unfortunately for Sunny Hills, an errant deflection from a Lancer player fell just wide of the court and gave Crean Lutheran the win. 
"The fact that we were able to come so close to beating Crean Lutheran when [Crean Lutheran] has been playing for a while and this is our first year shows us that we'll only be able to get even better," Lim said.
But in a long 19-game season, the Lancers can only look forward to seeing how their team will develop and perform against Freeway League opponents, all of which are also in their inaugural seasons.
"There are a few more things we have to work on, especially serves and once we get those down, we'll be looking good the rest of the way," Adams said. 
The Lancers' next game will be at Mayfair on March 4 and will open Freeway League play at home against Sonora April 1.
Boys Volleyball Final:

Crean Lutheran 3, Sunny Hills 1.

In the first game of its inaugural season, a promising Sunny Hills team fell to the Saints 3-1 (25-23, 17-25, 20-25, 23-25).

The Lancers still have a full season ahead of them, so watch out!@ocboysvolley @ocvarsity pic.twitter.com/5L6Jas7kJh

— Sunny Hills – The Accolade's Sport Section (@AccoladeSports) February 26, 2020
Leave a Comment
Your donation will support the student journalists of Sunny Hills High School. Your contribution will allow us to purchase equipment and cover our annual website hosting costs.
About the Writer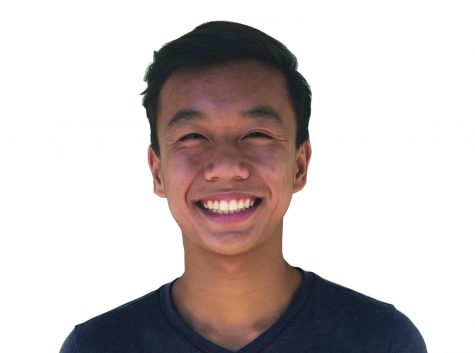 Andrew Ngo, Web Editor-in-Chief
After a busy debut year as a full-time staffer for The Accolade, senior Andrew Ngo leaves his position as sports editor to oversee the renovation of shhsaccolade.com. Previously, Ngo traveled as far as Bakersfield to cover Sunny Hills playoff games, received recognition from journalists at the Orange County Register and numerous journalism competitions for his work and created the @AccoladeSports Twitter account—where he posts Sunny Hills sports news, scores and live updates. Ngo loves working from the sidelines and hearing feedback on his coverage.
When Ngo isn't covering a Sunny Hills sports event, you can find him working with school clubs, playing tennis or listening to country music.