Overcomer: Blind student wrestles with adjusting to new contact sport; finds his place on JV team
The "Overcomer" story is the first in a series of articles featuring Sunny Hills students who are also athletes despite their physical or emotional disabilities.
Whenever junior varsity and frosh/soph wrestling coach Josue Chew demonstrates a move for his student athletes in the Sunny Hills wrestling room, he asks, "Did everybody see that?"
Only one wrestler tends to jokingly respond, "No, coach, I didn't see that."
Sophomore Brennan Lamarra literally means it when he reminds Chew of Lamarra's disability.
Blind since birth, Lamarra is the only student athlete on the 10-member JV team who cannot see and instead has to rely on his other senses during practices and matches. None of his coaches recall the wrestling squad ever fielding a blind wrestler before.
The sophomore says he decided to join wrestling as a freshman to "be known in high school."
He's not unfamiliar with contact sports, though, as he has been participating in Brazilian jiu jitsu outside of the classroom since age 8. So he ended up choosing wrestling as his first Sunny Hills sport because he says it was closest to the type of physical interaction he's been having through his childhood martial arts training.
Although Lamarra doesn't remember much of his Brazilian jiu jitsu beginnings, he does recall being trained — ironically — under a blind instructor with a black belt, although the dojo he got lessons from wasn't specifically for blind people.
"I got into it because my mother wanted my sister, who is also visually impaired, to have a sport that we both had a fair advantage in," he says.
After about three or four years of martial arts training, he stopped when he broke his left thigh bone at 10 or 11 years old. An opponent he says he was sparring with during practice "knee picked me," a move in which "you're pushing on [your opponent's] knee and he has to fall or else his leg breaks."
"Yeah, it didn't feel nice," Lamarra says. "I was like screaming on the mat — not fun."
FROM JIU JITSU MAT TO WRESTLING MAT
The 6-foot-2-inch sophomore entered Sunny Hills last school year holding his white and red cane to help him get around campus.
During class, instructional aide Sergio Dorrego says he tells Lamarra what the whiteboard or screen shows.
Outside of class time, Lamarra had a few possibilities of sports accessible to blind students when he decided to join an extracurricular activity.
"Football was out of the option, so soccer, swimming and wrestling were the possibilities," he says. "The thing that made me consider [wrestling a plausible] option that I was probably going to do was [that] I used to do Brazilian jiu jitsu, which is another variant of wrestling, but more dangerous [since] you can choke and arm bar and do crazy blocks."
His experience in Brazilian jiu jitsu gave Chew some background to work with when the assistant wrestling coach first taught him basic wrestling moves.
"It was giving me a little bit of an expectation for him just because he knows what it's like to grapple one of his [opponents]," Chew says. "I didn't see him as someone who was handicapped, [but] someone that's going to be capable of what they're going to be doing."
So when the coaches introduced the new Lancer wrestlers last year, Chew recalls making sure everyone would treat Lamarra equally.
"We don't treat anybody special here; we treat everybody the same, and we made sure to let Brennan know [he would be treated the same] when he got here," he says. "Just because you're blind doesn't mean that's a disability. Everyone's gonna be treated the same."
All the wrestlers accepted him.
"I just thought [that] I'd just treat him like every other new kid, you know, try to help him out as much as I can," says senior varsity wrestler Giovanni "Gio" Sotelo, who has wrestled against Lamarra during practices. "I didn't want to be too easy on him [and] treat him like he's different, [but] I wanted to treat him fairly."
Upon meeting Lamarra, varsity co-captain senior Andrew Park says he did not know what to expect.
"I don't think I had any expectations, more like respect toward him because of the fact that you're blind gets rid of a lot of your advantages you can have," says Park, who has often worked with Lamarra to teach him various wrestling moves. "I can't imagine what being blind is like because even if I close my eyes and wrestle, that's difficult enough."
When teaching a move to the team, the senior co-captain says he would normally demonstrate it on a fellow wrestler for others to watch and go over it together. But since Park can't visually show Lamarra a move, he says he must learn by touch instead of by sight.
"I have to have him literally feel where I'm in position, like where I'm at, how I'm lifting up the legs, what angle I'm going at — specific, small things that make up the move," Park says. "He has to be able to feel where we're at and how I'm doing the move."
Likewise, Chew acknowledges how Lamarra cannot just watch and learn, but he has to physically sense the positions.
"With him, it just needs a little more contact, so obviously, him being blind, I have to guide him, literally, just with his hands [to] show him what the move is and what kind of position he needs to be at," he says.
In his freshman year, Lamarra did not compete in any matches because wrestling head coach David Wilde wanted him to learn the sport first before competing, Chew says.
"He picked up on things pretty quickly, and he's a lot better now this season than last season," the assistant coach says. "This season we're excited for him, 'cause we're actually going to be sending him to competitions and stuff like that [while] last season we couldn't do that because he just wasn't at that level yet."
SECOND SEASON BRINGS FIRST-TIME MATCHES
Since the winter sports season started in November, Chew has been getting Lamarra ready for his first JV matches against opponents from other schools — all of whom can see.
"Just now that he's been with us for a season and gets the program, it's actually a lot easier for me to teach him than it is to teach brand new people that have never wrestled before," Chew says. "So, yeah. at first, it was challenging — a lot more … but not so much where it would take me away from everyone else."
Last season, Dorrego says he stayed with Lamarra after school for two or three weeks so the student athlete could familiarize himself with the location of the wrestling room and his pick up stop for his ride home.
"Once he was in the [wrestling] room, his coaches and teammates took care of him," the instructional aide says. "I was told to stop accompanying him when the school [officials] felt he was able to do it by himself."
The coach, Lamarra and some of his teammates give the following account as to what usually transpires during wrestling practices for Lamarra this season.
Before the practice session starts, he holds on to a fellow wrestler's elbow or arm, but when the wrestlers run laps outside, Chew gives Lamarra a jump rope to hold onto so he can run with the others and not get lost or hurt.
"I have a jump rope so I can gauge how fast he needs to go," he says. "So if I'm moving a little too fast, [I'll fall] a little bit behind, but he's still holding on to the jump rope."
Even when Lamarra wrestles, he must maintain contact with his opponent at all times as part of California Interscholastic Federation's constant contact rule for blind wrestlers.
CIF wrestling rules interpreter Duane Morgan cites from Article 4 of the 2019-2020 National Federation of State High School Association Wrestling Rules Book:
"In matches involving visually handicapped wrestlers, the finger-touch method shall be used in the neutral position and initial contact shall be made from the front. Contact is to be maintained throughout the match," according to the rules book.
So far, Lamarra has competed in tournaments and dual matches against Sonora, Buena Park and La Habra. In eight matches, he has yet to pin down a win, Chew says.
Knowing that this is his first season wrestling, Lamarra is optimistic that he'll record his first win eventually.
"When you lose, you get better, and you see what you did wrong," he says.
While coaching him, Chew has noticed Lamarra's attentiveness and observation skills even without the sense of sight.
"Something that he's very good at [is that] he listens," the assistant coach says. "He'll pay attention to what we're saying, and when I tell him to do something, he does it.
"He's always asking questions. He's always wanting to learn, asking me, 'Hey, can you see if I'm doing this right?' He wants to wrestle; that's what he's really good at: the want to wrestle."
RAPPING THINGS UP
Though Lamarra's parents have declined to comment on their son's decision to participate in wrestling, the sophomore has several peers who have noticed his passion for this sport.
"He focuses on keeping contact with [his opponents,] but it's mainly toward their upper body," says junior Ethan Lim, who has attended the last two Lancer wrestling matches. "He doesn't really go for their legs which, to me, seems like a disadvantage because by watching other wrestlers, I learned that it's kind of essential to go for the legs."
Lim says watching Lamarra wrestle is encouraging nevertheless.
"He still stays determined when he goes down, which is really inspiring," he says.
Junior Garrett Geimer recalls the first time he learned of Lamarra's decision to wrestle.
"Out of the blue, he said, 'I'm joining wrestling,' " Garrett says. "I didn't know if he was joking 'cause he jokes around like that, but he was serious."
He also admires his friend's motivation behind wrestling.
"I know how confident he is," says Geimer, who bonded with Lamarra over their interests in hip-hop and rappers. "He always wants to prove to people that he can do things that others say he can't."
Besides wrestling, Geimer has noticed Lamarra's knack for freestyle rap, though not everyone thinks blind kids can rap.
"People don't believe him until they listen to him and give him a chance," he says.
As "2wenty/2wenty," Lamarra's rapper name, Lamarra seeks to present rap in a more positive light.
"My role model would be any rapper [who] made it big, and didn't have to sell their soul or get into drugs and stuff like that to create an image," he says. "I don't like conventional rap, like Drake and 2 Chainz."
Instead, he expresses his respect for rapper Tech N9ne.
"He's so different. He's really dark sometimes, but other than that, he's just so unique lyrically," Lamarra says. "The way he puts stuff together [and] the different types of flows and beats he uses are also really weird but cool.
"I feel he's very similar to me in that he's just, I don't know, unique [and] kind of out there. [He's] ready to change the game 'cause right now all these trap artists kind of suck."
And in preparing for his wrestling matches, Lamarra uses rap music as motivation to keep going.
"Sometimes when wrestling gets especially grueling, I just think of rap lyrics, and it gets better," he says.
Even with his physical disability, his desire to wrestle stems from the satisfaction after a match ends.
"I'd call it rewarding," Lamarra says. "The feeling you get at the end of practice when you're sweating and chugging water is almost rewarding, [like] I survived another one."
Lamarra and his fellow JV wrestlers will next compete against Troy High School in a home match Jan. 29 at 5:30 p.m.
Leave a Comment
Your donation will support the student journalists of Sunny Hills High School. Your contribution will allow us to purchase equipment and cover our annual website hosting costs.
About the Writer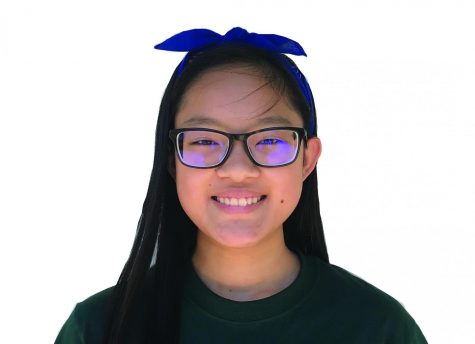 Hope Li, Opinion Editor
Following in her father's footsteps as a professional journalist in the '90s, senior Hope Li has been pursuing journalism for three years. From writing about the Los Angeles Times' Festival of Books to having her distance learning column featured in The 74 Million, Li seeks to amplify student voices in all facets as The Accolade's opinion editor.

She has attended the Journalism Education Association- and National Scholastic Press Association-hosted spring and fall 2019 national conventions in Anaheim, Calif., and Washington, D.C., respectively; she received an honorable mention in commentary writing at the D.C. convention.

A piano player for over 10 years, Li is involved in Certificate of Merit. She enjoys telling puns to anyone listening.