Season Recap: Lancer football's historic season full of broken streaks and dramatic finishes comes to a close
This story was updated on Dec. 20 to include more honors.
Fifteen weeks. 
Twelve wins. 
Six games decided in the final minute of play. 
Four players selected to the Orange County Register Hot 150. 
Two, two-and-a-half hour road trips.
Two game-sealing interceptions at the goal line.
One CIF-Southern Section Division 8 Championship. 
But all good things must come to an end.
And end it did as Sunny Hills football's dream season ended on a chilly Dec. 7 night in Bakersfield.
But the 42-21 loss to Bakersfield Christian in the CIF State Division 3-A SoCal Region game  won't sour the season for football head coach Peter Karavedas and the "cardiac kids."
"This season we wanted to go from good to great, and we feel that we did that," Karavedas said. "Obviously, you want to win your last game, but I'm really proud of the guys and the season that they had."
To put the CIF title into context, the Lancer football team ended a 27-game losing streak in Freeway League play that spanned over five seasons just four years ago. 
Five senior classes and countless hours of hard work later, Karavedas lifted a CIF plaque with his dedicated group of young men on a rainy night 140 miles away from home at San Marcos High School stadium.
"I'm so proud of the work that everyone has put in and what they've changed in the program," he said. "The community has seen that [at Sunny Hills], you're going to have a great experience, win games and have a great education."
In addition, Rep. Gil Cisneros, D-39th District, recognized the team in a statement addressed to the House of Representatives on the House Floor Dec. 11, and Fullerton Mayor Jennifer Fitzgerald invited the team to a Fullerton City Council meeting in which the players were congratulated Dec. 17. 
The praise still has not ended for the team as the Register honored Karavedas as the Orange County Football Coach of the Year Dec. 20. The Register also named running back and defensive back senior Jun Ahn and wide receiver and defensive back Wilson Cal to the All-Orange County Football team, the first Lancer pair to win since Alex Jung and Brandon Won were selected in 2017.
After the loss to Bakersfield Christian, Karavedas had one final message to his team in the postgame huddle:
"'Give it a go' means when your back is against the wall, you go out and make something happen," the coach said as his players crowded around him. "I've never seen a team 'give it a go' more than what I have [seen] in these last 15 weeks. This team deserves the right to say 'give it a go.'"
Read the team preview and feature profiles on Ahn, Cal, quarterback and defensive back Luke Duxbury and kicker freshman Mathias Brown. 
The Accolade has put together a week-by-week recap of this magical season:
Aug. 30 vs. Aliso Niguel (L, 36-35)
The Wolverines of Aliso Niguel dashed Sunny Hills' hopes of a win in the Lancers' first game on the brand new turf field at Buena Park High School stadium. Aliso snatched victory from Sunny Hills with a touchdown and game-winning two-point conversion as time expired. The experience was nearly deja vu for the Lancers, who failed a two-point conversion in the waning seconds of a 2018 game against Aliso Niguel. Duxbury threw for 215 yards and two touchdowns while Ahn and running back and linebacker junior Vincent Silva had 100-yard games on the ground with 123 and 116 rushing yards, respectively. Cal added 157 receiving yards on eight receptions. Silva forced a fumble that linebacker junior Carson Irons recovered. 
Sept. 6 vs. Irvine at Irvine (W, 55-20)
After the loss to the Wolverines, the Lancer football team hit the road to take on Irvine before dominating the Vaqueros from start to finish. Four different Lancers picked up rushing touchdowns with Ahn, running back junior Harris and Duxbury all scoring once while Silva added two rushing touchdowns. Duxbury threw for 170 yards and two touchdowns, one to Ahn and one to tight end and linebacker junior Noah Brown. Ahn added his second 100-yard game with a 134-rushing yard performance, and Cal racked up 93 receiving yards along with a 37-yard pick-six. Lee also had an interception. Defensive lineman senior Jake Massar recorded two sacks. Read the recap. 
Sept. 13 vs. Brea Olinda at Brea Olinda (W, 17-10)
The first of several comeback wins for the "cardiac kids" came at Brea Olinda High School. Ahn scored on a go-ahead 80-yard drive with 3:04 left in the game to seal the low-scoring affair of the season. Ahn ran for 209 yards — a season high — and a touchdown. Duxbury, who threw for 118 yards and a touchdown, connected on a 19-yard touchdown pass to Silva. Cal added 80 receiving yards. Irons had 10 tackles and a blocked punt.
Sept. 20 vs. Gahr (W, 38-0)
A game that was over as soon as it started, Sunny Hills returned to Buena Park High School stadium with a fiery blowout. The Lancer defense stifled Gahr all game long and held on for its only shutout of the season. Duxbury threw for 150 passing yards and added a score through the air to Cal. Ahn kept up his dominating start to the season with 147 yards and three rushing touchdowns on just 16 carries. Cal had 135 receiving yards and a touchdown. Irons had 14 tackles. 
Sept. 27 vs. Trabuco Hills at Trabuco Hills (W, 41-34 OT)
The first of two matchups with the Mustangs was a back-and-forth affair for the entire night. A 30-yard field goal attempt by Trabuco Hills at the end of regulation and the score tied at 34 went wide left, sending the game to overtime. The Lancers capitalized and scored on a seven-yard Ahn touchdown rush on the opening overtime drive before stopping the Mustang quarterback inches short of the first down marker on fourth down to win the thriller. Ahn and Silva had three touchdowns each and 139 and 153 rushing yards, respectively. Duxbury threw for 132 yards and a passing touchdown to Ahn. Cal had 75 receiving yards. Irons had 16 tackles.
Oct. 4 vs. Sonora (W, 45-7)
Sunny Hills opened up Freeway League play with a rout of the Raiders in the Lancers' homecoming game. The Sunny Hills defense suffocated the Raiders all night long until a Sonora passing touchdown spoiled the shutout with seven seconds left in the game. Duxbury was efficient through the air with 149 passing yards and three touchdowns on just six completions. Former Mater Dei player, running back and defensive back junior Brandon Roberts — sitting out the first five games because of transfer rules — picked up 166 all-purpose yards and two receiving touchdowns in his debut. Ahn had another three-touchdown performance to add onto his 87 rushing yards, while Cal added another receiving touchdown. Irons had 10 tackles, a blocked punt and a fumble recovery. Massar had 3.5 sacks and a forced fumble. Read the recap. 
Oct. 11 vs. Buena Park at Buena Park (W, 49-8)
The stellar Lancer defense kept up another first-half shutout before giving up a Coyote touchdown in the third quarter. Another strong offensive performance from Sunny Hills put six rushing scores on the board. Duxbury threw for 102 yards and a touchdown. Silva had two rushing touchdowns on 109 rushing yards and nine carries and a forced fumble. Ahn, Harris and Roberts each added a rushing score with 91, 72 and 92 rushing yards, respectively. Roberts also pulled in a touchdown reception on 44 receiving yards. Massar had 1.5 sacks. Roberts forced and recovered a fumble, and defensive back senior Fernando Perez recovered a fumble. Read the recap. 
Oct. 18 vs. La Habra (L, 49-7)
The Highlanders, who won 62 of their last 63 Freeway League games, came to Buena Park High School stadium and made their presence known with an emphatic win. Ahn had 159 all-purpose yards and scored the Lancers' only touchdown on a one-yard rush in the third quarter. Linebacker junior Kevin Hu had 11 tackles. However, the Lancers became the only Freeway League team to win a CIF title by season's end with La Habra losing 49-45 Grace Brethren in the CIF-Southern Section Division 3 semifinals.
Oct. 25 vs. Fullerton at Fullerton (W, 56-21)
Eager to bounce back from the lopsided loss to La Habra, the Lancers put on an offensive showcase and put up seven touchdowns to earn their third Freeway League win of the season. Duxbury threw for 136 yards and three passing scores. Ahn had another three-touchdown performance while putting up 155 rushing yards on 30 carries. Silva added a rushing score on 91 rushing yards, while Harris put up 87 rushing yards. Ahn, Brown and Roberts each recorded touchdown receptions. Defensive lineman senior Austin Martino had 1.5 sacks.
Nov. 1 vs. Troy (W, 48-16)
Looking to secure its second straight Fullerton City Championship and a win over academic crosstown rival Troy Warriors on Senior Night, the Lancers ran the ball to an emphatic win that capped off the regular season. The Lancer running back core sprinted toward a 319 rushing yard performance led by Ahn, who ran for 164 yards and four touchdowns. Roberts did it all for the Lancers on both sides of the ball with 180 all-purpose yards, including a 76-yard rushing touchdown, a 40-yard receiving touchdown and a pick-six returned for 25 yards. Duxbury threw for 170 yards and a touchdown. Irons had 13 tackles and Martino had 2.5 sacks. Wide receiver and defensive back senior Arnold Beltran picked off a Troy pass for his first interception of the season. Read the recap. 
Nov. 8 vs. Tustin (W, 21-14)
Sunny Hills, which hadn't won a CIF playoff game since 1996, entered the CIF-Southern Section Division 8 playoffs as the No. 1 seed. Trailing14-0 during the third quarter, the Lancers rattled off three rushing touchdowns, the last coming with 31 seconds left in the game. Ahn scored all three touchdowns for Sunny Hills, including a 62-yard scamper that tied the game early in the fourth quarter. He had 184 rushing yards. Irons picked up 14 tackles and Hu had 1.5 sacks. Read the recap. 
Nov. 15 vs. Notre Dame/Riverside (W, 49-24)
In the CIF quarterfinals, the Lancers proved that their first playoff win in 23 years wasn't a fluke as Sunny Hills took a quick lead and never looked back. Tallying three touchdowns in the first quarter, the team jumped to a 21-3 lead before capping the win with defensive back senior Jonathan Lee's pick-six as the minutes wound down in the game. Duxbury threw for 229 yards and two touchdowns on 9-for-10 passing. Ahn rushed for 140 yards and tallied three rushing touchdowns. Roberts had 105 all-purpose yards and a touchdown on both the ground and through the air, and Cal added 164 receiving yards and a touchdown. Read the recap.
Nov. 22 vs. Trabuco Hills at Trabuco Hills (W, 31-27)
It seemed like fate sent Sunny Hills back to Trabuco Hills High School stadium to take on the Mustangs in a rematch of the epic overtime win Sept. 27. A back-and-forth battle for all four quarters, the semifinal matchup came down to a diving interception by Irons at the Sunny Hills goalline with eight seconds left in the game. Duxbury threw for a season-high 247 yards and three touchdowns. Silva put up 202 receiving yards and three touchdowns, the longest being a 90-yard touchdown reception, and 16 tackles on defense. Roberts had 143 all-purpose yards, a rushing touchdown and 17 tackles. Hu, Irons and Lathrum had 12, 20, and 13 tackles, respectively. Irons and Martino had their first career interceptions. Read the recap and extended game recap.
Nov. 30 vs. Santa Barbara at San Marcos High School in Santa Barbara (W, 24-21)
Sunny Hills' first CIF final in 27 years set a showdown between the Lancers and Santa Barbara, which was also marred in a 30-year CIF title drought. Because Santa Barbara's football stadium was undergoing modernization, the game had to be played at neighboring San Marcos High School's turf field. Sunny Hills fell behind early, facing a 14-3 deficit at halftime before two Silva touchdowns put the Lancers up 17-14 in the fourth quarter. The Dons struck back with a 29-yard quarterback rush, but Duxbury connected with Silva on a go-ahead, 58-yard touchdown reception with 1:38 left in the game. The Lancer defense needed one more stop to close the game and win the CIF title, and a Cal interception in the end zone with less than 40 seconds less did just that, sealing Sunny Hills' fourth CIF football championship. Read the recap and extended game recap.
Dec. 7 vs. Bakersfield Christian at Bakersfield (L, 42-21)
Coming into the CIF State Division 3-A Playoffs banged up with injuries and illness, the Lancers could only play catch-up for the entirety of the game. They didn't end the season on a high note and a chance to play for the state CIF title, but the Lancers made the most out of what they were given. Highlights include two Duxbury to Cal touchdowns and Ahn's 27th rushing touchdown of the season. Duxbury's 133 passing yards put him over 2,000 passing yards for the season, and Cal's 102 receiving yards gave him over 1,000 receiving yards for the season. Silva had 137 all-purpose yards to add onto his three touchdowns. Duxbury threw for 92 yards and two touchdowns. Ahn ran for 142 yards and a touchdown. Irons had 10 tackles, and Cal and Lathrum each had interceptions. The better team that night went on to take the state CIF title Dec. 14 in another 42-21 beatdown of Rancho Cotate.
Leave a Comment
Your donation will support the student journalists of Sunny Hills High School. Your contribution will allow us to purchase equipment and cover our annual website hosting costs.
About the Writer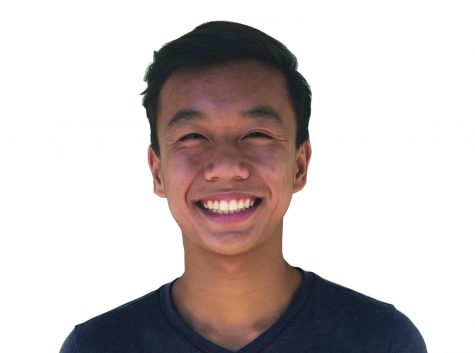 Andrew Ngo, Web Editor-in-Chief
After a busy debut year as a full-time staffer for The Accolade, senior Andrew Ngo leaves his position as sports editor to oversee the renovation of shhsaccolade.com. Previously, Ngo traveled as far as Bakersfield to cover Sunny Hills playoff games, received recognition from journalists at the Orange County Register and numerous journalism competitions for his work and created the @AccoladeSports Twitter account—where he posts Sunny Hills sports news, scores and live updates. Ngo loves working from the sidelines and hearing feedback on his coverage.
When Ngo isn't covering a Sunny Hills sports event, you can find him working with school clubs, playing tennis or listening to country music.