Sunny Hills football team tosses ice cream to students at break Dec. 6 to celebrate CIF title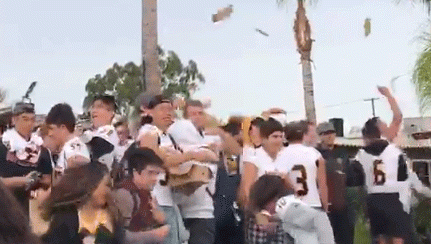 This story was updated Dec. 12 with a quote from one of the football players.
To the sound of Queen's Freddie Mercury singing "We Are the Champions," school officials celebrated the football team's CIF-Southern Section Division 8 football title with an ice cream toss by players in the quad during break Dec. 6.
Principal Allen Whitten presented the CIF championship plaque to football head coach Peter Karavedas, saying, "2019 CIF football champions."
Then the players were given 1,000 packaged ice cream bars — ice cream sandwiches, fudge bars, sour bars and strawberry shortcake bars — to throw to students in the crowd.
"I decided to go because there was a commotion at the quad," said junior Jean Hwang, who had only heard rumors from friends that ice cream was being handed out even though an official announcement was made over the intercom at the start of break. "I was happy at the thought of ice cream, and then I started to panic when a bar landed near me and a group of students dove for it. I ended up just going to the front of the crowd and asking for one [an ice cream sandwich]."
The last time Sunny Hills administrators held an ice cream toss at break was after the girls soccer team had won a CIF title earlier this year during the spring semester.
Quarterback senior Luke Duxbury was among the football players tossing the packages.
"[At first,] I was like, 'Who's idea was it to throw ice cream?' but yeah, [it] was awesome," Duxbury said. "It's so cool having a school supporting us, so it was a really fun event for us."