The Accolade wins sixth place in Best of Show at national journalism convention in Washington, D.C.
The Accolade school newspaper was one of two Southern California tabloids recognized Nov. 24 for placing in the Top 10 in the Best of Show contest at a national journalism convention in Washington, D.C.
Sunny Hills' newspaper adviser Tommy Li submitted the first issue of the 2019-2020 school year titled, "Media Under Fire," for judging at the fall convention sponsored by the Journalism Education Association [JEA] and National Scholastic Press Association [NSPA] and held at the Wardman Park Marriott Hotel.
"I was elated," Li said. "Since we converted last school year from a broadsheet to a tabloid, we did not earn any such national recognition when we entered one of our publications for Best of Show for the spring convention in April in Anaheim. So it was satisfying to know that we got something this time around, especially since I had to travel out to the East Coast to enter this nationally acclaimed contest."
An unspecified group of judges from JEA and NSPA recognized The Accolade with a sixth-place certificate, which had the name of the publication misspelled, "Accoldate," while The Mirror from Van Nuys High School in Los Angeles County placed second in the Best of Show category for tabloid publications 16 pages or less. The Mirror submitted its second issue of the 2019-2020 school year, which was published in October and featured a cover story about vaping.
(NSPA officials said they will send in the mail another certificate with the correct spelling of the school newspaper.)
The first-place trophy went to The Messenger from Marquette High School in Chesterfield, Mo.
This is the second time that The Accolade under Li as adviser has placed in this category for Best of Show; it earned a seventh-place spot for Best of Show in 2005 when The Accolade competed in the "Newspapers 9-12 pages" category as a broadsheet.
It won a second-place Best of Show certificate for special edition in the fall of 2004 and 10th place in the same category in Li's first year back as adviser in the fall of 2016.
"My goal is that some day at one of these conventions, we'll win the first-place Best of Show trophy," Li said.
Convention organizers do not normally release the number of publications that the judges review in each Best of Show category.
"The Best of Show award does not signify a ranking of national excellence, but rather overall excellence among the attendees and entries," according to the NSPA website.
The fall "DC 2019" convention ran from Nov. 21-24 with the theme, "Now more than ever, journalism matters."
Besides the Best of Show contest, students also competed in writeoff events as well as attended various sessions related to journalism for print, online, broadcast and yearbook programs.
This is the second national award that the journalism program at Sunny Hills has received in the past two months. On Halloween, another national journalism program called Columbia Scholastic Press Association named The Accolade a Crown finalist; the award program next March in New York will reveal whether The Accolade has won a Gold or Silver Crown plaque.
"I polled my staff the day before the Best of Show awards ceremony, and many of them were quite confident that our 'Media Under Fire' issue would place in the Top 10," Li said. "So it's great to know that even the staff is aware that we are producing top-qualilty — what I call, Los Angeles Times-quality — work for our readers. I'm looking forward to celebrating with them when I return to school after Thanksgiving break."
View Comments (1)
Your donation will support the student journalists of Sunny Hills High School. Your contribution will allow us to purchase equipment and cover our annual website hosting costs.
About the Writer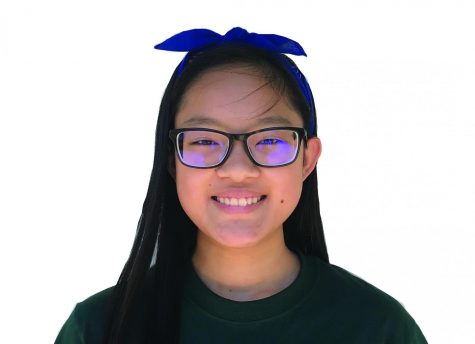 Hope Li, Opinion Editor
Following in her father's footsteps as a professional journalist in the '90s, senior Hope Li has been pursuing journalism for three years. From writing about the Los Angeles Times' Festival of Books to having her distance learning column featured in The 74 Million, Li seeks to amplify student voices in all facets as The Accolade's opinion editor.

She has attended the Journalism Education Association- and National Scholastic Press Association-hosted spring and fall 2019 national conventions in Anaheim, Calif., and Washington, D.C., respectively; she received an honorable mention in commentary writing at the D.C. convention.

A piano player for over 10 years, Li is involved in Certificate of Merit. She enjoys telling puns to anyone listening.