Late interception near goal line secures Sunny Hills football's 31-27 victory over Trabuco Hills; Lancers advance to first CIF playoff final in 27 years
This story has been updated Nov. 23 and 24 to include revised information as to the date of the CIF Southern Section Division 8 title game and the name of the Trabuco Hills quarterback.
In a rematch of the Lancers' thrilling 41-34 overtime win over Trabuco Hills High School's Mustangs earlier this season, the CIF Southern Section Division 8 semifinal on a cold Nov. 22 night came down once again to one final series.
With Sunny Hills (11-2, 4-1 Freeway League) leading 31-27 and just a bit over three minutes left in the game, the Mustangs' offense drove the ball down the field, converting two fourth-down plays — the last one being a completed pass to the Lancers' eight-yard line.
Mustangs quarterback junior Jason Smaler then spiked the ball to stop the clock at 12.7 seconds since Trabuco Hills (9-4, 3-1) had no more time outs left.
On second and goal, the Lancers' defense ended the game with what will now go down in Sunny Hills' football lore as the tipped interception.
"I saw the ball thrown, saw it tipped up, and I dove for it and caught it," said Sunny Hills linebacker Carson Irons of his interception on the one-yard line with 6.7 seconds left in the game. "I hadn't really processed what happened until I thought, 'What happened? What is this? We just won the game!'"
Irons had a season-high 20 tackles during the game to add to his 158 tackle total on the season. The interception was the first of his career.
That defensive stand sent the Lancers to its first ever CIF Southern Section Division 8 final against Santa Barbara (11-2) Nov. 29 at San Marcos High School in Santa Barbara, CA. Santa Barbara advanced to the championship game after rolling over Palmdale 37-15 in the other semifinal matchup.
Sunny Hills last played in a CIF final 27 years ago, but it was in a different division.
Lancers head football coach Peter Karavedas attributed the victory to his team's mental stamina.
"All the credit goes to our players," Karavedas said. "They just played out of their minds, especially during clutch plays."
Dubbed "The Hills Bowl" by sports writer Dan Albano of the Orange County Register, the semifinal game at Trabuco Hills High School stadium in Mission Viejo was a back-and-forth battle.
Running back and defensive back Vincent Silva came up big for the Lancers with 202 receiving yards on four catches and three touchdowns, including the go-ahead score with three minutes and 10 seconds left.
"[The plays] just came in clutch moments," said Silva, who had 157 rushing yards and three touchdowns when he first faced Trabuco Hills. "Coach called the right plays. [quarterback senior] Luke [Duxbury] had some amazing throws, and I caught them for touchdowns; simple as that."
Despite the victory, Duxbury said the Lancers will have little time to celebrate since next week is Thanksgiving break, and the CIF final against Santa Barbara will be the day after when students are still out of school.
"This whole season, we haven't been saying, 'Beat Trabuco Hills in the semifinals'; we were saying, 'Beat the team in the [CIF] championship,'" he said. "We still have work to do."
Leave a Comment
Your donation will support the student journalists of Sunny Hills High School. Your contribution will allow us to purchase equipment and cover our annual website hosting costs.
About the Writer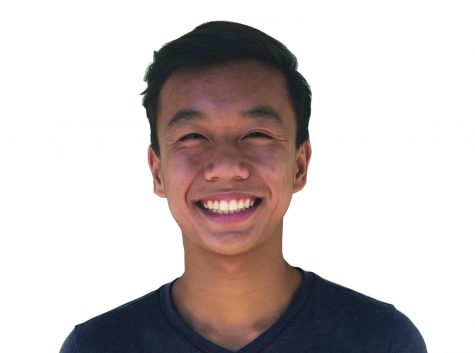 Andrew Ngo, Web Editor-in-Chief
After a busy debut year as a full-time staffer for The Accolade, senior Andrew Ngo leaves his position as sports editor to oversee the renovation of shhsaccolade.com. Previously, Ngo traveled as far as Bakersfield to cover Sunny Hills playoff games, received recognition from journalists at the Orange County Register and numerous journalism competitions for his work and created the @AccoladeSports Twitter account—where he posts Sunny Hills sports news, scores and live updates. Ngo loves working from the sidelines and hearing feedback on his coverage.
When Ngo isn't covering a Sunny Hills sports event, you can find him working with school clubs, playing tennis or listening to country music.