Gym to hold Dancing With the Staff in December because of PAC modernization
For the first time in its eight-year history, the Dancing With the Staff [DWTS] fundraiser sponsored by Dance Department will be held in the gym Dec. 6-7 instead of the Performing Arts Center [PAC], which has been closed for remodeling since May 20.
Dance director Leiana Volen said she made the decision to use the gym instead of the theater at Buena Park High School because of transportation issues and unfamiliarity with the different campus.
"What happens if a bathroom is unlocked, or I need to find a janitor or what happens if I don't know how to use the equipment?" Volen said. "It's not our space, so I wanted to make [the show and transition] as easy as possible."
Usually DWTS is a Thursday and Friday show, but this year it has been changed to Friday and Saturday.
"[Because we had to] work around all the schedules of all the things that go on in the gym, [Dec. 6 and 7] worked best for all of our schedules," she said.
To mimic a stage, the Dance Department will rent lights and black curtains to set up in the gym since the building does not offer a cyclorama, or cyc, a large white screen where the dancers could perform in front of like in the PAC, Volen said.
She said the black curtains will fence off what a stage will look like and create a space for dancers to enter and exit.
"It will feel like a theater space," Volen said. "It will only be open to one side of the gym [and the other] side won't have anything."
The dancers will enter and exit from the sides of the gym and there will be lights on the sides shining at them. They will perform facing one side of the bleachers while the other side will be sectioned off.
Last year's DWTS winner, math teacher Mariam Tan, plans to return for a chance to become champion again.
"When people go and watch the dance team [in the gym] versus on a stage, it looks kind of different," Tan said."[The stage] seems more polished [and more of a show]."
After she confirmed details of the gym's "stage" with Volen, she's still concerned about how the audience will focus on the dancers.
"Am I going to see everybody?" Tan said. "If I see them, it's kind of distracting."
The 2017 DWTS winner, AVID and math teacher Cristian Bueno, is also adapting to the different environment of the gym.
"I wish it was at the PAC, but there's nothing you can do about it," Bueno said. "I'm scared of just the space [because] it's nice to be backstage and [be] able to go onstage."
Dance Production [DP], Dance 3 and Deviation club members are also transitioning with the new situation.
Sophomore DP member Eunice Chung does not see any problems with the new venue.
"I'm excited that it's going to be in the gym because we have more room and the lighting would be better," Chung said.
DP captain and ASB vice president senior Aimee Park, is more sentimental about this change.
"It is my senior year, and I do wish that it was [in] a theater," Park said. "[But] I feel the standards of the quality of the dances still hold up."
Like Park, senior Jacob Lee shares similar opinions regarding how good the show will be.
"Judging from last year's performance, I feel that there's going to be a lot of good stuff," Lee said. "[The gym setting] is a better choice than the [PAC] because it allows [dancers] to have more room."
However, science teacher and tennis coach Christopher Ghareebo is participating in DWTS for the first time so he has no idea what it was like in past years when the event was held in the PAC.
"It's been really smooth for me, at least," Ghareebo said. "[The Dance Department] is really accommodating to our schedules. … "It's going to be really, really entertaining; the kids are going to love it," Ghareebo said.
Tickets for the show will go on sale outside of the dance studio starting Dec. 2 for $10 with an ASB card and $12 without.
About the Writer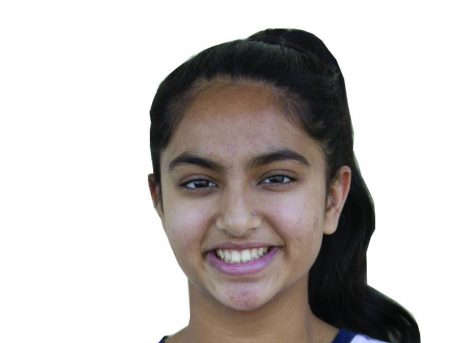 Nevya Patel, Assistant Business Manager
After spending a year in Journalism 1, Nevya Patel became an assistant business manager for The Accolade. Her plans as a junior are to brainstorm different methods to increase the newspaper's profits as well as the program's popularity on campus. She hopes to build positive relationships with local businesses to gain advertisements which will lead to more issues this school year.

Outside of school, Patel volunteers for various programs and loves hanging out with her friends. Some of her favorite activities include joining different school clubs, such as MUN, ISA and CSF, listening to music, reading and trying new projects to keep herself busy.