Lancers' offense pounces on Notre Dame early and often in 49-24 blowout; Sunny Hills will face Trabuco Hills in CIF semifinal Nov. 22
The Lancer football team (10-2, 4-1 Freeway League) knocked the Notre Dame Titans (7-5, 2-1 Freeway League) out of the CIF-Southern Section Division 8 playoffs in a dominant 49-24 victory at Buena Park High School stadium Nov. 15. 
After a slow start to the offense in the Nov. 8 21-14 first round win over Tustin, the Sunny Hills offense exploded out of the gate, putting up 21 points in the first quarter alone that included a 69-yard touchdown pass from quarterback senior Luke Duxbury to running back and defensive back junior Brandon Roberts. 
"We felt really comfortable throwing the ball tonight. We came out throwing early, and [the offense] did a great job of executing that," head coach Peter Karavedas said. "When we're throwing and running the ball effectively, we're a pretty tough team to beat."
Roberts also added a seven-yard rushing touchdown to open the Lancer scoring with 9:36 remaining in the first quarter, and wide receiver and defensive back senior Wilson Cal hauled in a 13-yard touchdown reception with 1:49 left in the first period. 
The Lancer defense had to make an early stop on third down and five from the Sunny Hills seven-yard line a minute and a half into the game after the Notre Dame special teams unit recovered its own kickoff to open the game. 
Both teams traded touchdowns in the second quarter with running back and defensive back senior Jun Ahn punching in a two-yard rushing touchdown for his first of three touchdowns of the night, and Notre Dame put up two touchdowns, including a 16-yard rush with 30 seconds left in the first half. 
Entering halftime with a 28-17 lead, the Lancers left the field to cheers and applause from the crowd.
"We had to bear down on defense," Karavedas said. "That should've been a 28-7 game at halftime, but we didn't play well enough on defense in the first half, but we clamped down."
Even with the lead, the Lancers kept pushing.
"We were only up by 11 points [at halftime]," Duxbury said. "Teams can get that [back] real quick, so we had to keep the mentality of a 0-0 game."
Ahn added two short rushing scores — once early in the third quarter and the next one with just a little over five minutes left in the game — to put the Lancers up 42-17, putting away the game for good.
On the next possession, defensive back senior Jonathan Lee ran an interception back for a touchdown to add an exclamation point to the game as the Lancer Nation student section erupted in cheers, and Lee was mobbed by teammates.
"Playing in a game like this — a game so important — and being able to make a big [play] like that is something insane that I'll never forget," Lee said of his first ever pick six as a Lancer football player.
The Titan offense added a one-yard rushing touchdown with just a little over two minutes left in the game. On the ensuing kickoff, Notre Dame of Riverside failed to recover the ball on an onside kick, ending any other chance for the Titans to score again.
The win sends the Lancers into a rematch with Trabuco Hills (9-3, 3-1 Sea View League), which fell to Sunny Hills in a 41-34 overtime game Sept. 27 at Buena Park High School stadium. 
"We're feeling pretty good, not satisfied though," said running back and linebacker junior Vincent Silva, who — along with the rest of the linebackers — earned a shoutout from Karavedas after the game. "We just want to keep going."
To do just that, the team will have to play on the road at Trabuco Hills this time as it will be the Lancers' first semifinal CIF game since Sunny Hills won its last CIF title in 1992.
"[Trabuco Hills] is a good team," Karavedas said. "They're going to want to beat us really bad. We've got a big week of preparation ahead of us."
The Lancer Nation student section, which was filled with fans clad in bright colors for the "neon" theme and holding balloons to cheer, roared for the home team all night long and also earned a nomination for Student Section of the Week from the Orange County Register. 
"I think the student body has stepped up so much, and I accredit administration, ASB directors and our kids," Karavedas said. "We want this to be an experience for everybody — not just for the football team, but for the whole school."
---
Accolade staff reporter Gianne Veluz also contributed to this article. 
Leave a Comment
Your donation will support the student journalists of Sunny Hills High School. Your contribution will allow us to purchase equipment and cover our annual website hosting costs.
About the Writers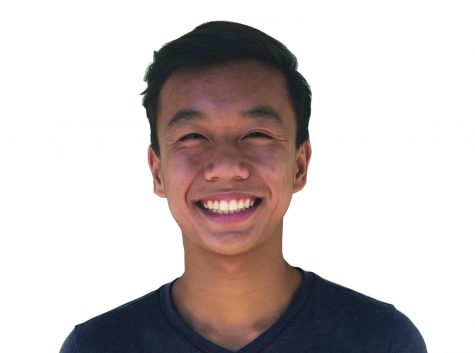 Andrew Ngo, Web Editor-in-Chief
After a busy debut year as a full-time staffer for The Accolade, senior Andrew Ngo leaves his position as sports editor to oversee the renovation of shhsaccolade.com. Previously, Ngo traveled as far as Bakersfield to cover Sunny Hills playoff games, received recognition from journalists at the Orange County Register and numerous journalism competitions for his work and created the @AccoladeSports Twitter account—where he posts Sunny Hills sports news, scores and live updates. Ngo loves working from the sidelines and hearing feedback on his coverage.
When Ngo isn't covering a Sunny Hills sports event, you can find him working with school clubs, playing tennis or listening to country music.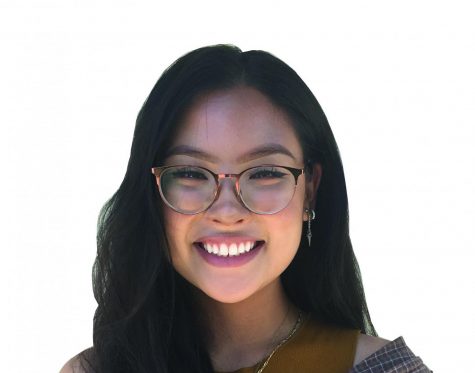 Gianne Veluz, Social Media Manager
After spending a year as a reporter covering exciting stories, senior Gianne Veluz became one of two social media managers for her last year on staff. Veluz loves writing features and opinion pieces about women empowerment, and hopes to enhance the Accolade's social media presence and encourage others to read all of the Accolade's great work! Outside of the Accolade Veluz is the president of SHHS FFA, Co-President of the Bayanihan club and Co-Captain of the varsity girls golf team.