Award-winning figure skater overcomes knee injury as she enters new season with new team
It was a routine junior Irene Lee followed four to five times a week during the last school year:
Before arriving to Sunny Hills, Lee said she traveled to Anaheim or Lakewood at 6 a.m. for her ice skating practice sessions.
There, she slipped on her skates and stepped onto the ice where for the next 90 minutes, she would spin, jump and edge her way across the rink—all the while dealing with a lingering right knee injury. 
"It's an addictive sport," said Lee, who has been seeking physical therapy treatment for the past two years. "I feel like I belong on the ice and have been doing it for so long that it has become a major part of [my life]."
In fact, she's been skating for over half of her 16-year-old life.
"My parents wanted me to try skating because they saw it on the Olympics after I tried out tennis and golf," Lee said."[As a child,] I really liked being on skates and moving around on the ice."
Lee's mother Kayla Heo has watched her grow for the past nine years and could not be happier for their daughter.
"Sometimes it's hard to see her fall down so often," Heo said. "But I am so incredibly proud of how she is able to enjoy skating while juggling her school and social life at the same time."
Because of the difficult time schedule that comes with ice skating, Lee has had to balance her skating and schoolwork.
Social science teacher Greg Abbott commended Lee for her dedication to school and skating.
"She is so humble about her accomplishments, and she never complains about her work," he said. "She manages school and skating really well." 
At 14, Lee decided that only competing in team figure skater was a more attractive option as opposed to solo performances.
Team figure skating requires 18 skaters who share the ice together as they perform to music in front of a panel of judges.
This event requires the skaters to have good chemistry as they must travel with each other.
"I love my team so much," Lee said. "[The team] is way different from my school friends on how we go through hardships together and have to have great teamwork."
Lee said she has earned nearly 50 awards during her illustrious career, the latest honor coming two years ago when she and her teammates from the Los Angeles Ice Theater team in Burbank, Ca. captured the  "Best Storyline Award" at Chicago's Theater on Ice Nationals. 
The aforementioned awards did not come without sacrifice. For two years now, Lee has dealt with a lingering right knee injury that has kept her in physical therapy, she said. 
"In ice skating, we put a lot of our weight on our dominant leg, and it puts a lot of stress on our knees," she said. "Doctors think that it is a stress fracture, and I still have to wear a knee brace sometimes."
The skater and her team practices for three quarters of the year in preparation for the competition.
"We have auditions [for the team] in September," she said. "We practiced four times a week all the way until June."
Longtime friend Gina Ku had high praise for the ice skater as well. 
"Irene is one of the hardest workers I know," Ku said. "She puts max effort into everything."
She most recently competed at the 2019 Theater on Ice Nationals in Birmingham, Ala. 
"The competition was so much fun," the skater said. "It was the last week together as a team because not everyone will return next year, so my teammates and I hung out and had a good time together."
Lee's 2019 season will start this October, and she will have tried out for the team Sept. 27.
Although she will continue to skate through high school, her long-term future with ice skating is unclear.
"I am not sure as to what I plan to do later, but I look forward to skating for as long as I can," Lee said.
View Comments (7)
Your donation will support the student journalists of Sunny Hills High School. Your contribution will allow us to purchase equipment and cover our annual website hosting costs.
About the Writer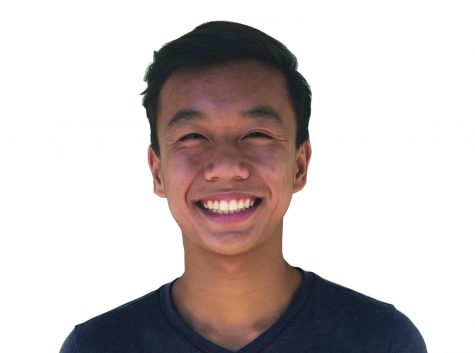 Andrew Ngo, Web Editor-in-Chief
After a busy debut year as a full-time staffer for The Accolade, senior Andrew Ngo leaves his position as sports editor to oversee the renovation of shhsaccolade.com. Previously, Ngo traveled as far as Bakersfield to cover Sunny Hills playoff games, received recognition from journalists at the Orange County Register and numerous journalism competitions for his work and created the @AccoladeSports Twitter account—where he posts Sunny Hills sports news, scores and live updates. Ngo loves working from the sidelines and hearing feedback on his coverage.
When Ngo isn't covering a Sunny Hills sports event, you can find him working with school clubs, playing tennis or listening to country music.