New girls volleyball frosh-soph coach reunites with former club coach
Five years ago, new girls volleyball frosh-soph head coach Allison Wong never expected to be joining the coaching staff with her own head coach from club volleyball. 
"I never saw myself as a coach when I was playing," said Wong, who led her club team to the Junior Olympics that same year. 
Wong, who was a member of the Saddleback Valley Volleyball Club from 2013-2016 under current Sunny Hills head coach Amanda Donaldson, was hired over the summer to lead the Lady Lancers' frosh-soph squad.
"Ever since I started to attend Cal State Fullerton [in 2016], [Donaldson's] been asking me to join the Sunny Hills program," said Wong, a graduate of Capistrano Valley High School. "It just hasn't worked out because of school, but this is the first year I was able to get my schedule early and make things work."
Donaldson had been searching for a charismatic yet mindful assistant to join her coaching staff.
"I pursued coach Wong not solely on her skill of the game, but because of her personality and leadership qualities," Donaldson said. "[Wong] was respected by everyone, and she always put others before herself. Qualities like these are important in a good coach."
A month into the Lady Lancers' season, Donaldson has nothing but praise for the new addition to her coaching staff.
"[Wong] is always making comments before I am, so she's really exceeding my expectations," the coach said. "The kids are really lucky to have a coach like someone that knows what's up, and she's doing a phenomenal job. I couldn't be happier."
Donaldson also made it clear that their past history improved communication between the pair.
"It's as easy as sending a text or her jumping on my court," she said. "I trust her 100 percent to work on whatever I need."
In addition to Donaldson, Wong made a great first impression with the athletes on the frosh-soph team.
"Coach Wong knows the right mix of when to have fun and when to be serious," middle and right side hitter freshman Grace Hicks said. "She wants us to always have a good time and meet the people we will be friends with for the rest of high school. But at the same time, she knows when to be serious and make sure we know what we have to do when and how to improve, so we have a chance to move up to the next level."
Since playing for her club team, Wong is coaching at the high school level for the first time this year.
"There are so many things that as a player I didn't quite understand because your brain might not function as quickly," she said. "But now that I'm standing on the sidelines, I can pinpoint the errors of the players and help them become better volleyball players."
The girls frosh-soph team opened the season with back to back 2-0 wins against Crean Lutheran High School Aug. 20 and Walnut High School Aug. 22 before falling to El Dorado High School Aug. 27, losing the first two out of the three sets.
"When we had our first loss of the season, I told the girls that we can always learn from our mistakes," Wong said. "Just because we lost doesn't necessarily mean we played bad because there is always room for improvement." 
Despite the loss, she is sticking to her original plan.
"I have really emphasized the importance of building volleyball IQ," Wong said. "Volleyball IQ is knowing why you placed the ball in a certain spot, [but also] just having a reason or purpose for [your] actions."
Wong is already setting high expectations for the girls this year.
"I think we're going to have a pretty successful season, not just in wins and losses, but successful as in building a team and their skills this season," she said.
Leave a Comment
Your donation will support the student journalists of Sunny Hills High School. Your contribution will allow us to purchase equipment and cover our annual website hosting costs.
About the Writer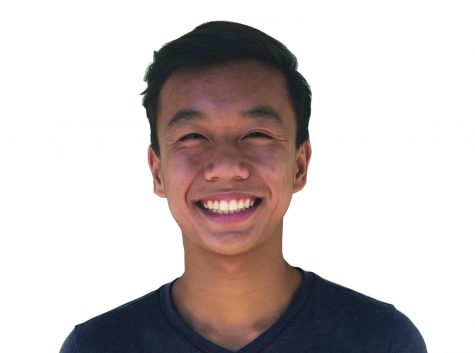 Andrew Ngo, Web Editor-in-Chief
After a busy debut year as a full-time staffer for The Accolade, senior Andrew Ngo leaves his position as sports editor to oversee the renovation of shhsaccolade.com. Previously, Ngo traveled as far as Bakersfield to cover Sunny Hills playoff games, received recognition from journalists at the Orange County Register and numerous journalism competitions for his work and created the @AccoladeSports Twitter account—where he posts Sunny Hills sports news, scores and live updates. Ngo loves working from the sidelines and hearing feedback on his coverage.
When Ngo isn't covering a Sunny Hills sports event, you can find him working with school clubs, playing tennis or listening to country music.