It was during the March 2020 COVID-19 pandemic that the boys volleyball team's inaugural season ended abruptly.
Three years and a CIF Southern Section Division 5 title later, the Lancers are going beyond the hardwood floor to find even more success.
For the first time in the team's brief history, some members of the boys volleyball team are adding beach volleyball to their repertoire of skills.
While the Lancers' indoor season doesn't start until the spring semester, they were able to keep their volleyball mindset going every Thursday this semester at the sand courts in Fullerton College and Long Beach Community College.
Their first match at Fullerton College started Aug. 24 and ended Oct. 5, with Jake Sueki and Ryan Mesnik holding the highest winning percentage record. 
Boys volleyball head coach Albert Soliguen said these matches against other high school athletes were considered as part of the team's preseason training, and so he did not need permission from CIF to have his players participate in the Del Rio Boys Beach Volleyball and Greater Whittier Beach leagues.
"I've been networking with many different coaches [about the preseason training]," Soliguen said. "And this year, it was just about budgeting and finally being able to be involved."
The head coach said the whole process started in the summer when he evaluated players interested in participating through a six-week period and then selected pairs to play matches based on their performance on the court and availability. 
"I have a formula, and it depends on [players'] availability," Soliguen said. "I also evaluate all of our players throughout practice."
Although the coach attributed the move to the sand courts to two of his players – juniors Seth Lee and Lucas Saab, who also started the Beach Volleyball Club on campus last school year – Lee said the idea had been circulating for a few years before.
"Our team has been [unofficially] practicing beach volleyball for a few years [before joining an official league]," Lee said. "I liked [that] we were able to hang out with each other and the team during the off-season."
One main transition for those interested in playing beach volleyball was an understanding of the rules.
Unlike playing indoor volleyball with six players, playing on the sand restricts the number of players per side to two, forcing them to move around significantly more and to cover more ground throughout each point. 
Despite being their first year to play competitive beach volleyball, those that chose to play beach volleyball are all familiar with the rules.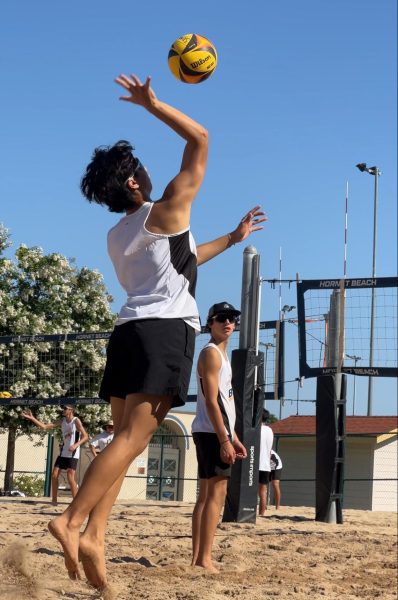 Many of the players agreed that this has been a beneficial transition for the team.
"[Beach volleyball] is really fun to play, and there are a lot of opportunities to improve my skills," said sophomore Parker Mesnik, who started playing competitive beach volleyball this year. "I feel like my passing has improved a lot because I [usually] don't pass in my position [as a setter on the indoor courts]." 
The team also started playing at Long Beach City College, competing against different high school teams and in different courts. Its first match started Sept. 14 and ended Nov. 9 in the semi-finals against Millikan High School of Long Beach.
"How the courts are set up are very different [from Fullerton College] because there are brighter lights, and the sands are harder, so it could absorb your feet," sophomore Jake Sueki said. "We [also] play against a lot tougher schools [with] programs [that] could be in [CIF] Division 1."
COULD THE GIRLS PLAY, TOO?
Girls head volleyball coach Amanda Donaldson said she supports an off-season beach volleyball program for the Lady Lancers, who ended their season Thursday, Nov. 9, in a straight sets home loss in the first round of the state CIF playoffs against the Poway Titans.
"I think it is awesome," Donaldson said. "It's good off-season training, it's good using different muscles, and it's good to keep them involved."
However, she said starting the program for the girls would be difficult because of the lack of coaches.
"I have a ton of interest [for a beach volleyball program] from the girls. I don't think that's ever been an issue," the coach said. "It's mostly just getting staff or coaches to be able to help facilitate that idea [during the off-season]."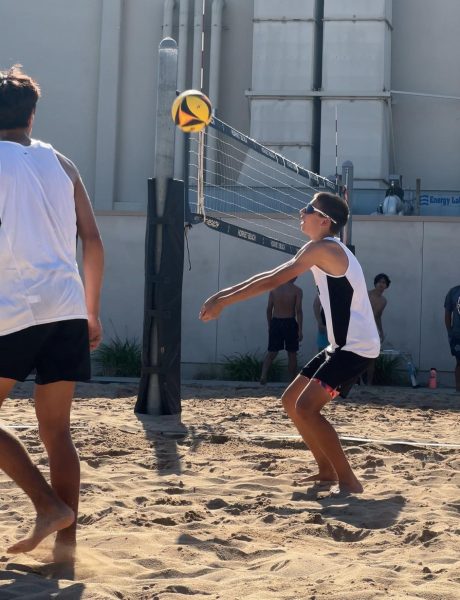 Despite not being CIF-sanctioned yet, the boys hope to continue this new method of training as a yearly off-season practice.
"If there was a CIF for beach volleyball, it would be really fun to compete in it," Lee said. "I've already been to a couple of [non-school-sponsored] tournaments with [Saab]."
SUMMER BEACH VOLLEYBALL CHAMPS
This past summer, three pairs of Lancer volleyball players competed in the Greater Whittier Beach Volleyball League at Fullerton College against five other schools. Lee and Saab lost the semifinals and were named 2023 bronze medalists,  while Sueki and senior Ryan Mesnik finished as pair champions. 
Because both pairs reached the championships, Lee and Saab were able to play against Sueki and Mesnik, something that is uncommon in tournaments.
"[It was] pretty sweet," Sueki said. "We were determined to win [the league] because there was this one team that we lost to in [the Freeway] League that we really wanted to [win against]."