No tech Tuesday, Nov. 14. No tech Wednesday, Nov. 15.
Tech Thursday, Nov. 16, but still no Aeries attendance or gradebook until the next day with access only for teachers and staff.
That's what students and teachers in their classrooms — not just at Sunny Hills, but throughout all campuses of the Fullerton Joint Union High School District [FJUHSD] — have been going through this week before Thanksgiving break next week.
The two-day internet network outage caused several teachers to make adjustments from their online lesson plans to traditional pen-and-paper assignments. 
"I was a bit annoyed because of the fact that most of the things we do on campus are technology-related, which made it hard to make that quick switch to old methods of teaching," freshman BJ Ramos said. "My teachers handled it as well as they could since they had no [internet] connection, either."
In his Friday, Nov. 17, weekly digital newsletter emailed to students, staff and parents, principal Craig Weinreich alluded to the challenges the campus faced leading up to the weeklong Thanksgiving break.
"Sunny Hills pressed on together in so many outstanding ways during our 'no tech' days," Weinreich wrote. "It was amazing to see our students continue learning despite no internet and our teachers going old school in the classroom."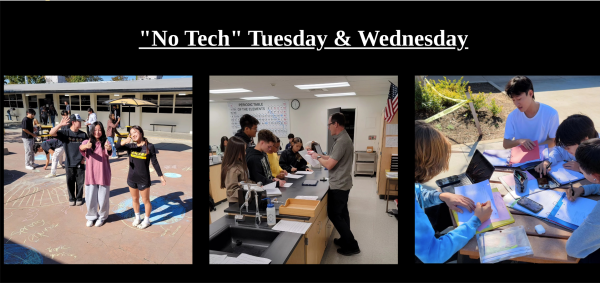 Not only did the temporary shutdown affect classroom instruction, but the library as well. 
"My concern about Aeries not working was my inability to check students' accounts concerning Chromebooks and textbooks," library technician Laura Prompongsatorn said. "To make sure I had the correct information, I made a detailed Excel sheet to track all the items being checked out and returned, getting both student identification numbers and full names since some students mistype or misremember their numbers, and I have no way of knowing without Aeries; but once Aeries was back up, I input all the data in with no issues."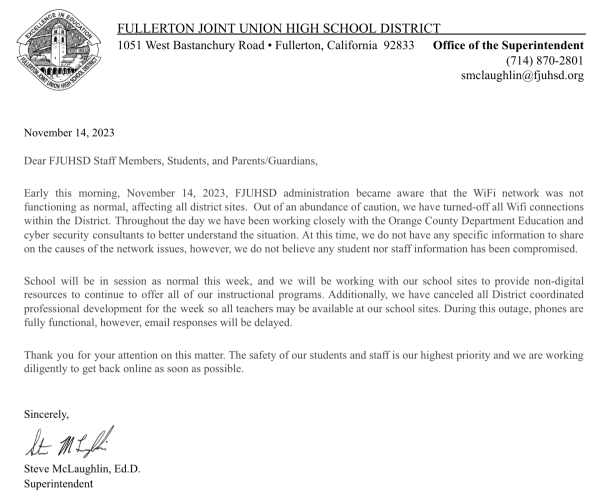 What prompted the outage has not been disclosed as the only information shared with students, teachers and parents came from a Tuesday, Nov. 14, emailed letter from FJUHSD superintendent Steven McLaughlin.

"Out of an abundance of caution, we have turned off all Wifi connections within the District," McLaughlin wrote. "Throughout the day, we have been working closely with the Orange County Department [of] Education and cyber security consultants to better understand the situation.

"At this time, we do not have any specific information to share on the causes of the network issues; however, we do not believe any student nor staff information has been compromised. … The safety of our students and staff is our highest priority, and we are working diligently to get back online as soon as possible."

The superintendent's references to "cyber security consultants" and that no "information has been compromised" have prompted some students to ask their teachers if the causes relate to either an attempted online virus attack or an attempted ransomware hack into the district's network similar to what had happened to the Los Angeles Unified School District and several other school districts worldwide a year ago.

"A theory that I discussed with my economics teacher is a possible ransom hack since our district has a lot of money," said junior Savannah Pruitt, who is in social science teacher Robert Bradburn's class. "Or [it's] possibly just some kid trying to get revenge by hacking the schools because they had a bad experience when they were in school."

During the two days of no internet access, some teachers who decided to keep their original lesson plans for online assignments resorted to using their own hotspots from their personal smartphones as well as asking their students to use theirs during class time.

"I appreciated that Mr. [David] Wilde continued the class so that we wouldn't fall behind for the AP [Advanced Placement] test," said junior Sophia Kiker, who is in Wilde's first period AP U.S. History class. "He was very considerate and allowed some students to take notes on their phones if their hotspot wasn't working."

A theory that I discussed with my economics teacher is a possible ransom hack since our district has a lot of money."

— junior Savannah Pruitt

Although the internet outage caused difficulties for those who did not have hotspots, Kiker said it still had a few unexpected benefits.

"Ironically through this shortage, I made new acquaintances because I didn't have a hotspot, so I resorted to borrowing them from the people around me," she said. "For example, during my math class, we had to take practice quizzes, and the person I was sharing a hotspot with wanted to go outside with her friends, and she invited me to come as well. 

"What started as a sharing of Wi-Fi became an enjoyable time getting to know more people."

Junior Elaine Nguyen, who also didn't have a hotspot, said she hopes technological issues get improved soon after experiencing the network outage and Aeries shutdown the past few days.

"It was very frustrating because I need to make sure my grades are OK and talk to my teachers immediately if they aren't so I can work ahead of time to fix them, but I wasn't able to," Nguyen said. "Having Wi-Fi back [Thursday] showed me how you really do better when you have access to resources, so I'm hoping situations get better over Thanksgiving break."

Weston Baughn, the FJUHSD's director of technology, sent an email on Friday, Nov. 17, after school to all stakeholders in the district, providing an update on Aeries access for students and parents."By Monday morning [Nov. 20], student and parent access [to Aeries], as well as the ability to connect to Aeries from home, will be fully functional," Baughn wrote.

Since Aeries has been down for nearly a week, assistant principal Katie Wright notified teachers via a Thursday, Nov. 16, email that they won't have to submit 15-week progress report grades by the original due date, which was Monday, Nov. 27  the first day back from Thanksgiving break. Instead, the deadline has been extended to 11:59 p.m. Friday, Dec. 1.

That would mean students and parents won't be able to see the reports on Aeries by the originally scheduled date of Thursday, Nov. 30.

(This is a developing story. The Accolade will monitor the situation and may post updates during Thanksgiving break if school officials provide any. Otherwise, any follow-up stories after the break will be posted in our Spotlight section.)