For the first time in nearly two decades, The Accolade was named a Pacemaker winner for its issues produced in the 2022-2023 school year during the national journalism convention in Boston on Saturday, Nov. 4.
"I told my staff when I presented the plaque to them in class on Monday, Nov. 6, that these are hard to come by because our newspaper/news magazine category is so competitive," said Accolade adviser Tommy Li, whose staff last earned a Pacemaker honor in the 2004-2005 school year. "I'm thankful that it's been a twice-in-a-lifetime experience for me, and I hope for my non-seniors on staff and others who'll join us in the future, they'll be motivated to produce more Pacemaker worthy issues to come."
Then-editor-in-chief Kate Yang said she had the same goal in mind as her adviser – to produce Los Angeles Times quality publications while working with her editors and staff for each issue. 
"I don't want to say that our efforts throughout production week were solely for the national awards, but the possibility of being recognized by these reputable student journalism associations definitely lingered in the back of my mind as we crafted the print issues," said Yang, who received an email from Li on Saturday, Nov. 4, notifying her about the award. "Seeing students hold the physical print issue in their hands on distribution day is already fulfilling in itself, but the Pacemaker recognition is really the icing on the cake."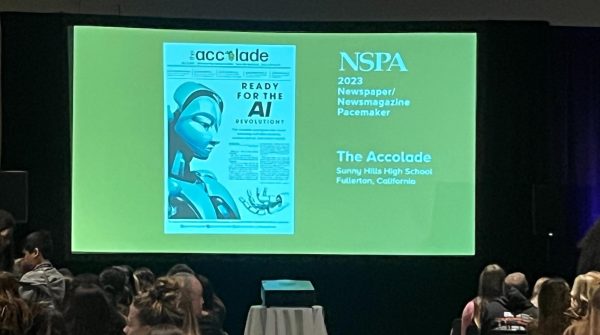 The National Scholastic Press Association handed out 15 other high school publications the same award during its Nov. 2-5 journalism convention in Boston, also co-sponsored by the Journalism Education Association. The Accolade, Pal Alto High School's Verde news magazine and Branham High School's Bear Witness newspaper were listed as the only California high school publications to earn such recognition.
Texas schools led all other states with five Pacemaker nods.
Though neither Li nor any of the Accolade staff attended the Saturday, Nov. 4., awards ceremony because of a lack of funding to pay for travel and lodging expenses, the adviser contacted yearbook adviser Lindsay Safe to see if she can attend it since he had heard from her earlier in the school year that she was planning on flying out to the East Coast for the four-day convention.
Li said Safe texted him at 2:20 p.m. Pacific Standard Time a picture of the plaque along with the word, "CONGRATULATIONS!!!!!"
"Even though I had mentioned to my staff on Friday to keep an eye out on how we'll do at the awards ceremony the next day, I had completely forgotten about it until I got that text message," he said. "Much thanks goes to Safe for her willingness to help us out and to let me know once we got the award.
"The rest of the afternoon I spent notifying my staff and Kate Yang, last year's editor-in-chief, and figuring out how we'll be celebrating the recognition when we go back to school on Monday."
Safe brought back to campus on Monday the 13-inch-high-by-10 ¾-inch-wide wooden plaque featuring the front cover of the publication's Nov. 18, 2022, issue titled, "Ready for the AI Revolution?" She also left in the main office for Li to pick up a smaller-sized plaque honoring the publication for being a Pacemaker finalist, which The Accolade found out about in early September.
"Even though I submitted our first through sixth issues for judging, I can only surmise that the Pacemaker judging committee must have been most impressed with this particular issue, which also happened to be our fall cub publication in which we allowed my beginning journalism students – hence, cubs – to help us with writing articles and data collection," the journalism teacher said.
The Accolade's social media manager, junior Faith Jung, promoted the award in a Sunday, Nov. 5, Instagram post that featured the same picture of the NSPA plaque that Safe shared with Li. That caught the attention of then-web editor-in-chief Henry Lee, who found out about the news after seeing former staff members share the post on their Instagram story.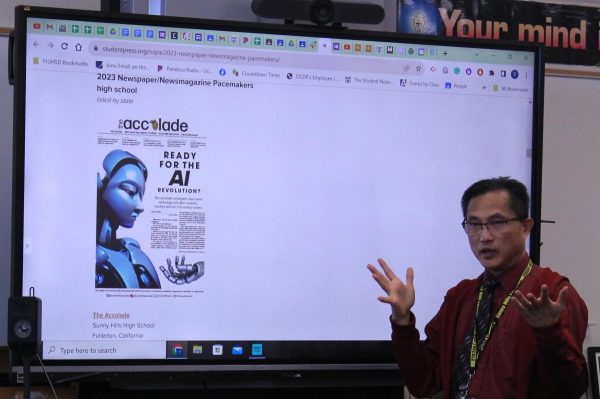 "I feel honored and thankful to have received this award because it gives recognition to the staff's hard work last year," said Lee, a freshman majoring in business information management at the University of California, Irvine. "I'm definitely proud to have been a member of this award-winning staff because I made great friendships and memories along the way." 
After being nominated as a Pacemaker finalist in September, Yang – a freshman majoring in public health at the University of California, Berkeley – said she stayed optimistic of someday winning the bigger prize since The Accolade couldn't get a Pacemaker when she was a sophomore. Besides the 2021-2022 finalist year, the journalism program was also named a Pacemaker finalist in 2005, 2009 and 2013.
"It is truly a full-circle moment for me," she said. "The nomination in sophomore year gave me something to work toward, and it's unbelievable that we were able to pull it off my senior year."
The student said she was surprised to see the front cover of the November issue printed on the plaque, a change from the vertical award presented in 2005.
"I appreciate the alteration because the cover took a while for me to arrange," said Yang, referring to the illustration of a humanoid and robotic hand. "We generated those images using AI-powered art websites, and I remember browsing those sites for hours looking for photos that would fit the bill."
Last school year's managing editor and this school year's Accolade editor-in-chief senior Jaimie Chun, who wrote a Spotlight article for the November issue, said she feels grateful to be a member of a Pacemaker award-winning staff among the other top newspapers in the nation.
"I was so excited when we found out that we were a finalist a few months ago," said Chun, who learned of the honor through Li's message sent on Slack to the entire staff on Saturday, Nov. 4. "I don't think I was expecting that we would become a Pacemaker [winner] because I know how prestigious and competitive this award is."
She said she hopes the staff keeps up this legacy in the upcoming years as the journalism program transitions from the traditional tabloid format into a specialty, full-color magazine focusing on one particular topic. 
"I hope everyone is able to keep collaborating and bouncing ideas off each other to continue Accolade's producing quality content," Chun said. "We don't want to rest on our laurels as we still have more challenges ahead."
CELEBRATION MONDAY
Upon returning to the classroom on Monday, Nov. 6, Li referred to the publication's achievement near the start of fourth period Advanced Journalism class and surprised the staff with small bottles of SunnyD drinks and assorted cake pops.
"We had Martinelli's sparkling apple cider last time when we were named a finalist back in September, so I decided to add some variety to our celebrations," the adviser said. "SunnyD used to be known as 'Sunny Delight,' so I was hoping the class would understand why I bought them these to drink this time around."
Co-Spotlight editor junior Alexxa Berumen said moments like the one from Monday will be added to her memories of what it's like to join an award-winning program.
"I really enjoyed being able to bond over the Pacemaker award with the staff through the celebration," said Berumen, who contributed to the award-winning issues as the former co-Feature editor. "I really appreciated the effort he put into the food, music and speech, and it was a great way to recognize what we accomplished as a staff."