Starting the spring semester in January, administrators expect to have all teachers on board to use the 5-Star app for a new digital pass system, which limits students' restroom use during class time to twice a day.
Teachers were informed of the push to implement this new framework during their staff development meeting on Wednesday, Nov. 1, when students did not have to attend classes.
At the meeting, assistant principal Peter Karavedas shared positive results from a pilot program that involved 17 teachers who were willing to use the 5-Star app for issuing restroom passes in the first quarter of the fall semester. Karavedas encouraged the rest of the staff to start using this system during the second quarter to get used to it for the official rollout on Monday, Jan. 8, the first day of the spring semester.
Here's how the digital system works:
Students who don't already have the 5-Star app on their phones need to download the app and log into the software with their mobile devices.

Once teachers grant permission for students to leave the class, the latter must use their 5-Star app to scan a QR code, usually posted near the classroom exit to activate their "pass." 

Once activated, the 5-Star app should show a green color to confirm the checkout process. A countdown timer will also appear. 

Students have seven minutes to return. When students exceed the time limit, the green will turn to red.

Students who don't carry a smartphone with them to school will have to use their teachers' dedicated Chromebook that's set up in the 5-Star app's "Kiosk" mode, where students would have to type in their names before leaving the classroom.

Teachers can also manually assign digital passes through the app as well.

Once students return to the classroom, they must scan the QR code, which will deactivate the pass, or enter their name again on the Chromebook they had used before to check back in. 
Justin Pak
"What we're trying to do in the short run is develop a culture of accountability," said Karavedas, who came up with this system after having visited Great Oak High School in Temecula over the summer to learn how that school operates its digital hall pass policy. "You can't just be out roaming the halls without something that says — whether it's a scanned or a physical hall pass — that somebody let you out." 
To promote accountability, similar consequences such as those given for three or more tardies in a classroom and four or more total unexcused absences in a week will be applied for failure to adhere to the new policy. 
School officials can determine from reviewing 5-Star app data which students are leaving for the restroom, for example, for more than the seven-minute limit. Based on that information, students could be summoned to see Karavedas, who will then issue a warning first. 
Subsequent violations of the time limit will range from after-school detention to Saturday school, the assistant principal said.
Campus supervisors will also be able to check on students' progress if the former were to stop students in the hallways or in the quad or other parts of the school.
"When you've got only three or four campus supervisors monitoring the campus at all times, in the age we live in, where school safety is a top priority, being able to put some better parameters on student movement seems to be a safer choice," Karavedas said. 
Most students who were in the classroom where teachers were piloting the digital restroom pass system have not complained about it; a few, though, questioned the seven-minute restroom use time limit.
"The seven-minute time limit has been enough for me so far, and I do believe that students are given appropriate time to do what they need," said junior Charles Peralta Kearney, who used the 5-Star app approximately 15 times this year for his fourth period class. "I feel like it wouldn't hurt to increase [the number of minutes] to a number such as eight just to give students more lenience, but I don't see any glaring issue with seven minutes."
Students agreed the app was a good addition but addressed the negatives it provides.
"I think [the app] is good because it gives students a time limit to how long they should be gone," sophomore Adyson Holbrook said. "But there are certain occasions when you may need to be gone for longer so in that case, [the limit] might not be helpful."
Associated Student Body president senior Nakul Bhatt said he appreciates the admin's input and hopes to cooperate with them for future matters.
"It's great to see administration prioritizing and advocating for the betterment of the campus," Bhatt said. "I hope to continue to act as an intermediary and echo the voices and concerns of students to the administration and vice versa."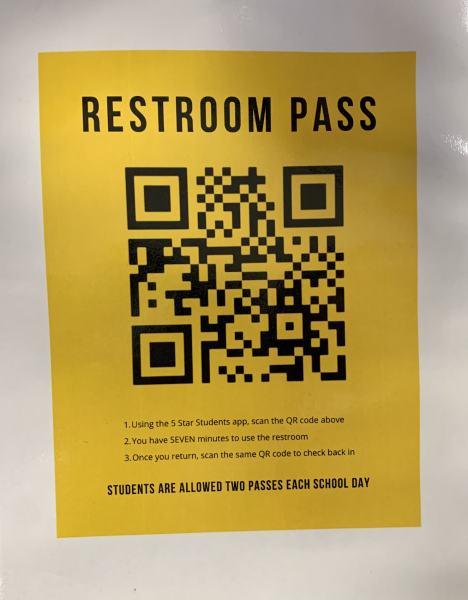 Karavedas said it will be up to teachers' discretion whether to allow students who have already reached their two-pass restroom limit on the app to leave the classroom again and if it happens often he can see and choose to summon those students to find out why that's happening.
Those who have health issues and need to use the restroom more than twice a day during class time will be given access to multiple passes on the app, which are all manually updated and overseen by the assistant principal.
"I think [the limit] is good," said sophomore Tate Garcia, who's never used the 5-Star app before but has seen others use the program. "Every day, you get a good amount of time. You can go to the restroom once after Periods 1 and 2 and then you can go again after Period 4."
Social science teacher and ASB adviser David Fenstermaker, who was one of the 17 teachers who volunteered to pilot the system, said he appreciates the platform so far.
"I've been using the [5-Star app] in my classes, and it's worked well," said Fenstermaker who teaches History of the Americas and Advanced Placement Human Geography. "I feel like we have too many kids on the campus out who are just cruising around, and now, we have a way to track those kids who are out all the time and reach out to them."
Although not part of the pioneering group to use the 5-Star app, science teacher David Kim still thinks such change will produce positive results.
"It prevents the kids from wandering the halls they used to," Kim said. "There used to be mobs of students that would show up to my classroom or just walk around, but that doesn't really happen anymore [with the app]."
LANYARD GRAY AND BLUE HALL PASSES
Another change that Karavedas implemented shortly after the school year started in August involved the hall pass policy, which involves a physical pass on a lanyard for teachers who don't use the 5-Star app yet to give to students who need to leave the classrooom. 
Students upon request to use the restroom in these respective classes would take the gray card attached to a lanyard with them, which states which location they are to go to. Those who need to go to the office or to another classroom because they left something behind would use the blue pass. 
As the second semester begins, the school plans to enforce the policy to all remaining classrooms; meanwhile, teachers have been given the choice this semester to implement whichever system they prefer, whether it's the 5-Star app, the physical hall passes or even self-signing in students through the app or with a barcode scanner, that may be granted upon request, Karavedas said.
"It really comes down to safety, supervision and instruction," he said. "The hope is that more kids will be able to be in class more to get more instruction, and we are able to keep the campus safer."