A new summer program that attracted around 260 incoming freshmen to learn more about the Sunny Hills campus and culture will undergo some changes for its second year, school officials said.
"We will make some adjustments based on what we felt went well and on areas of improvement," said assistant principal Heather Bradley, who will take over the coordination of the Summer Bridge Program from assistant principal Peter Karavedas. "We have not yet started planning for next year's Summer Bridge Program. This will be something that we start looking at around the beginning of April."
Most of the students who attended the three-day event from Monday-Wednesday, July 10-12, agreed that interactive activities were their favorite.
"The breakout sessions were pretty helpful because we got to do a lot of physical activities like partner work," said freshman Francis De Guzman, who learned about Summer Bridge through social media and was encouraged by his parents to attend. "I learned a lot about what to expect as a freshman and how to work my way through this new lifestyle.
"I would say I recommend this program to future freshmen because it really does help, especially if you're scared or confused about a new school."
Freshman Sofia Ciudadreal said the first day made the best impression on her to come back the other days.
"It helped me become a bit more comfortable with the people around me," said Ciudadreal, who learned about Summer Bridge from the school's Winston the Lancer Instagram but was persuaded to go because her friends — also incoming freshmen — wanted her to join them. "Doing the Bridge Program showed that participating in something small like this could make an impact on your first day as a freshman, such as where your classes are or who your possible teachers could be.
"I completely recommend this program for future incoming freshmen. It's a really great experience and helps you get to know the campus as well as get to know about the classes that you could take."
The Fullerton Joint Union High School District first proposed the project following the COVID-19 pandemic in 2021, a time when many students were struggling with the aftermath of the statewide lockdown. However, the program was not held in all of the district's regular high school campuses as school officials needed time to put the activities together.
"We had a lot of kids coming into high school with an incomplete junior high experience," Karavedas said. "To really support our incoming freshmen better, we thought, 'What could we do as a school that can set them up for success in their first year of high school?'"
The answer to that became known as the inaugural, three-day Summer Bridge Program, in which freshmen reported to the SH campus by 8:30 a.m. and were released by noon.
On the first day, students attended a general session in the Performing Arts Center that covered the topic of high school life, including major differences in the standard of classes as compared to middle school, Karavedas said. He aimed to create an interactive experience, incorporating group tasks and time for questions into the schedule to appeal to students.
"The Summer Bridge Program was not only fun, but I learned a lot about the events, clubs, classes and just how things work at Sunny Hills," said freshman Andrew Ma, who has an older brother in 11th grade at Sunny Hills and decided to participate to learn more about the school himself. "It was the first time that I saw what the freshman class as a whole would look like, and I even got to meet a few of them in the partner activities that we did."
For all three days, students attended individual breakout sessions located around the school to familiarize themselves with the campus and the opportunities Sunny Hills has to offer.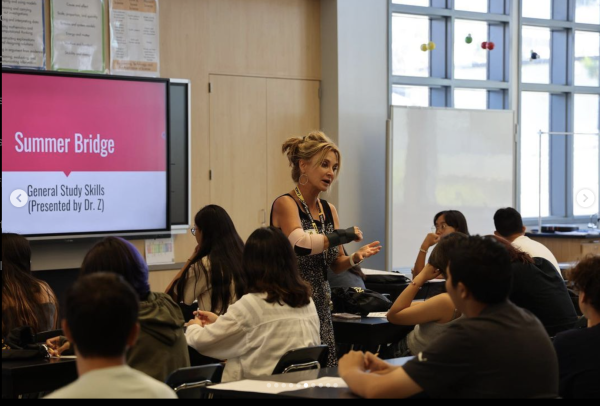 "We addressed athletics, college, Chromebook help, activities, clubs and different pathways such as the auto shop," Karavedas said. 
Teachers and student representatives from the Associated Student Body [ASB] and Link Crew also assisted during certain days of the program, informing freshmen of what to expect at school as well as providing insight into their own experiences.
"I wanted the freshmen to know that they should put themselves out there and not be afraid to get involved in school because that's how they'll have the most fun," said senior Natalie Do, an ASB speaker on the student panel on the second day of the program. "It is important for them to know that our school offers a lot, but they shouldn't feel overwhelmed."
Besides conventional academics, speakers also addressed topics of friendship and mental health during some of the breakout sessions.
We wanted to stress the importance of moving beyond fear and putting yourself out there.
— assistant principal Peter Karavedas
"We wanted to stress the importance of moving beyond fear and putting yourself out there," Karavedas said. "Kids struggle with many of these concepts, especially in this generation."
Each session was held in a different location from day to day, starting from the PAC, leading into assigned hallways with the breakout groups and finishing in a designated classroom by the end of the program.
"After the rotations, I felt less stressed about entering high school since I knew a lot about the campus already," said freshman Felipe Jikal, who decided to attend Summer Bridge after hearing about it from his parents. "I [especially] liked the athletics rotation because it answered a lot of questions that I had going into Sunny thinking about sports."
With nearly half of the 592 total enrolled freshmen attending the summer event, school officials considered the first-time opportunity for ninth-graders a success.
"It was a great collective effort of all the students who helped, all the teachers who were a part of it and our custodial and office staff," Karavedas said. "I believe it will go to show that students learn more and have a better experience when they like coming to school."