In her nearly decade-long tenure as the head coach of the Sunny Hills girls volleyball team, Amanda Donaldson had not been able to find a way to get her players to advance beyond the CIF quarterfinal playoff round.
In the 2016-2017 season, the Lady Lancers fell in three straight sets to the Crossroads Roadrunners in the CIF Southern Section Division 6 quarterfinal round of playoffs. 
Last season when the team was moved up to Division 5, it could not reach the semifinals as the team lost to the Kennedy Fighting Irish in four sets.
But the third time truly became the charm for Donaldson as her Lady Lancers defeated the Windward Wildcats in straight sets Wednesday, Oct. 25, in a home match. And ironically, the team – Freeway League champions with an undefeated league record – was playing even more challenging competition as it moved up again to Division 4.
"All of our players have been developing leaps and bounds the last several years and as successful as our team was last year, the biggest difference that I can see this year has been consistency across the board," she said. "We haven't been the team that has been making all the unforced errors in any given skill, and it shows. We have been able to keep control of our side and battle some amazing teams."
Team captain and outside hitter senior Kayla Taylor attributed the team's successes this season to the disappointing loss against Kennedy High School in La Palma.
"We had more motivation this season because our [Kennedy] match was the one that got us kicked out of CIF last year," Taylor said. "We set goals as a team at the beginning of the season to make it past semis, so this match was something we had been working toward since summer." 
The three-set victory, 25-23; 25-19; 25-19, in front of a large, spirited home crowd meant the Lady Lancers (28-2 overall) can keep home-court advantage when they face another private school, Capistrano Valley Christian Eagles (28-4-0), on Saturday, Oct. 28, at 6 p.m. In a Monday, Oct. 9, CIF poll, the Eagles were ranked No. 1 with the Lady Lancers at No. 7. 
Nevertheless, Donaldson said she still likes her team's chances to advance to the final round, which would be another achievement for the coach's tenure at Sunny Hills.
"These kids are here every day working their hardest, being creative, finding ways to win points at practice and in matches," she said after the match. "We are a tough team to beat, especially when we're in control, and the goal is to go all the way [to the finals].
"They've earned every second of every win, of every point they've put out there."
Outside hitter sophomore Kayla Thienprasiddhi appreciates this opportunity given to her and shared her excitement to play in the semifinals.
"Being in the semifinals is a lot of pressure, but coach Amanda is a great person to be coached by because the team respects her, and she always knows what to do in pressure situations," Thienprassidhi said. "She always tells us a different strategy when playing against different teams, and she is always prepared for any outcome.
"It is also so fun playing for her because she has such an outgoing personality that is motivating on the court. This accomplishment feels great because we only made it to the quarterfinals last year, but our season isn't finished yet, and we plan to go farther in CIF."
Wednesday's match against Windward – a private school from Los Angeles – started out with a marginal 6-2 lead from the Lady Lancers and despite losing the lead in the middle of the set, the team was able to claw back a tight back-and-forth near the end of the set. 
Taylor made her presence known early when she scored the first point of the match with a kill off a set from junior setter Dalilah Rivero.
The captain would later score six more points for the Lady Lancers in the set, and with another five-point contribution from Thienprasiddhi, the team eventually outlasted the Wildcats, 25-23.
The team's captain credited Donaldson's use of timeouts for helping the Lady Lancers to pull out that opening set. 
"Our coach emphasized that they are not going to give us any free points and that we have to work for everything," said Taylor, who has surpassed 1,000 career kills and has committed to Denison University in Granville, Ohio. "Because this match was the quarterfinals, they were not just going to give up their points to us. She also emphasized what we've been working on in practices and how to get the other team out of their system, which I think won us the first set."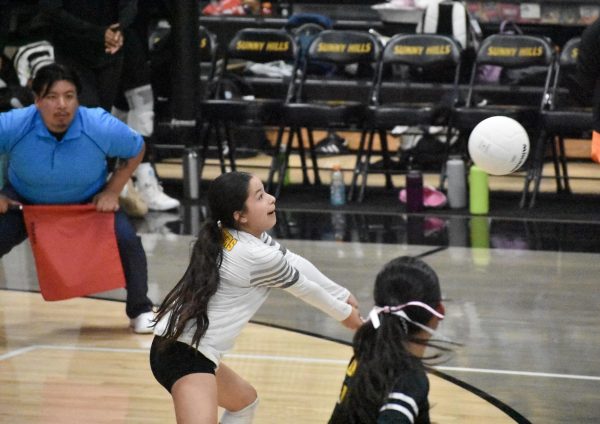 The second set proceeded with two service aces from libero senior Andrea Yepez, and Sunny Hils was able to eventually secure a 25-19 victory despite more high-tempo action and longer rallies.
"We practice executing in long rallies, which gave us a huge advantage," said outside hitter senior Jasmin Sonboli, whom Donaldson pointed out after the match for her capability to fill a role in the front row by being in control and finding her spots on the court. "We also started to talk more and call out receives, which eased the back row players and allowed them to pass more consistently."
With only one more set to go to advance to the semifinal round of CIF playoffs, the Lady Lancers ensured that their opponents would not extend the match any longer as they were able to close out the third set, 25-19.
Even though the Wildcats began placing more blockers on Taylor and other outside hitters, the players overcame such strategy by hitting more shots and hitting around the blocks, which is something the team specifically worked on during practice. 
Rivero said confidence among her teammates also played a key role in shutting out their opponents – the Lady Lancers have only lost one set during their playoff run.
"The reason we closed out the way we did [tonight] was us being able to make plays and commit to them; we weren't scared of the outcome that came with them," she said. "We knew if they worked, they worked, and if they didn't, we would just pick it up from there and keep moving forward." 
Besides advancing to the semifinal matchup for the first time under Donaldson, the girls volleyball team secured a spot in the state CIF playoffs, which will begin Tuesday, Nov. 7, with brackets scheduled to be released on Sunday, Nov. 5.
"If any team can put up the grit to win it all, this team can, and I am so excited to see them against another top team on Saturday to see what we can do," the coach said.